As a trusted partner for ultrasound technologies, we know how important it is to take great care of probes – and how challenging the HLD process can be. GE can help you automate and standardize probe disinfection – and in more ways than you might expect. We offer complete systems and support for disinfecting your ultrasound transducers and keeping them protected - from the end of one exam to the start of the next.

• 30 years' experience in ultrasound. GE understands the unique workflow of ultrasound departments

• +47k patients are protected every day because their probes are disinfected with trophon®

• +15k trophon systems in more than 5,000 hospitals and clinics in North America

• 50 of the top 50 US hospitals now use trophon
Designed to Protect

Limits exposure to harmful chemicals: With the self-contained unit and automated door lock, the disinfectant cartridge remains sealed until inside the system so there's no need for special ventilation or manual test trips and may reduce requirements for Personal Protective Equipment

Environmentally friendly: Fully enclosed system breaks down the hydrogen peroxide disinfectant into harmless, environmentally-friendly bi-products: oxygen and water

Reduce the risk of cross-contamination: Offers effective HPV, bactericidal, virucidal and fungicidal protection1

Protects again cancer-causing HPV: trophon EPR is the first HLD system for ultrasound probes proven to be effective against HPV

Learn more

Designed for Efficiency

7-minute automated cycle with one-touch operation: requires fewer manual steps (compared to other methods) so you can perform other tasks while the transducer is in the system

Large, 7" color touchscreen: simple animations navigate you through the disinfection process

Programmable functionality: Pre-program for daily start-up before the first scheduled patient – no waiting for warm-up. Configure to your unique needs so it's always ready when you are

Compatible: Over 1,000 OEM probes have been assessed and are compatible with trophon

Easy probe loading. Integrated probe positioner, probe cable tray and easy-load clamp reduce the potential for probe damage

Ergonomic design: Door handle and probe cable tray are color-coded for fast navigation. Soft-close door with automated seal helps prevent door slams

Designed for compliance and consistency

Automation helps ensure consistent and reproducible HLD to help you meet ultrasound probe HLD guidelines and standards

AcuTraceTM is an automated HLD traceability system that incorporates RFID technology. AcuTrace-enabled accessories and consumables contain RFID chips that store digital information and can be read by the built-in AcuTrace reader. It simplifies the creation of accurate, audit-ready digital records – all stored on your trophon®2

Optional AcuTrace PLUS allows disinfection cycle data to be pulled directly from the trophon2. Once connected, trophon2's stored disinfection records are accessible to your hospital IT system – allowing you to create a customized solution for streamlined workflow. You can automatically monitor all networked trophon systems throughout your facility
How it works
At the start of the high-level disinfection cycle, the trophon creates an aerosol of concentrated hydrogen peroxide. This is distributed over the exposed surface of the probe providing thorough, high level disinfection of the shaft and the handle of the probe. The trophon then breaks down the hydrogen peroxide into small amounts of oxygen and water which is evaporated into the atmosphere. During a purge, oxygen is vented into the atmosphere and water is collected in the waste container inside the trophon (maximum capacity 150ml).
The contact conditions are fixed cycle parameters that the end user cannot modify.
Complete Reprocessing Solution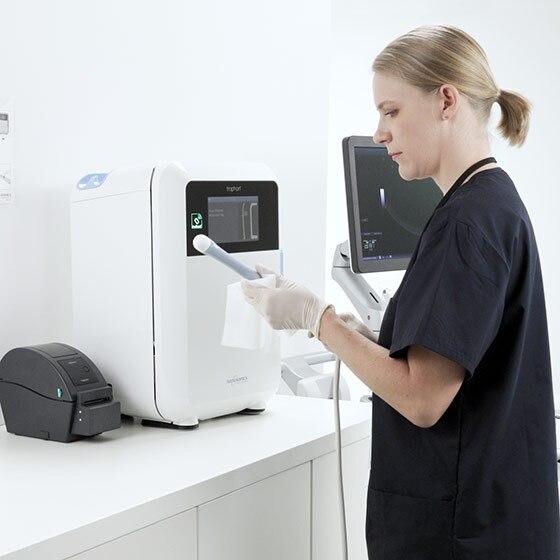 Clean
An essential first step in the reprocessing of ultrasound probes is pre-cleaning to remove gel, microbial load and other soil from the probes. Ready-to-use wipes simplify cleaning and drying steps to promote efficient HLD workflow.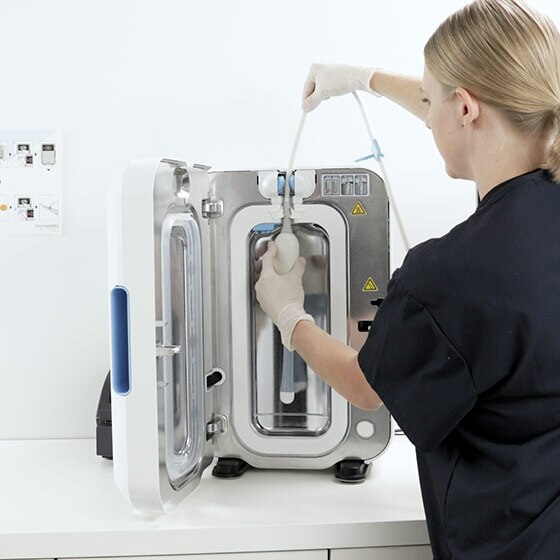 Disinfect
trophon®2 offers a fast and simple solution for the high-level disinfection of ultrasound probes. Disinfection takes place in an automated, closed system and uses a sonicated hydrogen peroxide mist.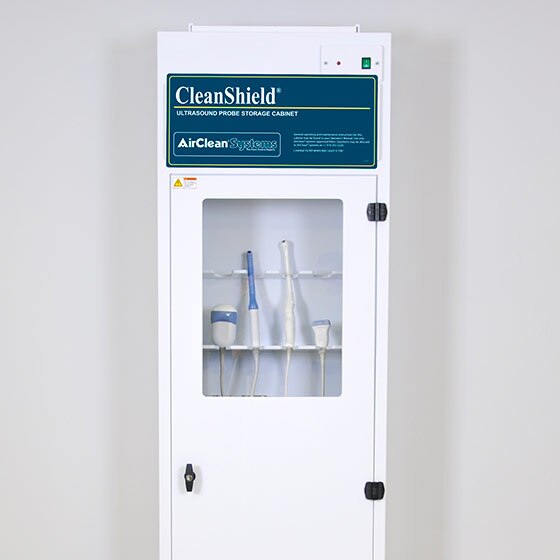 Store
The Joint Commission recommends the following for semi-critical devices: "store the device in a manner that will protect from damage or contamination and that is consistent with national guidelines and manufacturers' recommendations
6
. Probe Storage Cabinets provide a dedicated and secure place to store your disinfected transducers between exams. Probe Covers protect the probe – including the handle.
Guidelines & Recommendations
Training
Comprehensive training and product support is available to install your trophon2 system. Training can be completed online.
Click here for training, certification and support information.
1. RutalaWA, Weber DJ, HICPAC. Guideline for Disinfection and Sterilization in Healthcare Facilities. USA: Centers for Disease Control; CDC 2008. (https://www.cdc.gov/infectioncontrol/pdf/guidelines/disinfectionguidelines.pdf)
2. American Institute of Ultrasound in Medicine. Guidelines for cleaning and preparing external and internal-use ultrasound probes between patients. AIUM Official Statement. Online at: http://www.aium.org/officialStatements/57. Accessed March 8, 2016.
3. http://www.aami.org/standards/index.aspx?navItemNumber=504.
4. Association of periOperative Registered Nurses (AORN). In: Sharon A. Van Wicklin, editor. High-Level Disinfection. AORN Guidelines for periOperative Practice Online. Online: AORN, Inc; 2018. p. I.HLD1-I.HLD24.
5. Intersocietal Accreditation Commission. Standards and Guidelines for echocardiography standards.
6. jointcommission.org/standards: Self-Contained High Level Disinfection Units - Semi-Critical devices.