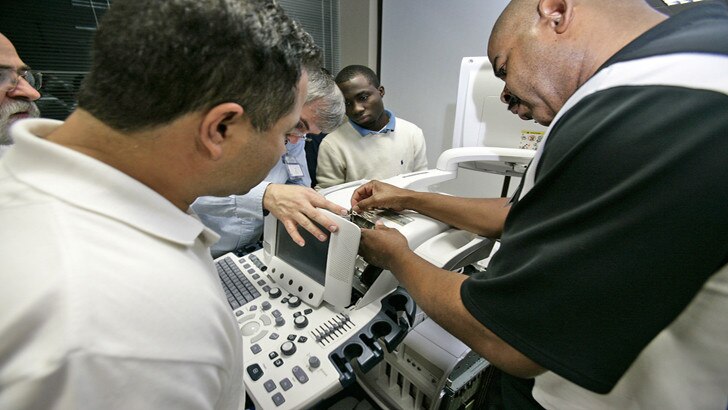 Course Locations
Course location can be found on the Schedule/Registration tab on the course page.
- GE Healthcare Institute - Waukesha, Wisconsin
Shop Education
EDUCATION TOOLS ARE JUST A CLICK AWAY!
Self-paced courses - tools - reference guides
GE Healthcare's Education Store, has a collection of self-paced courses for clinicians, physicians, biomeds and technical professionals. You will also find education tools and reference guides to help provide exceptional care for your patients.
Learn more about our Self-Paced Course offerings, tools, and reference guides.
Shop GE Parts More

How much time do you spend
sourcing parts and repair information?

Register at ServiceShop.gehealthcare.com

Shop

Order parts, accessories, and educational tools
Receive reliable, high-quality GE parts
Purchase with a P.O. number or credit card

Learn

Access videos and troubleshooting advice
Learn from online and instructor-led training

Access

Assign roles with or without purchasing rights
Authorize administrative privileges for more robust access
Share your cart with other users and your purchasing department
Review your previous orders Service Shop can help you save time

>> Service Shop can help you save time.
Simulator Training

Advance your staff's performance with simulator training
We bring the classroom to you
The first step in the Skill Continuum Training program is CT Essentials. Simulators are delivered straight to your site, reducing travel expenses, time away from family and length of coverage needed for your engineering staff. With this convenient option, your staff will receive the benefits of 1:1 student to simulator ratio combined with live instruction greatly increasing knowledge retention.
"It's important to keep engineers well trained, it reflects in less down time which translates to better patient care. The cost of a non functional system is very high."
- Simulator Training Participant
The power of simulator training
GE Healthcare has taken an innovative approach to training technology. We combine the immersive power of simulation, the user engagement of cutting-edge gaming techniques, and the precision of a highly detailed technical service manual - and put it all in a mobile training center that can be shipped and used around the world. The result is the powerful yet practical system.
"Going into the scanner lab, I felt I had already touched and worked on this scanner, and the virtual classroom presentation was solely responsible for that."
- Experienced Clinical Engineer
(four months after taking class)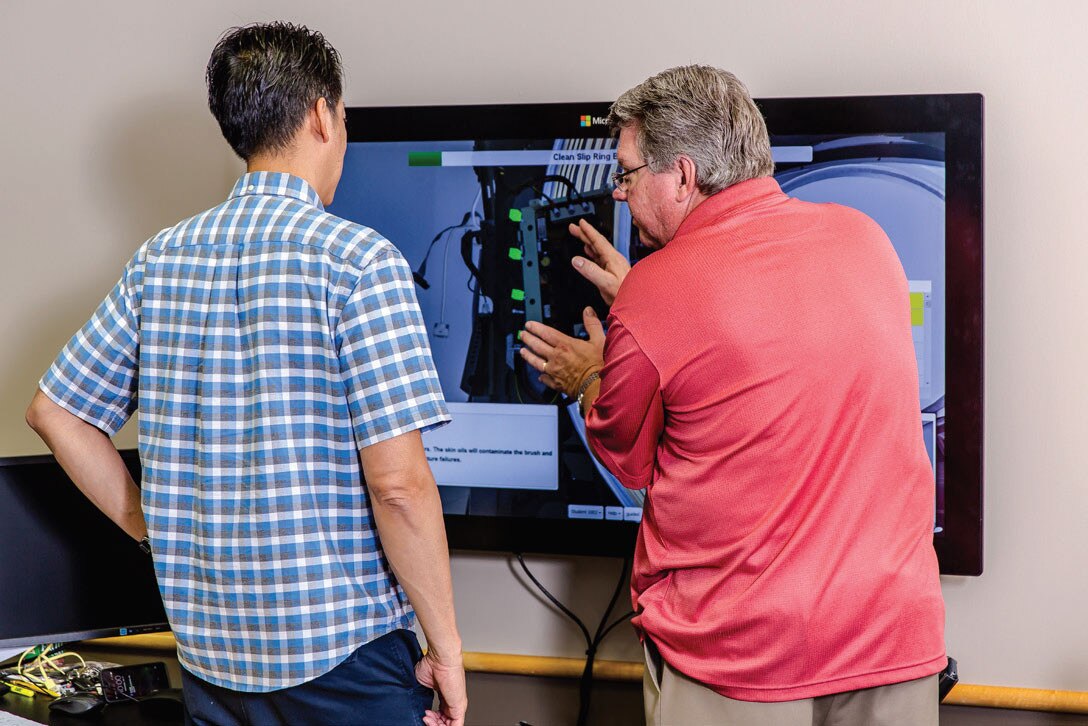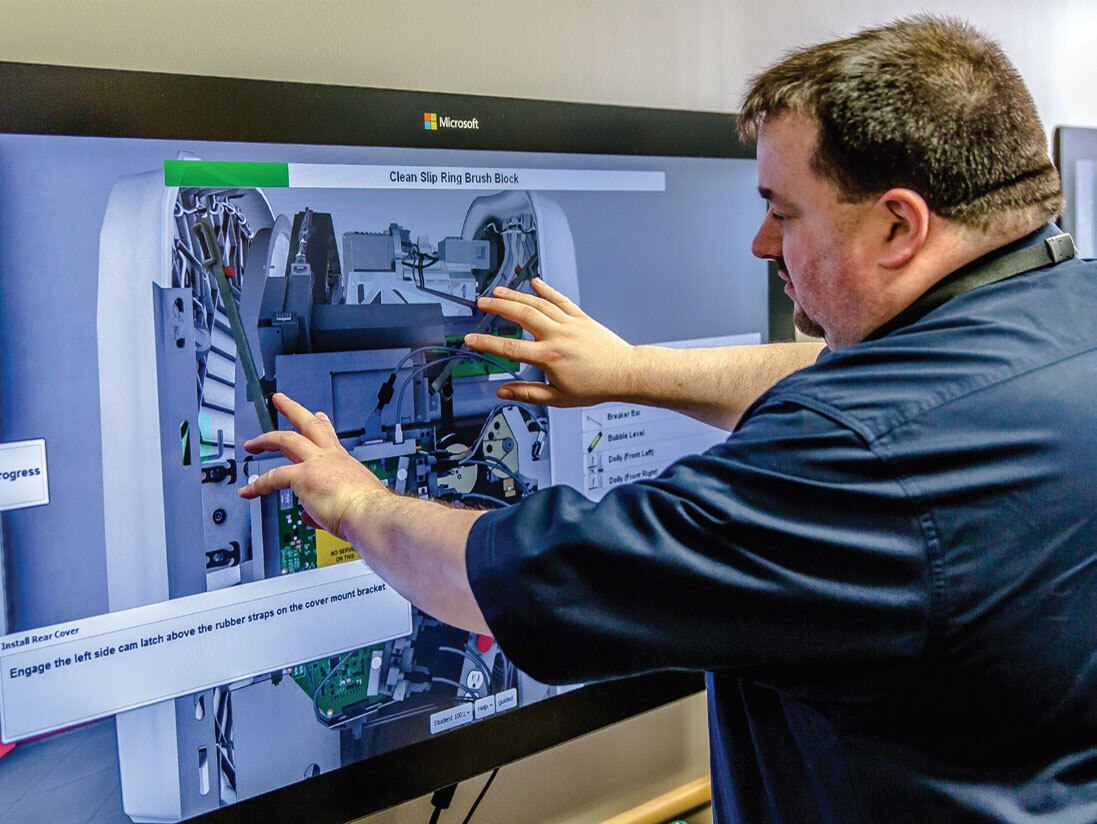 This technology creates an immersive training environment of lifelike realism. By virtue of advanced computer simulation, students feel as though they are working in an actual imaging suite and interacting with equipment that replicates a GE Healthcare scanner, literally down to the bolts and switches. Guided by an instructor, students perform a variety of training scenarios. Manipulating the touch-sensitive screen, the student can select tools, walk around the system, unscrew bolts, remove device panels, and disable electric switches. Once the skills are mastered, students are capable of performing the procedures on an actual system.
Value for clinical engineering departments
Less disruption to daily operations
Service training is a necessary but disruptive event for an engineering department, since engineers typically need to travel off-site for courses that can last a week or longer. Simulator technology shortens training times by days and can be held at your facility, which helps reduce time away from work and minimizes the impact on departmental workflow.
Simulator technology is designed to be shipped to customer sites for on-site training. By not having to send staff off-site for training, clinical engineering departments can save on travel and lodging expenses
More development opportunities
With the convenience of on-site training, clinical engineering departments can offer development opportunities for their staff. Cross training more engineers helps to ensure that critical imaging devices are well maintained and optimally available for patient care.
What you will need for on-site training:
Room size of at least 850sq feet
White board or large pad for notes
Large screen TV with projection capabilities or a projector and a screen
Lockable room to secure equipment
24 hour, five-day hold on room

- Same room each day of class
- No other parties scheduled in the same space
It's not business as usual.
Find out how GE Healthcare Services can help.
© 2016 General Electric Company - All rights reserved.
General Electric Company reserves the right to make changes in specifications and features shown herein, or discontinue the product described at any time without notice or obligation.
, the GE Monogram are trademarks of the General Electric Company.
Videos
GE Healthcare Technical Training Simulation
GE Healthcare Service Training brings instructor led CT, MR, and Vascular training to you. Save on time away from your facility and travel expenses.
GE Healthcare Product Technical Training:  Helping to Maximize Your Investment
See how our hands-on technical training can provide you with the skills you need to manage your environment.
Education about Imaging Exams

Education About Imaging Exams for Patients and Hospital Staff

Whether you are a hospital employee or a patient, increased knowledge can be an advantage.

MR Safety programs (consists of 2 DVDs) provide safety tips for imaging and non-imaging professionals in the diagnostic imaging environment.

The "What to Expect" patient series (consists of 5 DVDs) walks a patient through a typical diagnostic imaging exam.

Learn more