Centricity Business
100% would recommend Centricity Business to colleagues*
---
Revenue Cycle Management Solutions
A successful journey from volume-based care to value-based care begins with a foundation of enterprise revenue cycle management. By preparing your organization, choosing the right medical billing software, and implementing key capabilities and processes, your organization will be strategically positioned to navigate this challenging transition, regardless of the model that best suits your business. Centricity Solutions for Financial Management is uniquely positioned to address the core principles of enterprise revenue cycle mandatory for all models of value-based care:
An enterprise-wide approach to revenue cycle operations across all care settings. Ensure greater efficiency and flexibility, and an improved patient experience by delivering a single patient financial picture and statement to provide a holistic, patient-friendly approach to managing billing inquiries. An enterprise revenue cycle approach can help optimize critical outcomes such as cost to collect, first pass denials, and aged A/R. All while positioning your organization to increase bonus revenue by better facilitating the financial component of the patient experience.
Help eradicate waste with exception-based workflow by helping your staff focus on only the items that require attention. This will help lower costs, increase efficiency and improve revenue cycle outcomes including AR Days, cash collections of net patient service revenue and cost to collect.

Integrate with EHRs, payers and more to enable successful delivery on value-based care arrangements through connected workflow. Information must pass freely between providers, patients, payers and regulatory bodies. Centricity Solutions for Financial Management's clinical and financial interoperability not only facilitates the seamless sharing of information between critical applications such as your EMR, RCM and other ancillary systems, but also opens the lines of communication between payers and providers to adjudicate claims, close gaps in care, and update risk-adjustment scores.
Manage risk-based payment models that are right for your organization and enable your team to manage the optimal administration and adjudication of these reimbursement models. While fee-for-service may not always be easy, it's a known and tested model. Risk-based models present new challenges for your revenue team. You need clear visibility into your operations as you must manage new types of revenue collections efficiently. This holds true for shared savings programs, partial capitation or full capitation.
Hospital RCM
Never before has revenue cycle performance been more important. Healthcare's shift from volume- to value-driven payment is transforming the delivery of patient care, increasing the focus on managing care outcomes, as well as costs and revenues across multiple settings and providers. Now, by combining efficient, automated workflow with data-driven, actionable insights, your organization an thrive in the midst of change.
Customer success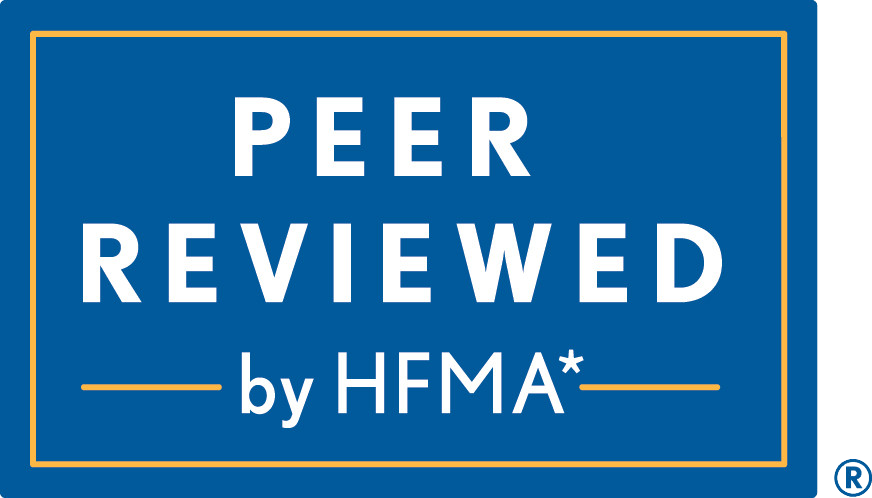 Centricity Business has been awarded the HFMA Peer Review designation. The HFMA Peer Review process assures our members, through a rigorous evaluation, that the reviewed healthcare business solution meets an objective, third-party assessment of overall effectiveness, quality, and value.

HFMA's Peer Review process provides healthcare financial managers with an objective, third-party evaluation of business solutions used in the healthcare workplace. The rigorous, 11-step process includes a Peer Review panel review comprising current customers, prospects who have not made a purchase, and industry experts. The Peer Review status of the healthcare business solution and its performance claims are based on effectiveness, quality and usability, price, value, and customer and technical support.
CASE STUDIES
Virginia Commonwealth University Medical Center case study
Centricity Business helps Virginia Commonwealth University achieve new heights in financial performance while delivering award-winning care.
Stony Brook case study
Stony Brook University Physicians reduced paper costs by 40% and reduced Accounts Receivable by 11%.
University Physician, Inc. (UPI) case study
With the help of Centricity EDI Services, UPI improved its eligibility verification process, freeing resources to perform other registration and insurance quality functions.
It's all about outcomes
Centricity Business top quartile runs at an average of 27 days A/R

The top 20% of Hospital customers' days in A/R is 34 Days, 13% lower than industry top performers

Centricity Business customers top quartile of performers have achieved a net collection ratio of 92.5%

Top quartile of Centricity Business customers achieve a greater than 90% 1st pass clean claim rate
Source: Customer metrics program. Results may vary and do not constitute a representation, warranty or performance guarantee.
Customer Testimonials
Hear what our customers are saying about us from KLAS.
"GE has kept up with all of the things that we have needed to meet regulatory requirements. We haven't had to be concerned about things like ICD-10 because GE is really good about reaching out to their customers and making sure that they are on the right version and have the right software in place to meet the regulatory requirements. This is a good check for us. We are happy with GE ." - Director1
"GE does well with the fundamental pieces of the system. Those pieces work extraordinarily well, and the system is very stable. We have thrown a ton at it. We have integrated it with many different EMRs and with scheduling and have created charge interfaces left and right, and still the speed of the system is incredible. We have a huge database, and we can find accounts in a millisecond. Fundamental things my colleagues are struggling with are taken care of for us." - Director2
"Centricity Business is certainly poised to deal with ACOs because their billing option combines physicians and hospitals. We know there is certainly some opportunity to put those two provider sources together. We utilize the system to bill for skilled nursing and extended rehabilitation. Home health is a little bit out there, but it is such a unique animal. However, I have confidence that GE has a basic structure for multiple service billing and could get us to other places if we choose to go there." - Director3
"For those people who really want to be integrated, I can't imagine not considering Centricity Business. We have been able to get a single patient statement out of the system, which has been good. Our patients get one patient statement. On the back end, we can sign into the system and look at everything for a patient. With our online work, we have the flexibility to set up a worklist just for hospital claims or just for physician claims or both. It really gives us flexibility. If an organization doesn't want to be super integrated, they can still use the same system so their hospital people and their physicians are doing their own thing." -Director4
"We recently went live with v.5 of Centricity Business, and it has some great functionality that we have been looking for. There is enhanced functionality related to point-of-service collections. There are some pretty slick features in the system. We can customize screens related to co-payments, so if I work in the emergency room, I can customize the screen to only bring in the emergency room co-pay. It is less confusing for the representatives to see only the co-pays they are concerned about." - Director5
"We use the combined Centricity Business product, so we can sign into GE and all of our staff is in one system. This includes claims, billing, follow-up, and statement generation. It is really nice for our customer service staff because they only have to go into one system if a patient calls in with questions about their account." -Director6
"Centricity Business does what we want it to do. The product is very flexible, and GE provides us with a lot of tools that we can use to do our own customizations in such a way that they will not be impacted by upgrades. The whole dictionary structure makes it very easy for us to add fields if we want to." - Director7
"The best part about the Centricity Business is its flexibility. We have many sites that use this same system, and each site has its own unique needs. That is why we love this product so much. Each site can customize their system to meet their needs. Also, when an upgrade happens, the customizations we have already made usually stay true, so we don't have to go back and rebuild them. GE is really good about keeping those customizations in place for us." - Manager 8
1. Collected about Centricity Business (Hospital) KLAS in October 2012 ©KLAS Enterprises, LLC. All rights reserved. www.KLASresearch.com
2. Collected about Centricity Business (Hospital) KLAS in October 2012 ©KLAS Enterprises, LLC. All rights reserved. www.KLASresearch.com
3. Collected about Centricity Business (Hospital) KLAS in September 2011 ©KLAS Enterprises, LLC. All rights reserved. www.KLASresearch.com
4. Collected about Centricity Business (Hospital) KLAS in August 2011 ©KLAS Enterprises, LLC. All rights reserved. www.KLASresearch.com
5. Collected about Centricity Business (Hospital) KLAS in August 2011 ©KLAS Enterprises, LLC. All rights reserved. www.KLASresearch.com
6. Collected about Centricity Business (Hospital) KLAS in April 2011 ©KLAS Enterprises, LLC. All rights reserved. www.KLASresearch.com
7. Collected about Centricity Business (Hospital) KLAS in April 2011 ©KLAS Enterprises, LLC. All rights reserved. www.KLASresearch.com
8. Collected about Centricity Business (Hospital) KLAS in April 2011 ©KLAS Enterprises, LLC. All rights reserved. www.KLASresearch.com
Downloads
WATCH
Centricity Business - Combined Business Office Demo
For healthcare organizations that want to simplify physician and hospital billing, Combined Business Office provides an efficient way to manage billing for both professional and technical claims. Watch this demo to learn how Combined Business Office provides an intuitive revenue cycle system that spans both hospital and physician billing across the entire organization in a single workflow.
Centricity Business - Enterprise Task Manager Demo
Watch this demo to learn how you can leverage Enterprise Task Manager to automate and prioritize daily tasks to maximize productivity and efficiency of your business processes. Enterprise Task Manager gives healthcare providers the high performance revenue cycle capabilities needed to help drive greater profitability and consistent results.
Centricity EDI Services Demo
Watch this demo to learn how you can leverage Centricity EDI Services to help increase administrative efficiencies and boost financial performance. By combining a single vendor schedule-to-payment workflow that integrates EDI transaction data into Centricity Business, GE Healthcare has developed a solution that can help you address issues before they negatively impact cash flow.
Services
Centricity Services
Today's challenges demand a high-performing revenue cycle with supporting processes and operations.
The right partner can help you can uncover opportunities and fine-tune workflows to boost your revenue cycle performance.
Revenue Cycle Consulting Services
GE Healthcare's revenue cycle management experts possess experience and knowledge of your Centricity Business solution plus expertise in revenue cycle management workflows and processes. Together, we can help find hidden opportunities for improvement.
Time and again, Centricity customers like you discover opportunities with the help of a GE Healthcare expert. Examples of our results include: 
Reduced manual payment posting by over 50% within 1 month¹ 
Increased working capital by $2.8 million per year²
Identified process gaps to help proactively address performance issues to substantially lower operating costs³
Reduced denials by 33%²
Saved $300,000/month in reduced rework¹
With an average of 25+ years of industry experience, our consultants possess the deep knowledge required to understand where issues likely exist, give you the ability to unlock opportunities and optimize existing processes. Align people, process and technology to improve productivity, efficiencies, cash flow and return on investment.

We specialize in:
Performance Optimization
Training & Knowledge Solutions
POS Collections
Front End Processing
Denials Management
Eligibility Verification 
Self-Pay Optimization
Workflow Efficiency
Outliers that Impact Performance
FQHC Regulatory Compliance 
Peer-to-Peer Benchmarking 
KPI-Focused Action Plans & Analytics
1 Schumacher Group Medical Billing, 2015
2 Orlando Health, 2015
3 UT Medical Group, 2015
Education Services
Do you want to help your employees:
Work more efficiently?
Make fewer mistakes?
Take full advantage of Centricity Business software to improve your bottom line?
We can help across your enterprise front desk, billing office and information technology staff.
Education Consulting Services include:
Reviewing current education programs and recommending improvements
Planning to help establish a new education program
Developing curriculum, courseware and eLearning tailored to your organization
Teaching your staff onsite or remotely, scheduled for your convenience
Providing Go-Live support at product roll-out
Augmenting your Education staffing
Our collaborative, interactive approach to training for front desk and billing office staff focuses on:
Hands-on exercises with scenarios that reflect your organization's workflows
Learning and applying new skills immediately while students use Centricity Business
Maximizing real-world practice to increase retention of new skills
Teaching specific job competencies to make the best use of employees' time
We also provide functional and technical application training onsite at your organization or online through instructor-led distance education.
Education is tailored to meet your organizations' specific needs. Sample courses include:
Access Management: Enterprise Wide Scheduling, Referrals, Visit Management
Patient Financials: Billing and Accounts Receivable, Transaction Editing System, Enterprise Task Management, Hospital Patient Accounting, Combined Business Office, Financial Risk Manager, Claims Form Generator
Technology Foundation: Electronic Data Interchange, Database Management System, Forms Demand Language, Caché ObjectScript, Security Plus, Advanced Web
Contact Centricity Services today to learn more.
Client Metrics Consulting
Attempting to gather data to see the full picture of your workflow challenges and successes and how your system is performing against others can be overwhelming. The Centricity Business Client Metrics Program gives you the capability to analyze performance through a suite of quantifiable components to help drive productivity and financial improvements. 
Currently more than 100 Centricity Business customers utilize Client Metrics to identify productivity gains and sources of challenges. Schumacher Group applied the use of the Client Metrics Program in concert with GE's Advisory Services and saw a 51% reduction in claim rejections and a 42% reduction in claim denials with 10,000 fewer rejections and denials received and worked each month.¹
1 Schumacher Group results based on use of Client Metrics Program and GE Healthcare Advisory services from January 2013 - December 2013. 
Industry Knowledge Center

Healthcare is a fast-changing domain. GE Healthcare can help you stay on top of the trends that will shape the industry for years to come. Visit our Industry Knowledge Center to learn about these trends.
Customer Reference Program
GE Healthcare IT Reference Program
Collaborate with us to promote thought leadership and help similar organizations make informed business decisions. We are dedicated to supporting our customers in their goal to improve patient care and advance the healthcare industry. By participating in the GE Healthcare IT Reference Program, you will have the opportunity to showcase your innovative use of technology to a larger audience of peers, practitioners, patients and the greater healthcare industry.
> Learn more about our reference program and nominate your organization today