MAC VU360™ Resting ECG 
A virtually unlimited ECG experience
---
Inspired by you
Innovation with a 360o view of yourworld
We spent hundreds of hours with clinicians and IT professionals to identify today's biggest ECG challenges. From inconsistent quality to repeat ECGs, multiple new users to poor integration with hospital systems, inferior ergonomics to increased security threats, we heard it all.
And we listened.
Because you demand quality and speed
MAC VU360 Smart Acquisition helps you deliver high ECG quality and speed, even in challenging situations
Up to 60% of hospitals face significant challenges with duplicate ECGs1
Fast high quality ECG's with fewer repeats

NEW Smart Lead technology automatically detects when a new patient is connected to help minimize patient data mix-ups
Enhanced hook-up advisor on both the cardiac acquisition module and workstation guide even the newest users to a clean,
high-quality waveform
NEW Smart Auto-ECG immediately captures and displays the first clean, high quality waveform reducing repeats
Smart tools.  Smart decisions.
Physicians must have accurate, detailed information to deliver critical diagnoses with speed and confidence. MAC VU360 features the full suite of GE Healthcare's ECG analysis programs.
12SL™ provides proven accuracy and quality that meet industry standards and guidelines.
Whether you're taking a 12-lead or rhythm ECG, your ST segment will be consistently accurate thanks to the Zero Phase Distortion (ZPD)
High-definition pacemaker detection identifies artificial pacing not visible on ECG waveform.
Improved left ventricular hypertrophy (LVH) recognition by adding Cornell criteria, in accordance with ACC/AHA recommendations, to identify which are positive.
Your perfect fit
Smart design means form follows function
You said an ECG workstation should be easily adjusted, easy to clean, and easy to maneuver — and that's exactly what we delivered.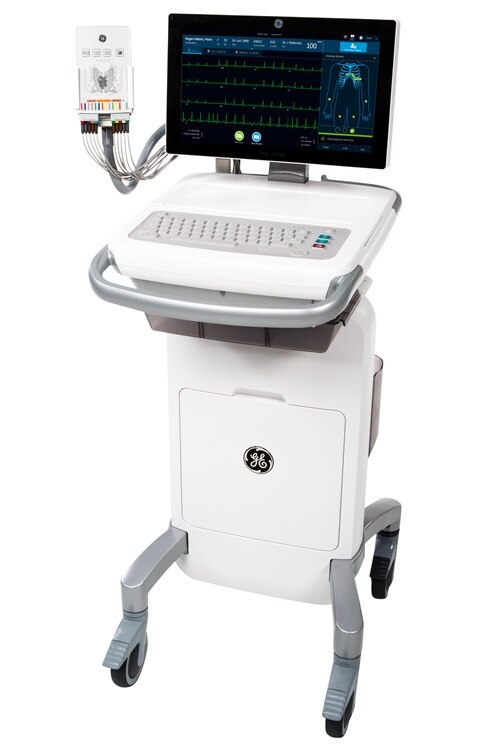 More flow in your workflow
"I want an ECG workstation that adjusts to my workflow and saves me time."
Over 50% of hospitals want to access MUSE™ or web based CV system as part of their ECG workflow. The MAC VU360 ECG was designed to be a workstation allowing you to access your MUSE and the patient medical history. Enabling you to make faster, more informed cardiac care decisions. At the point of care.
Make faster, more informed cardiac care decisions

Create an ECG order at the time of the ECG, document critical test results, or close the ECG workflow for billing,
Easily compare current and previous ECG's right at the patient bedside, and immediately route ECG's for overreads or consultation.
Access and review all patient clinical test results (i.e. stress and holter)
Maintaining patient data security

Protecting your system against malware and other attacks is one part of system security, but is also critical to protect the patient information stored in that system
MAC VU360 - Smart Design

"Quite simply, downtime is not an option. It's my job to maximize availability, utilization, and reliability."
Maximum device availability
Robust diagnostics
On-board diagnostic tests for 16 different parts

Battery operated
Hot swappable batteries to keep you running.

Designed for reliability Medical-grade connections for improved durability.