Sixty percent of the world's premature births occur in India1. So, when Dr. Sanjay Aher, D.M. Neonatology, M.D. Pediatrics, Neonatal Intensivist, completed a fellowship in Neonatology 12 years ago and had the opportunity to practice medicine in Australia or Canada, he instead chose to go where he could make the greatest impact: home.
In 2010, Dr. Aher established Neocare Hospital, a private hospital for premature neonates located in Nashik, a city of approximately 1.5 million people, in the western state of Maharashtra. Neocare is the only Level 3 neonatal intensive care unit (NICU) in the area that has ventilator support systems with nitric oxide that deliver breathing support to premature babies at the bedside and operates the largest volume of incubators in the area which help regulate a newborn's body temperature. These two technologies, Dr. Aher says, are critical to achieving a successful outcome.
"In India, the high cost of treatment is one of the biggest barriers to improving outcomes for premature babies," said Dr. Aher. "Many government hospitals cannot afford the cost of advanced medical equipment. When parents have their babies prematurely, they go home after birthing their babies and experience a negative outcome. Without ventilator and incubator support, you can't possibly save these babies."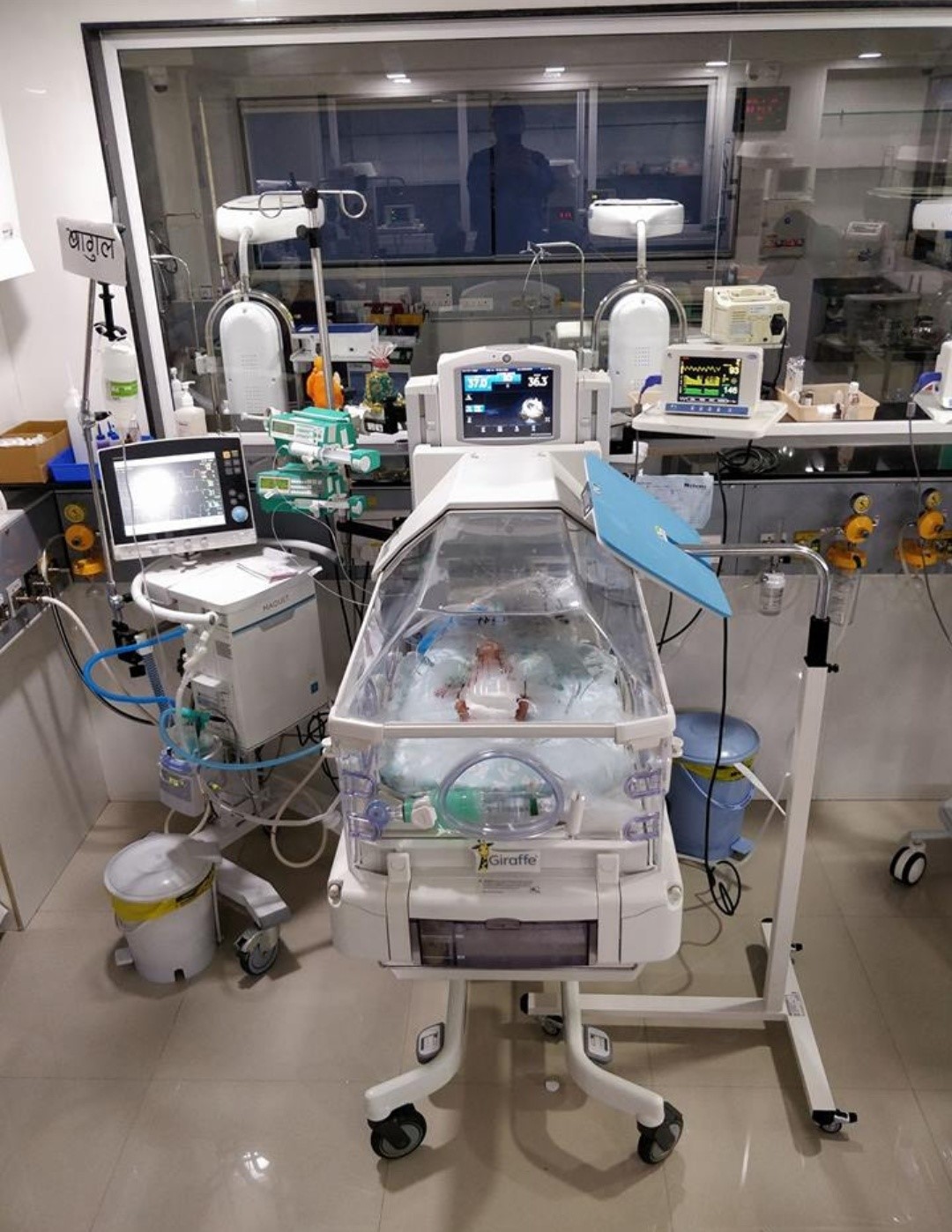 Globally, preterm birth complications, such as pneumonia and neonatal sepsis are the leading causes of death in children under the age of five. Nearly half of these deaths occur in newborns.2 More than 90% of extremely preterm babies (less than 28 weeks) born in low-income countries, such as India, die within the first few days of life; yet less than 10% of extremely preterm babies die in high-income settings.3 Dr. Aher has made it his life mission to improve these statistics in his community.
Like most NICUs, at Neocare Hospital, infection is the biggest risk to achieving a successful outcome. "It's a killer," said Aher. "We take a lot of care so that babies don't get infected." Although advances in neonatal care have contributed to increased survival of babies born prematurely, hospital acquired infections remain an issue, especially for premature babies who are most susceptible.4 One of the ways the team at Neocare reduces infection is by giving babies mother's milk and Kangaroo Mother Care– a practice associated with decreased sepsis rates in low birth weight infants in India.5 "If we can avoid infections, we can reduce the time the baby stays in the ICU. The longer a baby is in the ICU, the more chance they will develop an infection." Dr. Aher reports infection control rates at Neocare hospital as approximately eight percent lower than the average across the state.
When Rupesh Ghyar's twins were born prematurely, they were taken to Neocare for specialized care. Initially, he and his family were uncertain about the care plan and if they could afford it. Within moments of arriving to the hospital, it became clear to him: His newborns were in good hands. "I remember when Dr. Aher came to the hospital in the middle of night before our babies arrived in the ambulance, he assured us that both babies had been stabilized," said Ghyar. "He was calm and in control of the situation." After two months in the NICU, both babies recovered fully, and are healthy today.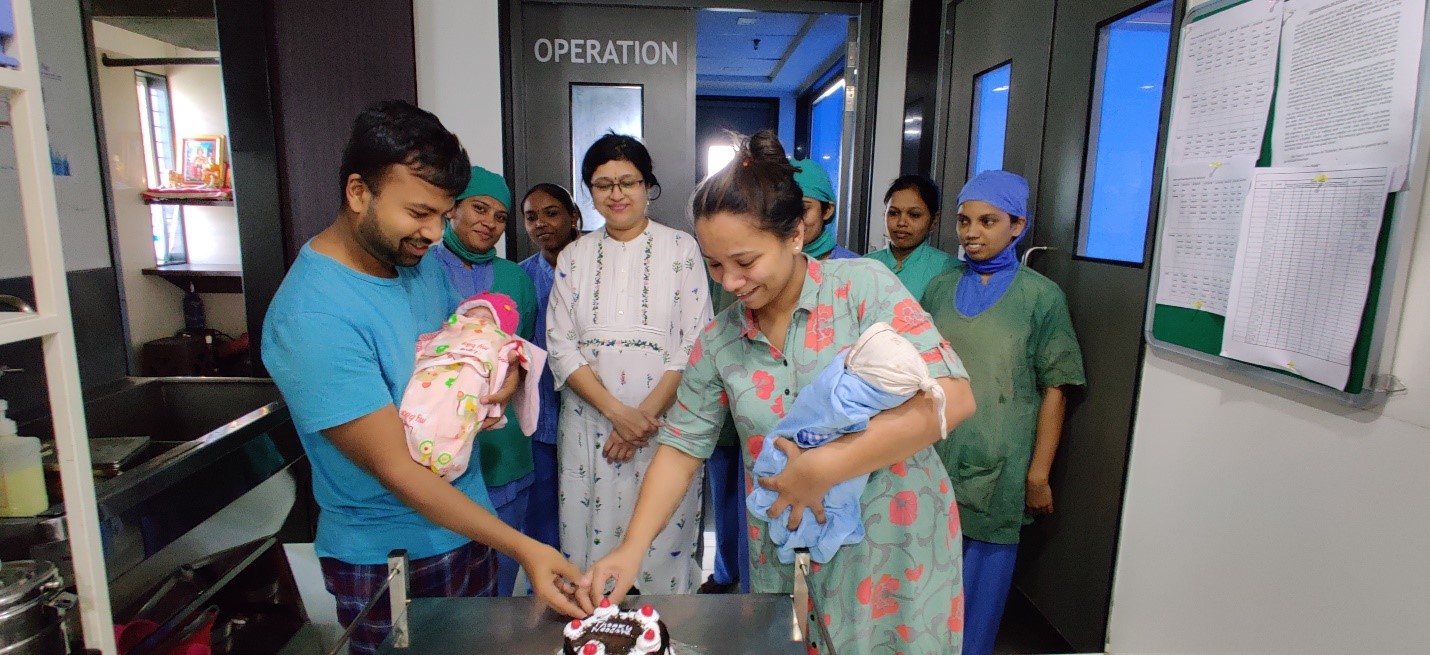 For underweight and at-risk premature babies like the Ghyar twins, Dr. Aher's treatment is rooted in the "Golden Hour strategy," an approach that emphasizes effective communication and collaboration between staff and the implementation of evidence-based protocols and measures which include resuscitation and stabilization of premature infants shortly after their birth. Studies show the golden hour strategy, when used in preterm neonatal care, reduces hypothermia, hypoglycemia, intraventricular hemorrhage (IVH), bronchopulmonary dysplasia (BPD), and retinopathy of prematurity (ROP).
Like most parents of premature babies, Ghyar's time spent in the hospital was fraught with anxiety. His fear eventually lessened as he realized his children were getting world-class care. "Dr. Aher showed us facts and results based on previously treated babies age and weight. At the same time, he showed humanity by offering us a glimpse and photo of our babies. He never let us lose hope. It was like a war and Dr. Aher and his team were fighting for our babies' lives."
1 Preterm birth, The World Health Organization: https://www.who.int/news-room/fact-sheets/detail/preterm-birth
2 https://www.who.int/news-room/fact-sheets/detail/children-reducing-mortality
3 Prevention and treatment of neonatal nosocomial infections: https://www.ncbi.nlm.nih.gov/pmc/articles/PMC5307735/
4 Prevention and treatment of neonatal nosocomial infections: https://www.ncbi.nlm.nih.gov/pmc/articles/PMC5307735/
5 Golden hour of neonatal life: Need of the hour. https://www.ncbi.nlm.nih.gov/pubmed/28932408