Introducing B105 and B125 patient monitors from GE Healthcare

Presenting the simple, flexible and reliable B105 and B125 patient monitors delivering parameter technology you can trust.
Benefits
Simple and intuitive for diverse care area and acuity needs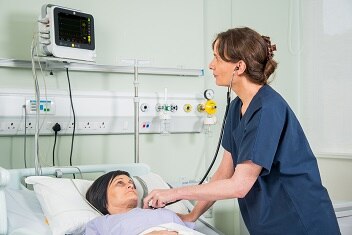 With improved workflow and efficient operations, you can now elevate your monitoring capabilities to the next level.
Seven pre-configured workflow settings for simple set-up
Auto-snapshot of most critical alarms
Alarm reporting options for better alarm management and instant care in cases of arrhythmia, high/low blood pressure, and ECG-lead detachment
Convenient screen lock button for easy cleaning, maintenance, and intra-hospital transport
Capacitive touchscreen for fast response and enhanced user experience
Uninterrupted display of primary ECG-lead waveform and other vital signs across settings
Choice of numerical or continuous waveform monitoring
Large numeric mode that enables critical parameter visibility even up to 4 meters
Flexible for your busy staff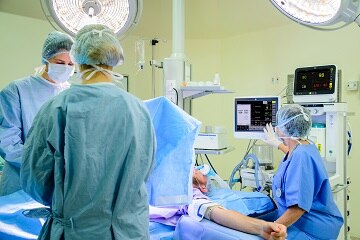 With flexible operations and versatile clinical capabilities, you can now deliver optimal care in various situations and workflows in the hospital.
ST Segment and full Arrhythmia analysis, SpO2, NIBP, IBP, RR, ECG, EtCO2
Additional parameter slot for upgradability and scalability for changing clinical needs
Optional thermal printer and additional screen for flexible usage
Flexibility to share parameter modules and accessories across GE patient monitors. For full list of accessories and modules, please refer to the S&A manual of the device.
Reliable and robust technology for challenging work environments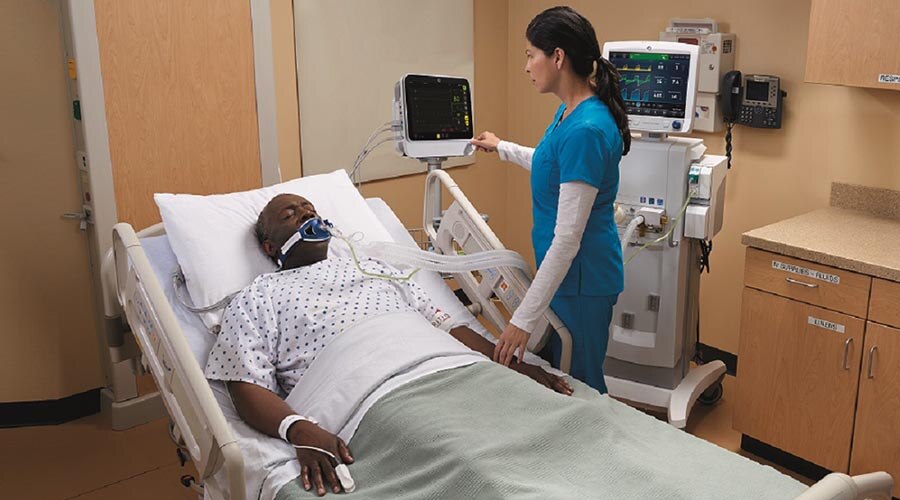 With reliable monitoring capabilities, maintenance, and service, you can provide the high standard of care that your patient needs.
Latched alarm system for dependable monitoring
Capacitive touchscreen tested for up to one million operations
Three-hour battery life to enable uninterrupted monitoring
Stable performance even in tough environmental conditions (+5°C to +40°C)
Advanced platform that records and stores up to 168 hours of monitoring activity across all parameters
Advanced algorithm for accurate analyses of up to 16 types of arrhythmia including A Fib
Reliable service
The B105 and B125 Patient Monitors are an extension of our mission to serve customers when and where they need us. You can rely on our support for queries or on-site assistance with dependable service for consistent and optimal performance.
Clinical Measurements Modules
Clinical excellence you can trust
With over 40 years of innovation in parameter technology, GE Healthcare has been at the forefront of continuous research and development. A result of this is our diversified monitoring portfolio of cutting-edge products, equipped with advanced technologies.
B105 and B125 monitors' key clinical measurement technologies: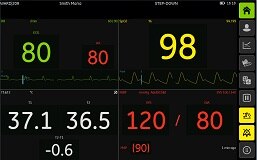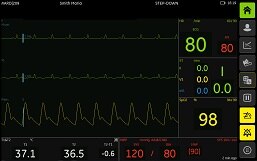 ST segment analysis
Full Arrhythmia analysis
TruSignal* SpO2 technology, Masimo SETR and NellcoTM OxiMaxTM
options available
DINAMAP* SuperSTAT* NIBP
IBP
RR
3- or 5-lead ECG
EtCO2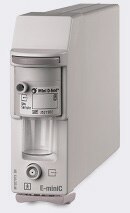 Sidestream CO2 measurement with E-miniC Respiratory Module:
Real-time breath-by-breath inspiratory and expiratory CO2 values measured right at the patient's airway
CO2 monitoring by the sidestream method, enabling monitoring of intubated and nonintubated patients
Connectivity
Flexible connectivity
Wireless connectivity for enhanced mobility across the hospital
EMR connectivity through HL7R outbound protocol
Connectivity to GE CARESCAPE network environment for monitoring parameters centrally
Flexibility to view parameters nearly anywhere, anytime via Mobile Care Web Viewer
Reliable connectivity
Upgraded cyber security by implementing WPA-Enterprise and WPA2-Enterprise for better data protection
Latched alarm system for dependable monitoring
Fast roaming across wireless networks within the hospital for data security
I/O connectors
RS-232 computer serial output
Defibrillation synch
Nurse call
USB port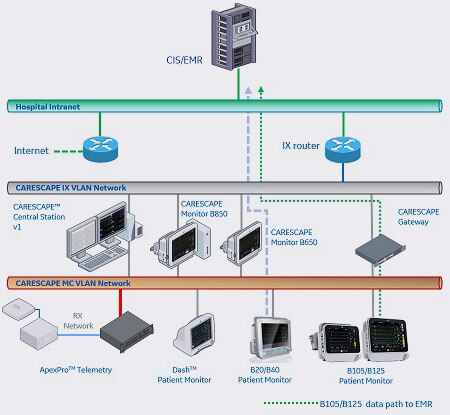 Gallery
B105 and B125 Patient Monitors

B105 and B125 Patient Monitors

B105 and B125 Patient Monitors

B105 and B125 Patient Monitors
Disclaimer
*Trademarks of General Electric Company. Masimo and SET are trademarks of Masimo Corporation. Nellcor and OxiMax are trademarks of a Medtronic Company. HL7 is a trademark of Health Level Seven (HL7), Inc. All other third-party trademarks are the property of their respective owners.