Exceptional care on-the-go
Built to last

With a three-hour battery life and durable design built to handle demanding work environments, the B105 and B125 patient monitors are reliable equipment that you can trust.

Data you can depend on

With over 40 years of innovation in parameter technology, GE Healthcare has been at the forefront of continuous research and development to build solutions that help you in your daily work. Our diversified monitoring portfolio features cutting-edge products equipped with advanced technologies such as:

DINAMAP™ SuperSTAT™ NIBP delivers proven NIBP technology, utilizing GE-patented "smart cuff" pressure control to improve measurement time, patient comfort, and artifact rejection, all while retaining the classic DINAMAP accuracy.
TruSignal™ SpO2 gives you the ability to reject motion artifacts and detection even at low perfusion.
EK-Pro arrhythmia algorithm provides simultaneous four-lead analysis that helps optimize the detection and analysis of arrhythmias, helping ensure no cardiac event goes unnoticed. The algorithm helps distinguish noise and artifacts from true beats, reduces false alarms, and enables uninterrupted ECG monitoring even in the event of a single electrode failure.
EtCO2 allows for CO2 sidestream measurement right at the patient's airway.

Servicing made easy

The B105 and B125 patient monitors are an extension of our mission to serve customers when and where they need us. That's why we offer a three-year warranty with depot repair and replace to keep your facility running smoothly.

Simply intuitive

Designed to facilitate improved operations, the B105 and B125 patient monitors' intuitive user interface allows for continuous monitoring with:

Capacitive touchscreen for fast response and enhanced user experience.
Uninterrupted display of primary ECG-lead waveform and other vital signs across settings.
Choice of numerical or continuous waveform monitoring.
Large numeric display mode that enables critical parameter visibility up to four meters away.
Image Gallery
B105 and B125 Patient monitors

B105 monitor

B105 monitor back with expansion module

B125 Monitor with battery door

B125 monitor without expansion module
Supporting Materials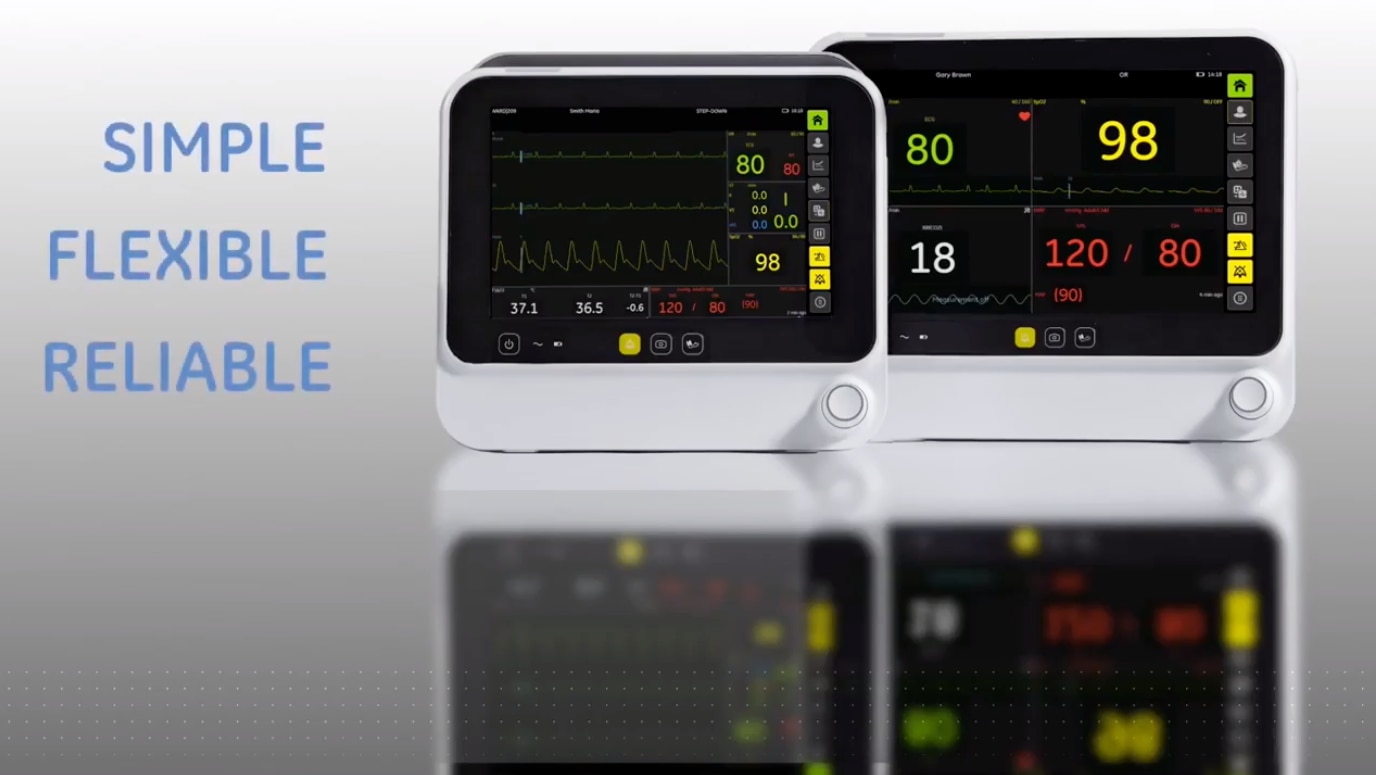 B105 and B125 monitors - Simple. Flexible. Reliable.
Clinical View. A resource by clinicians for clinicians.
Driven by GE Healthcare's commitment to clinical excellence, Clinical View is a free resource for medical professionals intended to provide educational materials and clinical information that advances best practices for monitoring across the continuum of care.