Benefits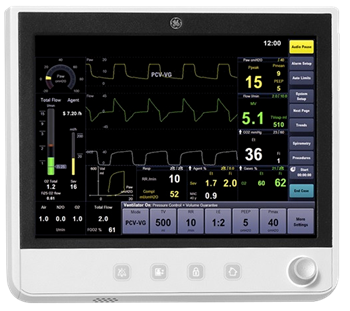 High touch precision. Low flow performance.
GE is a leader in designing Carestations specifically suited to the practice of low-flow anesthesia delivery and its fast wash-in/wash-out requirements. Ensuring quick patient response to changes in fresh gas and anesthetic agent may positively impact anesthetic costs and improve induction and emergence - optimizing time in the OR.
Elegantly engineered and appointed with ergonomic touches and software driven time-savers, the Carestation 600 series can help enhance workflows, optimize precious OR time and help hospitals bend the cost curve.
Small footprint: mobility & rugged durability
Simple and fast guided daily checkout process -as fast as three minutes
Intuitive flat menu UI & ergonomic touches
Advanced ventilation & automated procedures1
ecoFLOW Option & Pause Gas Control1
Easy disassembly & cleaning
1. Only available on the Carestation 650 and 650c

Advanced Tools

*Only available on the Carestation 650 and 650c

Automated procedures and time saving workflow tools

Vital Capacity procedure

Automated bag "squeeze and hold"
Set PEEP to help sustain open lung 2,3

Cycling procedure

Clinician-configured ventilation procedures
Programmable steps for increasing and decreasing PEEP levels

Pause Gas Flow

Simplifies temporary circuit disconnects. One button temporarily stops all gas flows and suspends alarms, agent delivery and ventilation so you can place all your focus on the patient.

Pause Gas feature helps prevent OR pollution
Stops gas & agent flow and silences all alarms for up to 1 minute

Uncompromised Ventilation – Pediatric to Adult Low Tidal Volume Delivery:

Tidal Volumes as low as 5 ml to the patient1
Sampling flow down to 120 ml/min
Lung Capacity and FRC
Compliance Measurement and Spirometry
Smart Agent Settings Design
Circuit Compliance Compensation ensures that what you set is what you get, precisely showing what is delivered to the patient and taking into account volume in the patient circuit.
Monitors and responds to changes in the patient's airway pressure or respiratory efforts up to 250 times per second.
Precision volume and pressure delivery to the patient Y-piece, breath by breath, help reduce the challenges in managing pediatric patients.

1. GE benchmark studies from 2011: GE Healthcare PCV to Tidal Volume Data Collection Test Results. Actual results may vary and are dependent on the patient. DOC0933949/DOC0970424

2. Tusman, G., Bohm, S. H., Tempra, A., Melkun, F., Garcia, E., Turchetto, E., . . . Lachmann, B. (2003). Effects of recruitment maneuver on atelectasis in anesthetized children. Anesthesiology, 98(1), 14-22.

3. Reinius, H., Jonsson, L., Gustafsson, S., Sundbom, M., Duvernoy, O., Pelosi, P., . . . Freden, F. (2009). Prevention of atelectasis in morbidly obese patients during general anesthesia and paralysis: a computerized tomography study. Anesthesiology, 111(5), 979-987.
ecoFLOW

*Only available on the Carestion 650 and 650c

Anesthetic agents are the biggest ongoing expense associated with anesthesia units. Reducing fresh gas flow during maintenance of anesthesia is associated with several benefits. Enhanced preservation of temperature and humidity, cost savings through more efficient utilization of inhaled anesthetics, and environmental considerations are three key reasons to implement a low-flow friendly practice.1

ecoFLOW is a display option that provides a graphical representation of oxygen flow and anesthetic agent use that has the potential to reduce agent costs when agent waste gases are reduced.2

ecoFLOW Display: How it looks…how it works.

The "Fi25 O2" target is the target to maintain patient circuit oxygen at 25%
Maintain "O2 total" to be greater than "Fi25 O2 flow"
Adjust flow to help mitigate the risk of hypoxic delivery or avoid excess FGF delivery

1. Brief review: theory and practice of minimal fresh gas flow anesthesia. Brattwall M, Warrén-Stomberg M, Hesselvik F, Jakobsson J. Can J Anaesth. 2012 Aug;59(8):785-97. doi: 10.1007/s12630-012-9736-2. Epub 2012 Jun 1. https://www.ncbi.nlm.nih.gov/pubmed/22653840

2. ECRI 2011 Health Product Comparison System: Anesthesia Units