FDA-approved Radiopharmaceuticals
GE Healthcare is an FDA-licensed manufacturer of radiopharmaceuticals and of cold kits for the compounding of radiopharmaceuticals in the United States and worldwide. GE Healthcare manufactures FDA-approved products in cGMP-compliant manufacturing facilities and operates 31 nuclear pharmacies in the United States.
GE Healthcare nuclear pharmacies use only FDA-approved components. All compounded sterile products are prepared in ISO 14644-1 clean rooms in accordance with USP <797> standards. GE Healthcare also provides nonsterile products, such as oral Iodine I-131 therapy capsules and solution, which are either manufactured by an FDA-licensed manufacturer or compounded on-site at a GE Healthcare pharmacy using FDA-approved components in accordance with the manufacturer's instructions and USP <795> standards.
To further ensure patient safety, GE Healthcare utilizes barcode tracking in the preparation and dispensing of compounded sterile products
Changing patient care with FDA-approved products
GE Healthcare is focused on helping patients by enabling Health Care Providers to make confident medical decisions. Each nuclear pharmacy in our vast network offers a comprehensive portfolio of radiopharmaceuticals, including products manufactured by GE Healthcare:
DaTscan™ (Ioflupane I-123 Injection)
AdreView™ (Iobenguane I-123 Injection)
Myoview™ (Kit for the Preparation of Technetium Tc99m Tetrofosmin for Injection)
Ceretec™ (Kit for the Preparation of Technetium Tc99m Exametazime Injection)
Indium-111 Oxine (Indium In 111 Oxyquinoline Solution)
Metastron™ (Strontium-89 Chloride Injection)
Indium DTPA (Indium In-111 Pentetate Disodium)
Thallous Chloride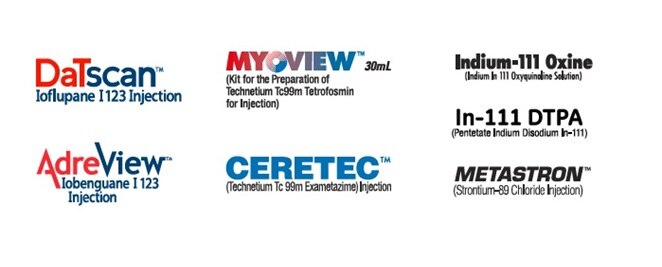 All GE Healthcare Nuclear Pharmacies offer a full range of other products, providing you with a single source for all of your
radiopharmaceutical needs.
Professional Resources and Disclosures
Gallery
Nuclear Imaging Agents