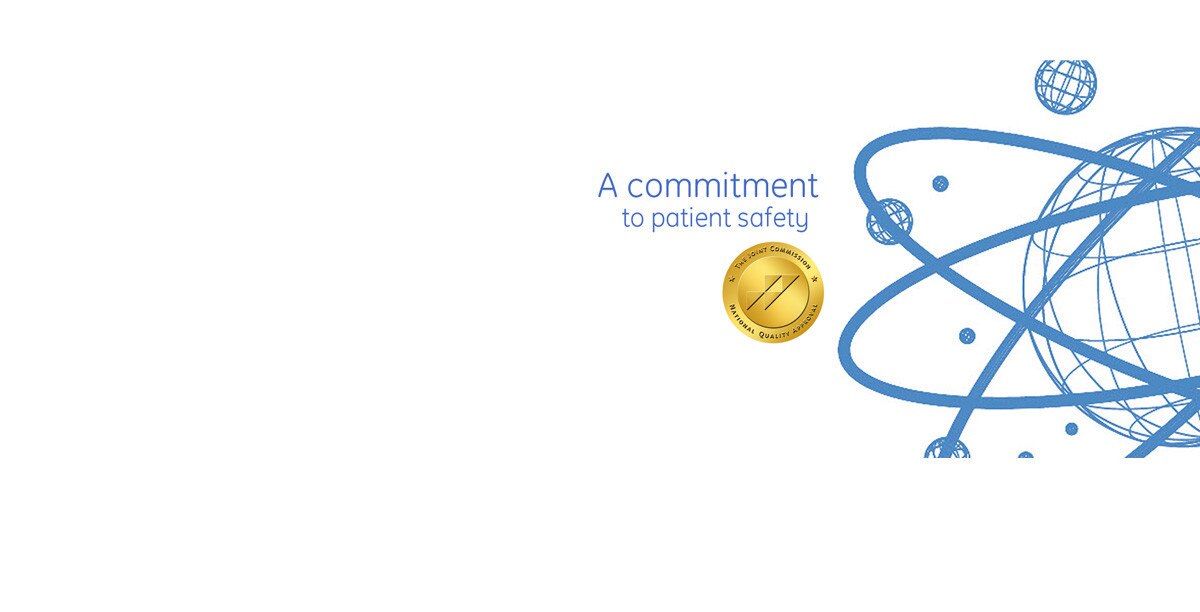 Nuclear Pharmacies
---
The GE Healthcare Pharmacy Network- Focused on what matters most
Superior service dedicated to meeting diverse customer and patient needs
High reliability across the entire pharmacy network
An industry leader in product quality and patient safety
Extensive portfolio covering the nuclear imaging landscape
National network of full-service pharmacies specializing in the preparation and delivery of radiopharmaceuticals in North America.

View Nuclear Pharmacies in a larger map
Improving quality and reducing risk
Accreditation
GE Healthcare Nuclear Pharmacies have earned The Joint Commission Gold Seal of Approval® for accreditation by demonstrating compliance with the Commission's national standards for health care quality and safety. The accreditation award recognizes GE Healthcare's dedication to continuous compliance with The Joint Commission's standards for nuclear pharmacies.
GE Healthcare's national network of 31 nuclear pharmacies is accredited as part of The Joint Commission's Home Care Accreditation program. This accreditation places GE Healthcare's nuclear pharmacies among a select group of accredited organizations offering pharmacy compounding services.

FDA-approved Radiopharmaceuticals
GE Healthcare is an FDA-licensed manufacturer of radiopharmaceuticals and of cold kits for the compounding of radiopharmaceuticals in the United States and worldwide. GE Healthcare manufactures FDA-approved products in cGMP-compliant manufacturing facilities and operates 31 nuclear pharmacies in the United States.
GE Healthcare nuclear pharmacies use only FDA-approved components. All compounded sterile products are prepared in ISO 14644-1 clean rooms in accordance with USP <797> standards. GE Healthcare also provides nonsterile products, such as oral Iodine I-131 therapy capsules and solution, which are either manufactured by an FDA-licensed manufacturer or compounded on-site at a GE Healthcare pharmacy using FDA-approved components in accordance with the manufacturer's instructions and USP <795> standards.
To further ensure patient safety, GE Healthcare utilizes barcode tracking in the preparation and dispensing of compounded sterile products
Changing patient care with FDA-approved products
GE Healthcare is focused on helping patients by enabling Health Care Providers to make confident medical decisions. Each nuclear pharmacy in our vast network offers a comprehensive portfolio of radiopharmaceuticals, including products manufactured by GE Healthcare:
DaTscan™ (Ioflupane I-123 Injection)
AdreView™ (Iobenguane I-123 Injection)
Myoview™ (Kit for the Preparation of Technetium Tc99m Tetrofosmin for Injection)
Ceretec™ (Kit for the Preparation of Technetium Tc99m Exametazime Injection)
Indium-111 Oxine (Indium In 111 Oxyquinoline Solution)
Metastron™ (Strontium-89 Chloride Injection)
Indium DTPA (Indium In-111 Pentetate Disodium)
Thallous Chloride

All GE Healthcare Nuclear Pharmacies offer a full range of other products, providing you with a single source for all of your
radiopharmaceutical needs.
Quality Standards
Maintaining exceptional standards, from compound to consumer
Start to finish, GE Healthcare Nuclear Pharmacies routinely meet or exceed all industry standards for safety, cleanliness, and quality, including those set by the United States Pharmacopeia Chapter 797 (USP<797>) standards.
GE Healthcare Nuclear Pharmacies follow a uniform model, which features state-of-the-art equipment and USP<797>-compliant aseptic clean rooms
Strict, established aseptic control procedures
A proprietary and comprehensive white blood cell labeling process
A detailed tracking system with bar code scanning
USP<797> Standard
All GE Healthcare nuclear pharmacies have an Aseptic Control Program that includes: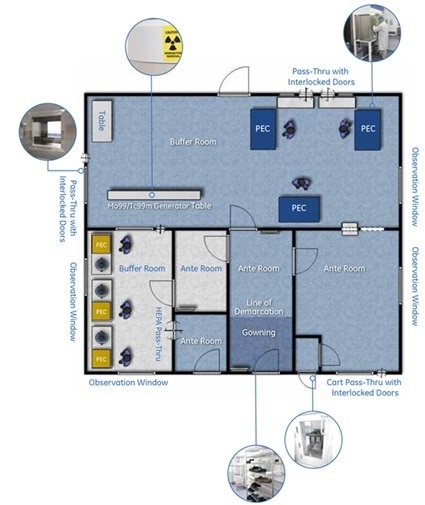 Quality Service
Full-service, USP<797> compliant GE Healthcare Pharmacies is backed by an experienced professional staff committed to servicing the diverse needs of all our customers.
Experienced Nuclear Pharmacists, Medical Affairs Specialists, and Radiation Safety Officers are available to answer questions upon request
Staff Pharmacists and Couriers available 24 hours a day, 7 days a week
Highly trained Couriers and a modern fleet of special-purpose delivery vehicles to help ensure the safe transport of radiopharmaceuticals
Our professional Couriers are extensively trained to be in full compliance with all applicable DOT, NRC, and state regulations regarding the packaging, handling, and transportation of radioactive materials
For efficient, safe, and timely delivery of radiopharmaceuticals, a Web-based system tracks product delivery in real-time
Leukocyte Labeling
Proprietary Leukocyte Labeling Procedure
An innovative padlock system to ensure restricted access during the transportation of radiolabeled leukocytes

Requesting customer is provided with a unique, coded lock and key
Customer locks the kit and retains the key – Locked kit is returned to the GE Healthcare Nuclear Pharmacy for processing
Processed kit is locked and returned to the customer

Program requires that the same GE Healthcare Nuclear Pharmacy staff professional handle a given patient sample from start to finish
Professional Resources and Disclosures