Excellent image quality
Gives you the clinical confidence you and your patients deserve
Senographe Crystal is designed to give you exceptionally detailed insights for breast cancer screening and diagnosis. It does so by leveraging the same proven image chain as other Senographe mammography systems. It includes all state-of-the-art components: X-ray generator, tube, filter and detector, highly sophisticated and powerful exposure management, as well as fast and flexible image processing algorithms.
Sharp 2D images all day long
The CMOS pixel design with nondestructive voltage readout helps limit sensitivity to environmental conditions, contributing to high image quality and simpler system design. Low intrinsic power consumption enables the detector to operate without active cooling. The system can begin imaging just two minutes after powering up, delivering high-quality images from the start.

Consistent quality at optimized dose
Senographe Crystal's Automatic Exposure Control (AEC) selects the appropriate kV and mAs based on radiological density and thickness of the breast for exceptional image quality with a limited dose to the patient.
Up to the highest standards
This system fully complies with the EUREF quality guideline, recognized as a global standard and applied in most European countries.
Your images the way you like them
With eContrast, choose among four contrast levels to optimize your visual comfort and maximize structure visibility and diagnostic performance for almost any breast type, including implants.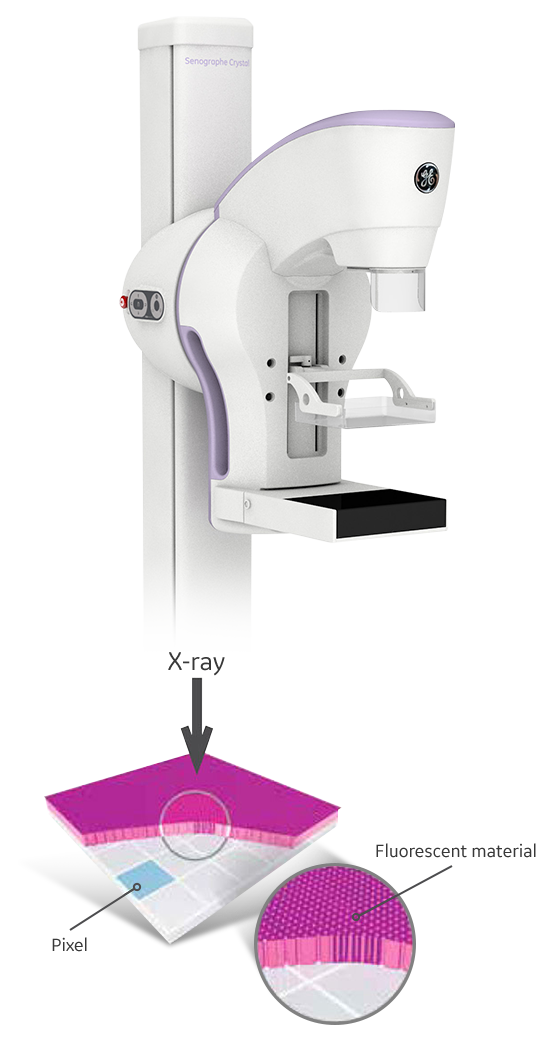 Exceptionally detailed insights for breast cancer screening and diagnosis
Fast patient flow
The ergonomic design helps you to enhance patient throughput and comfort
With its slim design and ability to support high throughput up to 15 patients per hour, Senographe Crystal lets you do your job with speed and ease, while ensuring patients' comfort.
Position the gantry easily—just one simple step
Set your exam protocols according to your own workflow preferences, enabling quick and automatic gantry positioning with a single touch. It's that easy.
Slim design for comfortable patient positioning
The slim gantry, small tube head and compact bucky allow the patient to embrace the system in a comfortable, natural position.
Fast acquisition
The Senographe Crystal system is so easy to use and so fast in acquiring images that the speed of a screening exam is limited only by patient positioning. A four-view screening exam can readily be completed in less than three minutes, assuming that a technician requires 30 seconds to position the patient for each acquisition.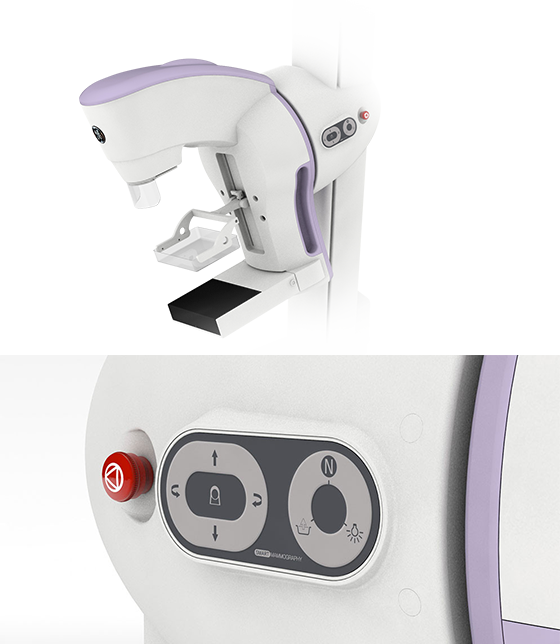 Ease of use
Gives you the clinical confidence you and your patients deserve
Senographe Crystal puts everything inside one elegant, stylish and streamlined enclosure. The simple operation and user-friendly design make it easy for you to deliver quality and personalized care.
Saves precious space
With its small footprint, Senographe Crystal is designed to fit in small spaces-whether you're building a new room, reconfiguring a small room, or repurposing an existing room. The counterweighted motorized lift is one of the smallest in the industry. The C-arm's tight turning radius also makes efficient use of space.
Simple icons. Straightforward navigation.
With a user interface featuring easy-to-understand icons, finding your way to what you need is easy. Go from Worklist to Capture to Review modes in a natural and intuitive way.
The Windows®** OS you already know
Senographe Crystal runs on Windows, so your working environment looks friendly and familiar.