Dr. Vaclav Potesil's aunt found out she had lung cancer when it was too late to cure her. A never-smoker, she was diagnosed when the disease had already reached a late stage, a situation that's all too common. Optellum, a startup that Dr. Potesil co-founded, is revolutionizing lung cancer care by using artificial intelligence to identify cancerous nodules earlier and to provide patients fighting this deadly disease with a better chance at being treated earlier, when the disease can still be cured.
Lung cancer is both common and deadly. It killed 1.8 million people around the world in 2020 — more than any other cancer. On average, a person diagnosed with it has about a one-in-five chance of living five years or more. Catch the disease early, though, and modern medicine can work wonders, with eight out of 10 patients surviving for 20 years.
The Optellum Virtual Nodule Clinic software is trained to do just that. Using multiple databases of CT scans of patients' lungs and the eventual diagnoses from many healthcare systems in the U.K., the U.S., and Europe, Dr. Potesil and his colleagues trained an artificial intelligence (AI) to differentiate between malignant and benign nodules — small lesions in the lungs that can be, but most often aren't, lung tumors — at their earliest and most treatable stage (stage IA).
Optellum's system applied neural network analytics to turn a standard CT scan into a Lung Cancer Prediction score from 1 to 10, with 10 indicating the highest risk of malignancy, for each nodule. The scoring takes seconds, whereas conventional liquid biopsy blood tests take weeks, and the score represents a personalized risk of malignancy. In 2021 Optellum received 510(k) clearance from the U.S. FDA for its Virtual Nodule Clinic software to help doctors manage patients with suspected lung cancer. A clinical study conducted for inclusion in the submission and clearance found that all scan readers in the study, which included pulmonologists and radiologists of various levels of expertise, from generalists to experts, showed a statistically significant improvement in their accuracy for diagnosing lung nodules when using the Optellum software.
"It's a win-win, being more aggressive on the true cancers with the potential to start treatment earlier, and doing less invasive procedures on treating harmless benign lesions," says Dr. Potesil. "Compared to subjective physician assessment and compared to any standard risk models based on age, smoking history, and so forth, it significantly outperforms the current standard of care and enables lung doctors to make optimal clinical decisions."
"Small Increments That Make a Big Difference"
Even a small improvement in detecting individual cancer can have profound effects on the global healthcare system, says Dr. Fergus Gleeson, a professor of radiology at Oxford University who has overseen clinical studies that helped Optellum develop and validate its technology. As an example, at Oxford, approximately 2,000 patients have follow-up scans for pulmonary nodules each year, notes Dr. Gleeson, who conducts research on imaging the human body as director of the Oxford Radiology Research Unit.

"If you reduce them by 10%, that's up to 200 patients a year who don't have a need to have a CT scan," he says. "From the patient's point of view and from the healthcare point of view, it's a big jump. So it's small increments that make a big difference where you've got a large patient population." 
The Optellum team is aiming for just that kind of global impact. Instead of targeting only the heaviest smokers who get annual CT screenings — a minority of all lung cancer cases — their AI solution empowers doctors to drive presymptomatic early diagnosis for anyone who undergoes CT scan for any reason. As CT scanning has improved, its use in places like the U.S. has skyrocketed. There are about 84 million scans performed in the U.S. annually, and CT is used for everything from heart attacks to fractured shoulders to strokes. Lungs often pop up in these images incidentally, but the quality of images produced by the latest generation of GE HealthCare scanners is such that even small nodules — less than a centimeter — can be identified and analyzed by the neural network. These nodules are often commented on in radiologists' reports as an unexpected incidental (accidental) finding, but the majority of them don't get proper follow-up, which hampers the potential for early lung cancer diagnosis.
The existence of millions of these high-quality, detailed scans created an opportunity to spot more nodules earlier and led Optellum and GE HealthCare to partner. The two companies believe that by analyzing radiologist reports with AI-based natural language processing for presence of these accidental lung CTs, then applying the Lung Cancer Prediction imaging score to help physicians focus on the right (high-risk) patients, they can catch far more cancerous nodules than through current guidelines.
Casting a Wider Net
The University of Mississippi Medical Center, just one of the U.S. institutions that has joined this revolution within the lung cancer care space, has been utilizing GE Healthcare and Optellum technology.  
"People are coming to emergency rooms and having multiple types of scans for a variety of reasons," says Dr. Michal Senitko, an interventional pulmonologist who co-directs UMMC's lung cancer screening program. "So essentially, many people get screened for lung cancer inadvertently. We just need to get better at tracking and following up on the incidental findings."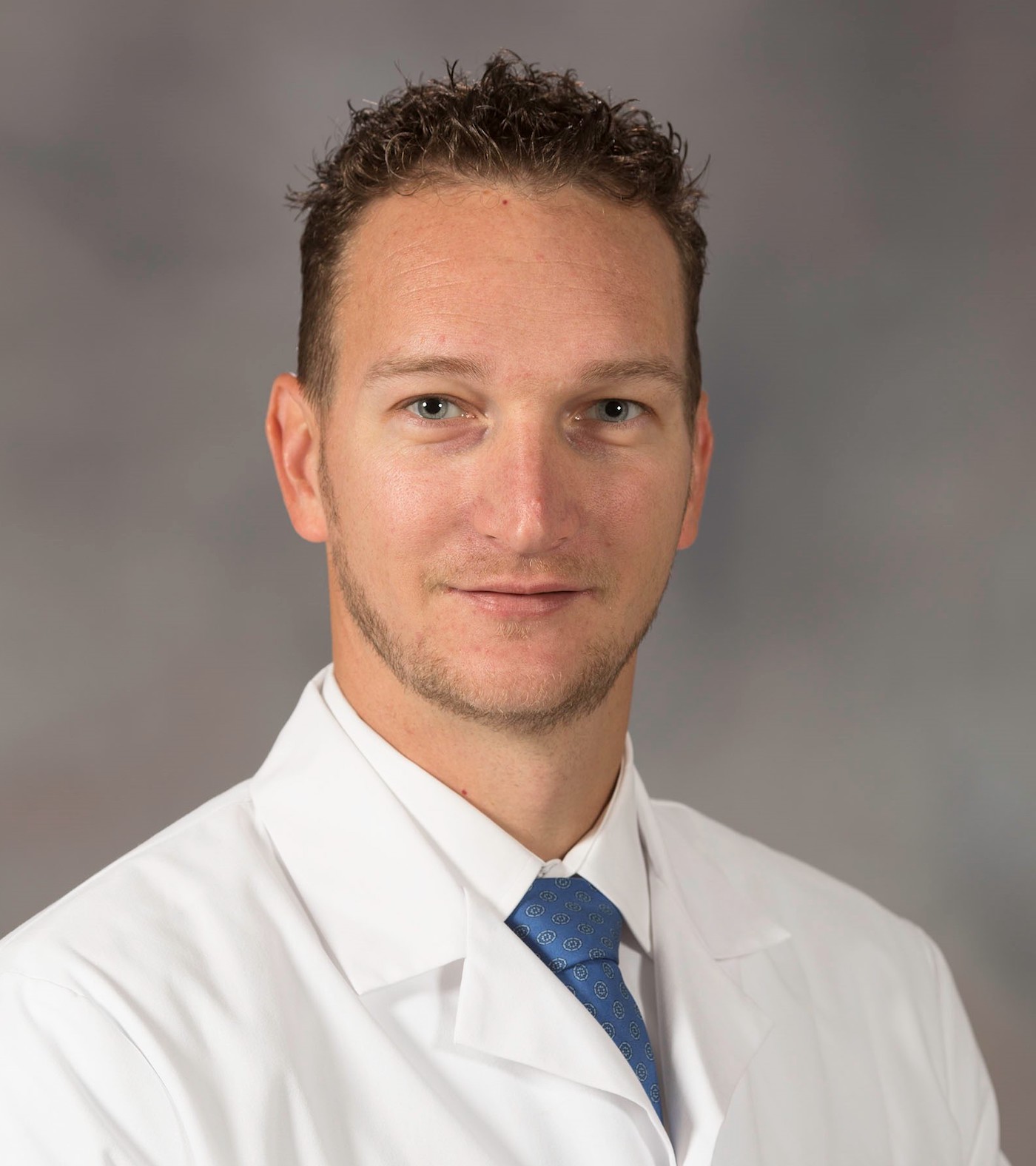 Dr. Michal Senitko, clinical user of the Optellum software. Credit: University of Mississippi Medical Center. Top: Dr. Fergus Gleeson using the Optellum software at the Churchill Hospital Radiology department. Credit: Oxford Medical Illustration.
Patients slip through the cracks for many reasons, says Dr. Senitko, from social and economic factors to the annoyance of having to return for follow-up scans. Taking a biopsy of a very small, likely benign nodule comes with risk — the lungs never stay still and are honeycombed by tiny pathways — so many clinicians wait to see if the nodule grows, which can indicate that it is malignant and also makes it less risky to test. Even people at the highest risk of lung cancer aren't getting screened as often as they should — fewer than 6% of eligible Americans have had a screening.
With Optellum's software, a lung care team can track individual nodules on a dashboard, including those referred from other hospitals, and rely on the imaging AI-based Lung Cancer Prediction score, as a standardized, risk assessment to decide which ones to focus on. Other hospitals using Optellum include Vanderbilt University Medical Center and Atrium Health Wake Forest, and Drs. Potesil and Senitko see an even greater potential for Optellum AI to impact patient care in smaller, non-academic hospitals that often have only radiologists, pulmonologists, and surgeons who are generalists with no thoracic oncology expertise.
In one case that stood out to Dr. Senitko, a patient had a small nodule very close to a blood vessel. The medical team debated the strategy. Options included watchful waiting with a repeat scan in three months or proceeding with a difficult biopsy. Optellum scored the nodule as having a higher cancer risk, which helped avoid a time lapse that could have meant the difference between trying to cure cancer and only extending a patient's life. Dr. Senitko and his colleagues proceeded with the biopsy and found lung cancer, an unwanted result but an incredibly helpful one for the patient. Getting a diagnosis early enabled the team to start the patient on their treatment plan at an earlier, and hence more curable, stage.
Moving Toward Precision Care
Optellum has collaborated with GE HealthCare to get its software into more clinical settings around the world, and eventually integrate its precision lung cancer care platform with existing GE HealthCare imaging devices and cloud platforms. Dr. Potesil believes that applying AI to drive early diagnosis is only the first step in Optellum's journey to revolutionize lung cancer care. The next step is guiding earlier, optimal treatment. The teams are working to extend the technology to predict the likelihood of a recurrence and treatment response, which could enable precision treatment tailored to the individual patient.
"Partnering with one of the world's leading medical technology corporations really helps an innovative AI startup to open the doors to accelerate deployment at large health systems," says Dr. Potesil. "[We] and GE HealthCare are very excited about the potential to make early lung cancer diagnosis available to every patient, and advance AI guidance for treatments such as immunotherapies in the early stages of lung cancer, leveraging multimodal integration of imaging, clinical, and molecular data to provide personalized therapy decisions."
For Dr. Senitko and his interventional pulmonology team, using GE HealthCare and Optellum technology means they have caught more lung cancers at an early stage, giving more patients a chance at living longer and healthier lives.
"It is very important for us to prevent even just one cancer that could be prevented," says Dr. Senitko. "Because it can change the course of that one life and impact the lives of so many others."