In a world where people are already dealing with the daily challenges of COVID-19, some residents on the West Coast of the United States face another crisis that may impact their health: wildfires.
Near Big Sur, California, firefighters stationed themselves in the parking lot at Mee Memorial Healthcare System, to battle the state's fourth largest wildfire on record, the Dolan Fire. Meanwhile, inside the hospital, staff prepared for a potential spike in patients seeking respiratory care. 
A community already on heightened alert for having one of the highest percentages of COVID-19 cases in the state now faced a perfect storm created by the burden of COVID-19 and wildfires. Of particular concern, patients with pre-existing diseases such as chronic obstructive pulmonary disease (COPD) and asthma are vulnerable to COVID-19 and the particulate matter created by wildfires which can exacerbate an already chronic condition.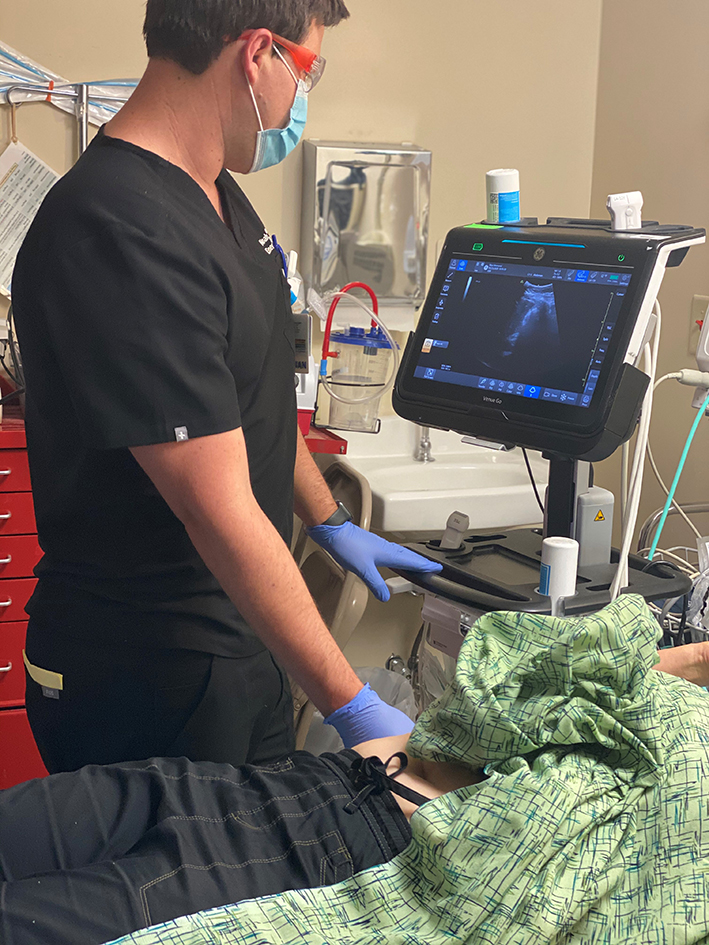 "Initially all patient volumes were down because people in our community shutdown and evacuated," said Dr Noah Hawthorne, a Vituity Physician and Medical Director, Mee Memorial Healthcare System in King City, California and also practicing Emergency Medicine at French Hospital and Arroyo Grande Community Hospital in San Luis Obispo, California. "We eventually rebounded from the patient volume drop in the ED related to COVID and saw a slight increase in respiratory cases related to wildfires. We didn't have an overwhelming situation like what was experienced in New York City, but most of the patients who did come in with respiratory issues were certainly affected negatively by the fires and many of the cases were complex and multifactorial, made especially difficult as any respiratory presentation has to be evaluated in the setting of the current COVID pandemic, with maximal PPE precautions and a greater level of care and involvement than in times past."
In the context of the pandemic, patients and clinicians are faced with the double whammy of poor air quality and the ongoing threat of contracting COVID-19. The Centers for Disease Control warns exposure to wildfire smoke can hinder a COVID-19 patient from fighting off respiratory diseases.[1] In some cases, a small increase in long-term exposure to particulate matter in smoke can lead to a large increase in the COVID-19 death rate[2] creating an additional demand on hospital staff and increased risk to patients.
These high-risk scenarios underscore the need for advanced care, but many states and healthcare facilities alike face the challenge of managing stretched resources–both material and personnel–among several other community crises. To help overcome these resource challenges, AI-powered technologies show promise in helping clinicians monitor and treat patients who may fall victim to this confluence of crises.
X-Ray as a First Line of Defense for Lung Conditions
When a patient with respiratory distress enters the ER or ICU, X-Ray or Ultrasound are often the first images clinicians acquire to determine which patients are the most critical, prioritize those cases, and ultimately provide faster care and better outcomes.
To help with these critical decisions, clinicians appreciate the support of on-device AI algorithms on Venue Go, a point-of-care ultrasound system, and Critical Care Suite on X-Ray, to quickly evaluate patients. 
During the pandemic, as many as one in 100 COVID-19 patients admitted to hospitals developed a pneumothorax, also called collapsed lung.[3] Meanwhile, COPD patients, even without COVID-19, account for up to 70% of secondary spontaneous pneumothorax.[4]
At the University Hospitals Cleveland Medical Center, the AI algorithms embedded within the x-ray machine flagged a suspicious pneumothorax that occurred in a COVID-19 patient being cared for in the ICU. At that time, the attending radiologist had approximately 150 prior exams in his queue and a wait time of up to six hours. The Critical Care Suite AI spotted a suspicious finding on the patient's x-ray thereby bumping up the exam, which resulted in a prioritized reading by the radiologist within an hour of the initial acquisition. The COVID-19 patient was quickly diagnosed with a spontaneous pneumothorax and a chest tube was placed within 15 minutes of the diagnosis.
Lung Ultrasound for Patient Monitoring and Treatment
X-Ray isn't the only modality being used to help examine the lungs of high-risk respiratory patients. Point-of-care lung ultrasound has been found to be a critical tool in helping clinicians treat and monitor patients. Since the early days of the pandemic, clinicians worldwide have shared the value of lung ultrasound to help fight against COVID-19 with research showing lung ultrasound as a useful as a rapid, sensitive and affordable point-of-care tool to help assess pneumonia and the severity of respiratory failure in patients hospitalized with COVID-19.[5]
Dr. Hawthorne has multiple uses for the AI-powered point-of-care ultrasound, Venue Go, and frequently prefers it to evaluate and confirm his findings for patients with respiratory distress.
"The AI on Venue Go makes ultrasound more approachable for novice users," said Dr. Hawthorne. "You can use it to confirm or reinforce what it is you are seeing to improve your clinical confidence. For example, the Auto B-Line tool is accurate and creates a fast, well-documented computer-generated ultrasound image allowing a full lung exam with excellent documentation and labeling in the EMR in about 20 to 30 seconds that I can use to confirm my findings."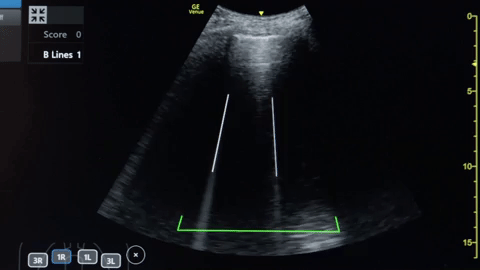 Now with patients facing increased air pollution from the wildfires, COVID-19 and the approaching flu season, AI-powered point-of-care technologies are especially appealing to diagnose, monitor and treat the complex set of conditions that can create a burden on clinicians.
"We are always worried about being one step away from a disaster that overwhelms the healthcare system" said Dr. Hawthorne. "There is wildfire smoke and COVID, but what everyone is worried about next is influenza and COVID, and whether there will be that double surge and a completely overrun healthcare system."
---