As the COVID-19 pandemic ravages the world, and hospitals struggle with Intensive Care Units (ICUs) at capacity, the pre-pandemic shortage of critical care specialists, nurses and other clinicians has become an even greater issue globally. [i]
Because of this as well as the need for hospitals to work more efficiently, GE Healthcare has developed Mural Virtual Care Solution (Mural), a customization of care workflows that takes the tele-ICU concept to the next level.
Inside Oregon Health and Science University's (OHSU) Virtual ICU (VICU), Mural provides critical care specialists with digital tools to deploy hospital-defined care protocols so specialists can remotely identify changes in patient status, respond in real time, and support remote clinicians caring for patients in their local communities.
"Through the Virtual ICU, we can supplement the local expertise in a variety of ways and durations – from a single shift to several a week – bringing much-needed relief and support to the clinicians on the ground," said Senior Vice President and Chief Operating Officer of OHSU Healthcare Joe E. Ness, M.H.A., R.Ph. "The VICU allows us to execute our vision of increasing the level of care in community hospitals, allowing patients across the state of Oregon to receive the care they need closer to home while reducing unnecessary transfers and optimizing ICU capacity in the area."
The VICU helps OHSU keep patients in their local communities near family and friends; support local economies by maintaining resources, such as ambulances and revenue, in the immediate area; and improve efficiency by allocating hospital beds, resources and staff for the most critical patients.
Audio-video connectivity and data visibility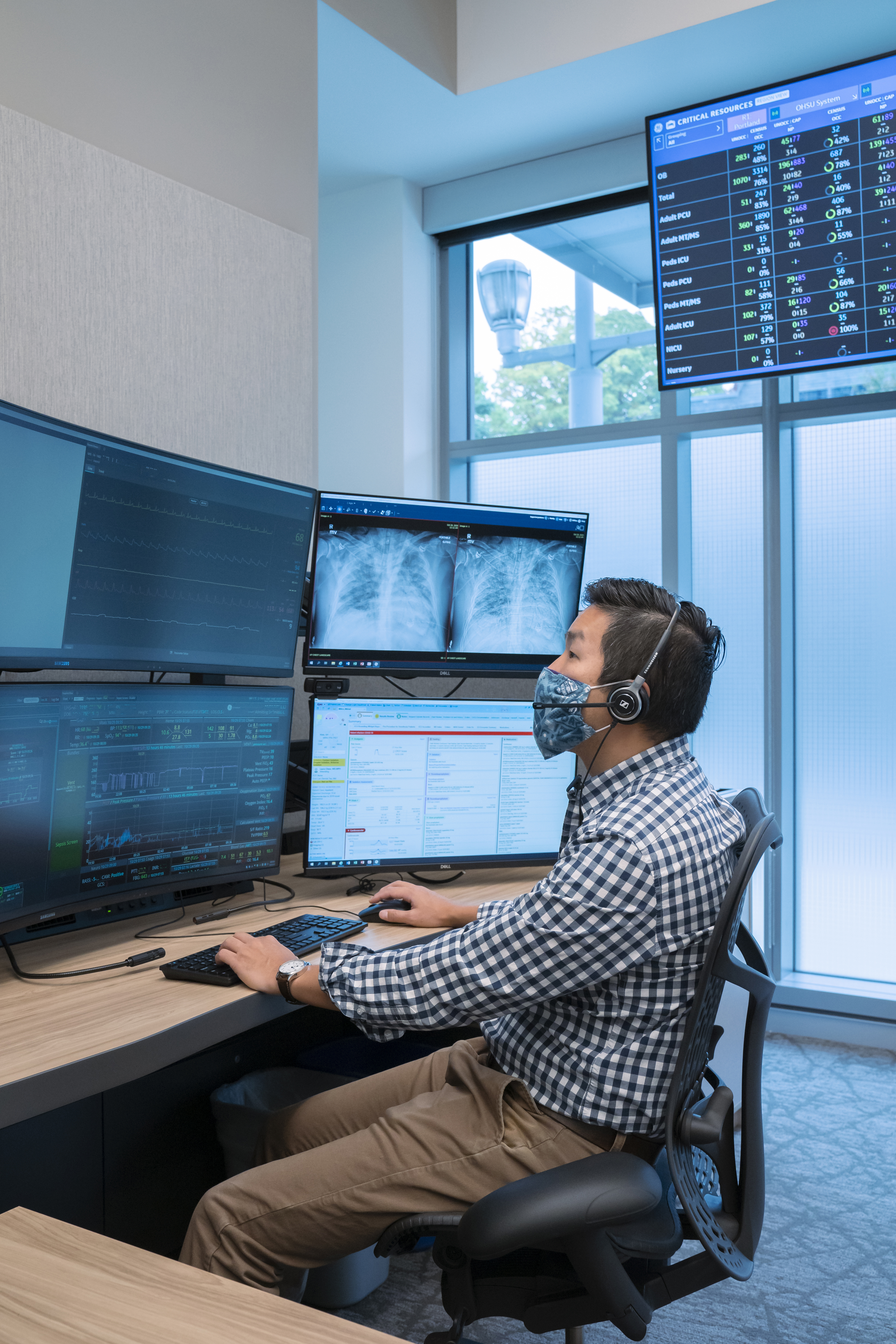 One of the key differentiators of Mural is that it aggregates and delivers data from devices and systems regardless of manufacturer, a feature that Ness says exceeds the capabilities of the traditional tele-ICU.
In a clinical setting, nurses are tasked with documenting patient data in flow sheets during spot checks, which can lead to data gaps of several hours. With Mural, patient data can be updated every minute and include multiple data points by device type.
Plus, Mural's audio-visual capability allows health care specialists to remotely interact with the bedside clinician in the patient's room. This gives another, more personal level of insight to the patient's condition, which can be an additional aid to clinical decision support.
Marshall Lee, M.D., leads the OHSU VICU from the central campus in Portland.
"In a recent case, I was using Mural to support a care team more than 20 miles away when they requested immediate consultation with a patient whose blood pressure and heart rate was headed toward an acute situation," said Lee. "The bedside care team was able to respond quickly to provide the patient the necessary care."
OHSU was the first system in the world to test Mural, which brings the real-time HL7 data feed from clinical devices together, allowing clinicians to easily access the status of multiple intensive care unit (ICU) patients in one central place.
Today, Mural is available in the United States, Canada, China, Korea, U.A.E. and Saudi Arabia.
---
[i] Abir, Mahshid, Christopher Nelson, Edward W. Chan, Hamad Al-Ibrahim, Christina Cutter, Karishma Patel, and Andy Bogart, Critical Care Surge Response Strategies for the 2020 COVID-19 Outbreak in the United States. Santa Monica, CA: RAND Corporation, 2020. https://www.rand.org/pubs/research_reports/RRA164-1.html.