To date, more than 55 million cases of COVID-19 have been confirmed worldwide – overwhelming radiologists, nurses, technologists, and physicians.[1] As we see another wave COVID-19 cases in many countries, clinicians continue to need tools to help manage new cases and complications caused by the virus – including acute respiratory distress – which have further increased pressure on radiologists to quickly read exams and expedite patient care.
"The key principle is do everything early. Detection, monitoring, testing, treatment, isolation, and infection protection and control," said Professor Xiaoting Wang, MD, PhD, an early researcher on COVID-19 and lung ultrasound and Director of Shuai Fu ICU, Deputy Director of the Department of Critical Care Medicine, Peking Union Medical College Hospital.
In response to today's constrained environment, clinicians are harnessing the power of on-device AI to help alleviate these pressures giving them back valuable time and expanding their capacity. Using AI at the patient bedside, clinicians can quickly capture images that are then immediately flagged and quickly evaluated and optimized with AI to help prioritize the most critical patients.
Shedding Light on Abnormalities, Questionable Areas
Though most people think of ultrasound as a tool that's used primarily during pregnancy to assess the
well-being of the fetus, ultrasound can be used to detect all kinds of physical problems, including
blood clots, tumors, cysts and fibroids.2 Ultrasound technology can also help clinicians identify COVID-related
lung characteristics.
"Based upon our experience, we consider that lung ultrasonography has major utility for management of COVID-19 with respiratory involvement due to its repeatability, absence of ionizing radiation and point-of-care use," wrote researchers from the critical care department at Xiangya Hospital in Changsha.
Ultrasound machines have become critical tools during the pandemic because they can help doctors
quickly monitor COVID-19's tell-tale signs including B-lines and abnormalities just below the pleura,
the membranes that envelop the lungs, and the body wall.
However, the addition of on-device AI takes ultrasound's capabilities one step further--adding diagnostic speed.
For example, GE Healthcare's Venue and Venue Go ultrasounds have embedded AI algorithms, which are trained on hundreds of thousands of ultrasound images, to automatically detect irregularities and giveaway patterns in the grayscale and highlight them for clinicians. This can help clinicians get a handle on the extent of an infection in a matter of seconds, allowing them to quickly make triaging decisions.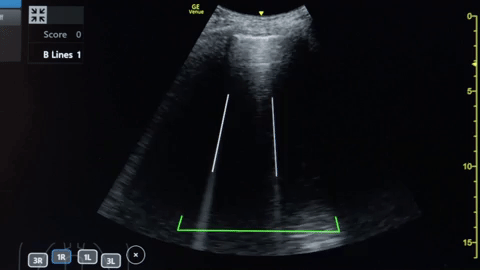 "It has been underestimated, the power of ultrasound in the intensive care unit," adds Antonio Spera, the general manager for GE Healthcare in Italy who is leading efforts to ensure the country's hardest-hit hospitals have critical equipment. "It's now exploding."
Enabling Quicker Treatment of Critical Patients
Similarly, X-ray—the oldest form of medical imaging—is proving to be a valuable tool for prioritization of critical cases on the front lines.
The major cause of morbidity and mortality from COVID-19 is largely due to acute viral pneumonitis that evolves to acute respiratory distress syndrome (ARDS). Patients experiencing these life-threatening symptoms can be intubated for two or more weeks[3], requiring daily X-rays to be taken to ensure proper tube placement and patient health. When placed incorrectly, the patient may experience a pneumothorax, a type of collapsed lung, which can be life threatening if not treated quickly.
Today, on-device AI is helping clinicians prioritize critical chest X-ray review. One example is Critical Care Suite, an industry-first collection of artificial intelligence (AI) algorithms embedded on a mobile X-ray device. When a patient is scanned on a device with Critical Care Suite, the system automatically analyzes images and sends an alert for cases with a suspected pneumothorax – along with the original chest x-ray – to the radiologist for review via PACS.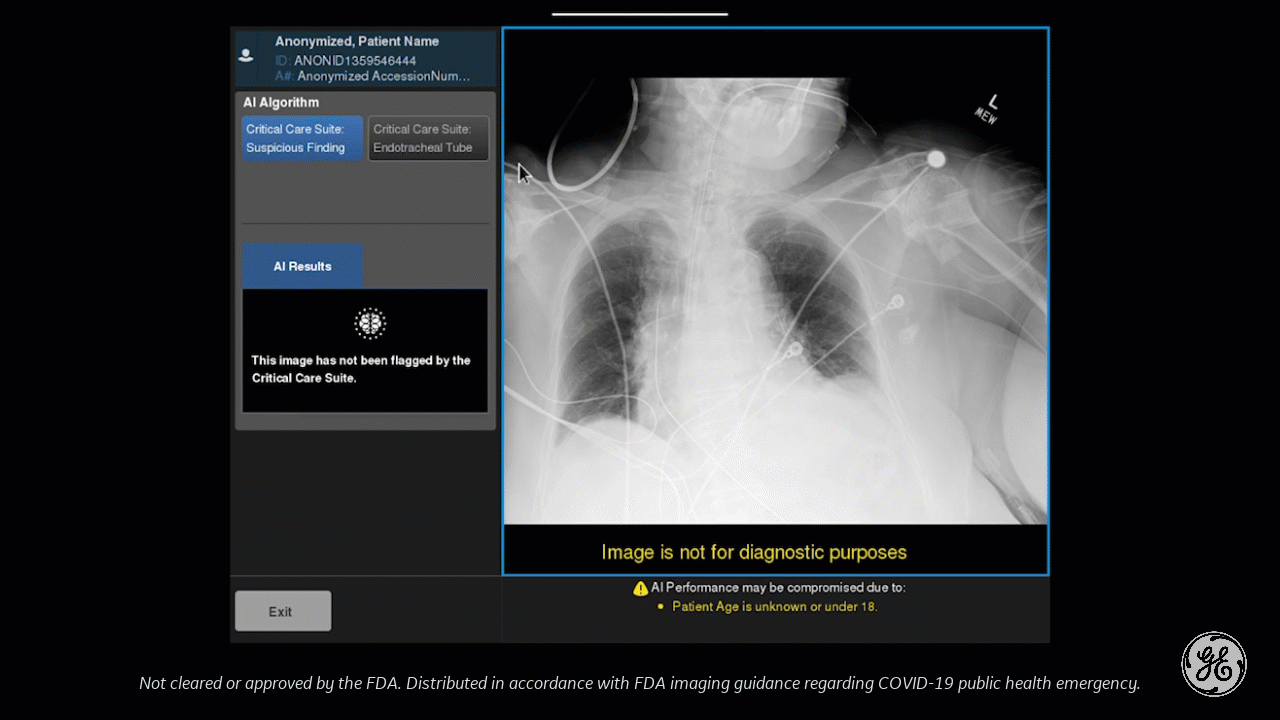 "We're currently operating where staff and resources are scare, and many times the team must make split-second decisions in emergency situations," Dr. Amit Gupta, Modality Director of Diagnostic Radiography, University Hospitals Cleveland Medical Center. "This algorithm helps them identify these critical findings and it helps our residents prioritize these types of patients."
In one case at University Hospitals Cleveland Medical Center, an intubated COVID-19 patient received a routine mobile chest x-ray on a Saturday morning. The attending radiologist in charge of reading the exams had approximately 150 exams on their worklist and estimated it may have taken up to 6 hours to read this case, which can be a familiar scenario for radiologists reading many exams during busy times.
Fortunately, this exam was conducted using on a device with Critical Care Suite, which immediately flagged the case as suspicious for pneumothorax. The PACS worklist displayed the AI result of a "Suspicious Finding" and the radiology resident prioritized reading the case within an hour of acquisition. The patient was quickly diagnosed with a spontaneous pneumothorax and a chest tube was placed within 15 minutes.4
"The seamless integration of the AI alert into PACS has significantly impacted patient care and has been integrated into our standard radiology workflow," said Dr. Gupta.
GE Healthcare recently announced an expansion of these on-device AI capabilities with Critical Care Suite 2.0,5 designed to help clinicians and bedside staff assess Endotracheal Tube (ETT) placements for critically ill COVID-19 patients. Critical Care Suite 2.0 uses AI to automatically detect ETTs in chest x-ray images and provides an accurate and automated measurement of ETT positioning to bedside staff within seconds of image acquisition.
"This is another critical finding we always have to be very attentive too," said Dr. Gupta. "We hope this will be equally valuable tool as we continue caring for critically ill COVID-19 patients."
Streamlining Workflow and Clinical Efficiency
"Today's pandemic has proven that data, analytics, AI and connectivity will only become more central to helping clinicians and partners on the front lines to quickly deliver care," says Katelyn Nye, Global General Manager, Mobile Radiography & Artificial Intelligence. "For GE Healthcare, that means continuing to advance intelligent health and providing innovative technologies to improve patient outcomes, reduce waste and inefficiencies, and eliminate costly errors."
AI-equipped ultrasound and X-ray devices automatically flag concerning findings, allowing busy healthcare providers to direct their energies where they're most needed, prioritizing critical patients. Similarly, bedside clinicians can target their efforts toward helping COVID-19 patients avoid complications.
Fast Company magazine recognized Venue Go system and Critical Care Suite with 2020 World Changing Ideas awards, giving both solutions honorable mentions in the health and wellness category.
As the battle against COVID-19 continues, AI-assisted imaging technology is helping patients–and healthcare providers–take some deep breaths.
---
2 Vaishya, R., Javaid, M., Khan, I., & Haleem, A. (2020). Artificial Intelligence (AI) applications for COVID-19
pandemic. Diabetes & Metabolic Syndrome: Clinical Research & Reviews, 14(4), 337-339. doi:
10.1016/j.dsx.2020.04.012. Accessed September 8, 2020.
4 GE Healthcare Data on File.
5 Only available in the United States. Not cleared or approved by the FDA. Distributed in accordance with FDA
imaging guidance regarding COVID-19 public health emergency.