In the era of precision medicine, clinicians are constantly looking to customize treatment and care approaches for oncology patients. Many times, this involves looking into a patient's genomics, big data, and environmental factors to determine care that could improve patient outcomes.
It's this mindset that has inspired Dr. Anat Kornecki and her team at St. Joseph's Health Care London to apply a personalized care approach when it comes to diagnosing and treating breast cancer patients. In her mind, the one-size-fits-all method should be left in the past.
"One patient is not like the other, and every single mammogram begins a whole new story," remarked Dr. Kornecki, Breast Imaging Lead, Breast Care Program, St. Joseph's Health Care London and Scientist with Lawson Health Research Institute in London, Ontario. "The breast is a very complicated organ, and every modality has a role, but CESM is most certainly a game-changer."
The Contrast Enhanced Spectral Mammography (CESM) diagnostic tool Dr. Kornecki is referring to is one of several tools alongside ultrasound, mammography, and MRI that can be leveraged to detect breast cancer after a woman has had an abnormal finding in her screening mammogram.
After a lesion is determined suspicious and needs to be examined further, clinicians will order a biopsy to collect a small tissue sample of the suspected cancer from inside the breast. Like the many diagnostic modalities for breast cancer, there is no 'one size fits all' biopsy approach when a lesion needs to be examined.
Until recently, biopsies of lesions found with contrast-enhanced mammograms were typically performed with breast MRI for lesions not seen on mammography or ultrasound, which can be time-consuming and uncomfortable for patients.
Clinicians in the U.S. now have access to a new breast biopsy tool available from GE Healthcare called Serena Bright™*- the industry's first contrast-guided biopsy solution. Pairing hi-res CESM images with advanced Serena Bright software, clinicians can target the lesion of interest while performing a biopsy.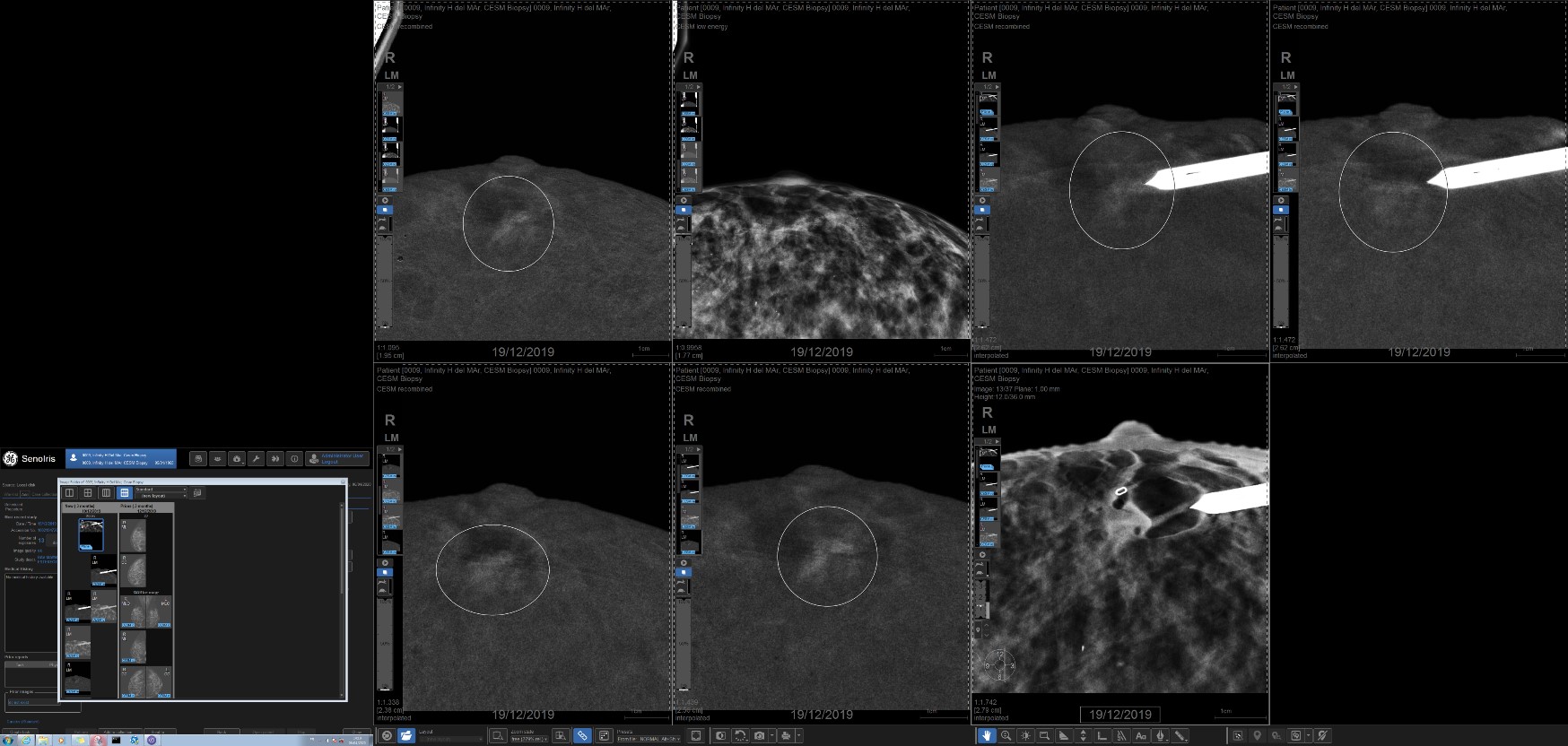 Serena Bright Case Example: Completed in 8 minutes from start of injection until clip deployment. Right breast, Inferior Internal lesion, close to areola. Horizontal approach, inferior access.
As part of her research, Dr. Kornecki is the first in North America to put this technique to practice with promising results. The CESM biopsy procedure has been a "huge help" to both patients and providers, Dr. Kornecki says, calling it an easier procedure than a standard MRI-guided biopsy, and an "elegant" one. "MRI biopsy takes longer for us to do, and because the patient is face down for the procedure, it's really not a fun procedure for them. Serena Bright, on the other hand, may take only about 15 minutes."
The technology enables patients to be familiar with their surroundings during the biopsy as it leverages the same staff and technology as their original CESM procedure, often providing a more tolerable experience. The ability to communicate with patients is also a major advantage of CESM guided biopsy on mammography, according to Dr. Kornecki. "To see the eyes, the face, and be able to talk to and interact with patients; we get to hear their story" Dr. Kornecki says.
It could also offer a shorter time to treatment for patients, who can find themselves anxiously waiting several weeks just to schedule their MRI biopsy procedure.[1] At Dr. Kornecki' s facility, the CESM biopsy can be scheduled within a week after an initial contrast-enhanced mammography.
Outside of patient experience, it has also been useful in some of the most challenging breast cancer cases Dr. Kornecki sees, like patients with lesions close to the chest wall, women with breast implants, and patients with small breasts.
"It can be also helpful for patients who had an abnormal breast MRI and couldn't tolerate an MRI biopsy," she says.
Looking ahead, healthcare providers worldwide are looking to adapt this new biopsy option learning from clinicians like Dr. Kornecki, with Serena Bright coming to the United States in 2020.
For more information on Serena Bright, click here.
* Product may not be registered/available in all regions.
---
[1]Accessed on 10/16/20: https://www.cedars-sinai.edu/Patients/Programs-and-Services/Imaging-Center/For-Patients/Exams-by-Procedure/MRI/MR-Guided-Breast-Biopsy/MR-Guided-Breast-Needle-Core-Biopsy-Procedure-Information.aspx