An ultrasound scan is a hallmark of many women's pregnancies, providing a glimpse inside the womb for expecting parents and a powerful clinical tool for providers as they care for both mom and baby.
Not only do ultrasound scans provide real-time images and information during pregnancy exams, but they're used daily by women's health providers to evaluate everything from follicle growth during fertility treatment to evaluate endometriosis.
While ultrasound is a critical tool, a recent survey of 150 clinicians from across the world[1] found that the technology itself had room for improvement.  
What the feedback revealed was that women's health ultrasound systems often have complex software, too many buttons and are used in a variety of ways, making it hard to just pick up the probe and get to work for clinicians who are already strapped for time.
With twenty years of reproductive endocrinology and ultrasound experience, Dr. Benjamin Rösing, has faced these challenges throughout his clinical career.  
"It is really important to have flexibility with your machine," said Dr. Rösing, reproductive endocrinologist and the Medical Director of the Center for Hormones and Fertility in Aachen, Germany. "If you're a typical user performing an examination, you don't want to worry about the system set up and all of the buttons. You're just interested in getting the best image possible to answer your questions."
A team of GE Healthcare product developers and sonographers specialized in performing women's health ultrasounds went probing, gathering feedback from clinicians worldwide with the goal of creating a design that makes performing an ultrasound exam easier. Their plan literally began at the drawing board.
"We looked around and saw that all of the ultrasound systems designed for more occasional ultrasound users pretty much looked and worked the same," said Adam Angiulli, Global Product Manager for Women's Health Ultrasound. "We thought, why not totally shake this up."  
From there, they began the journey of redesigning a women's health ultrasound system that would redefine the user experience, resulting in what is now GE Healthcare's Voluson SWIFT.
A Sonographer's Touch
The team began the process by conducting 250 clinical surveys and 150 interviews in six countries, identifying unique user profiles, challenges, and needs. 
"Everything we did was customer based. We heard from customers that they didn't know how to leverage their system to the fullest extent," said Adam. "Many of our advanced features people weren't using because they didn't know how or didn't know how to integrate them into their workflow."
Key to this unique team was that it consisted of sonographers, who were able to meld clinical experience and insights from their sonography trade with their role at GE Healthcare.  
Barbara Del Prince, Director of Global Product & Clinical Management for GE Healthcare's Women's Health Ultrasound portfolio, goes way back with ultrasound, earning her bachelor's degree in ultrasound and practicing as a sonographer before joining the medtech industry.
"Our internal sonographers worked hand in hand with our engineers every step of the way," said Barbara. "They were the first to provide clinical insight and feedback based on their experiences on design elements from hardware to software. It's unique to have this many sonographers working on a team like this, but it's truly given us an inside perspective on what customers might want and need."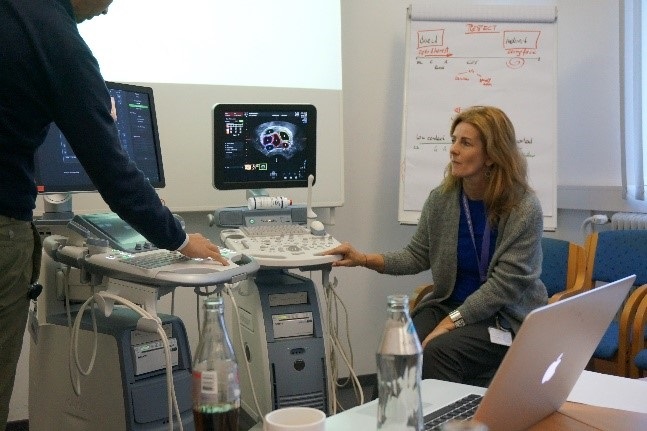 After a year of collecting both observational and survey data and leveraging the internal team's deep domain-knowledge, the team came together to begin mocking-up the new machine in the engineering design lab in Voluson Valley, nestled in the mountains of Austria.  
 "After we had done all of the computer mock-ups and visualization, we were ready to see what it might actually look and feel like," said Angiulli. "At one point we mounted a large touch screen onto the bottom of a Voluson P8 ultrasound system, pulled out some old probes, and we saw a rough idea of what the Voluson SWIFT would eventually look like.
A Customer-First Approach to Product Development
Beyond the internal feedback from clinical experts on the team, every step of the way the team went back to customers to get additional feedback and understand how the design and implementation of the technology could be tweaked to better serve them.
Dr. Rösing was one of many clinical evaluators who provided feedback on the product design and development throughout the process. Over several 'imagination sessions' with GE Healthcare's product development team, as Dr. Rösing calls it, the feedback and product features began to come together.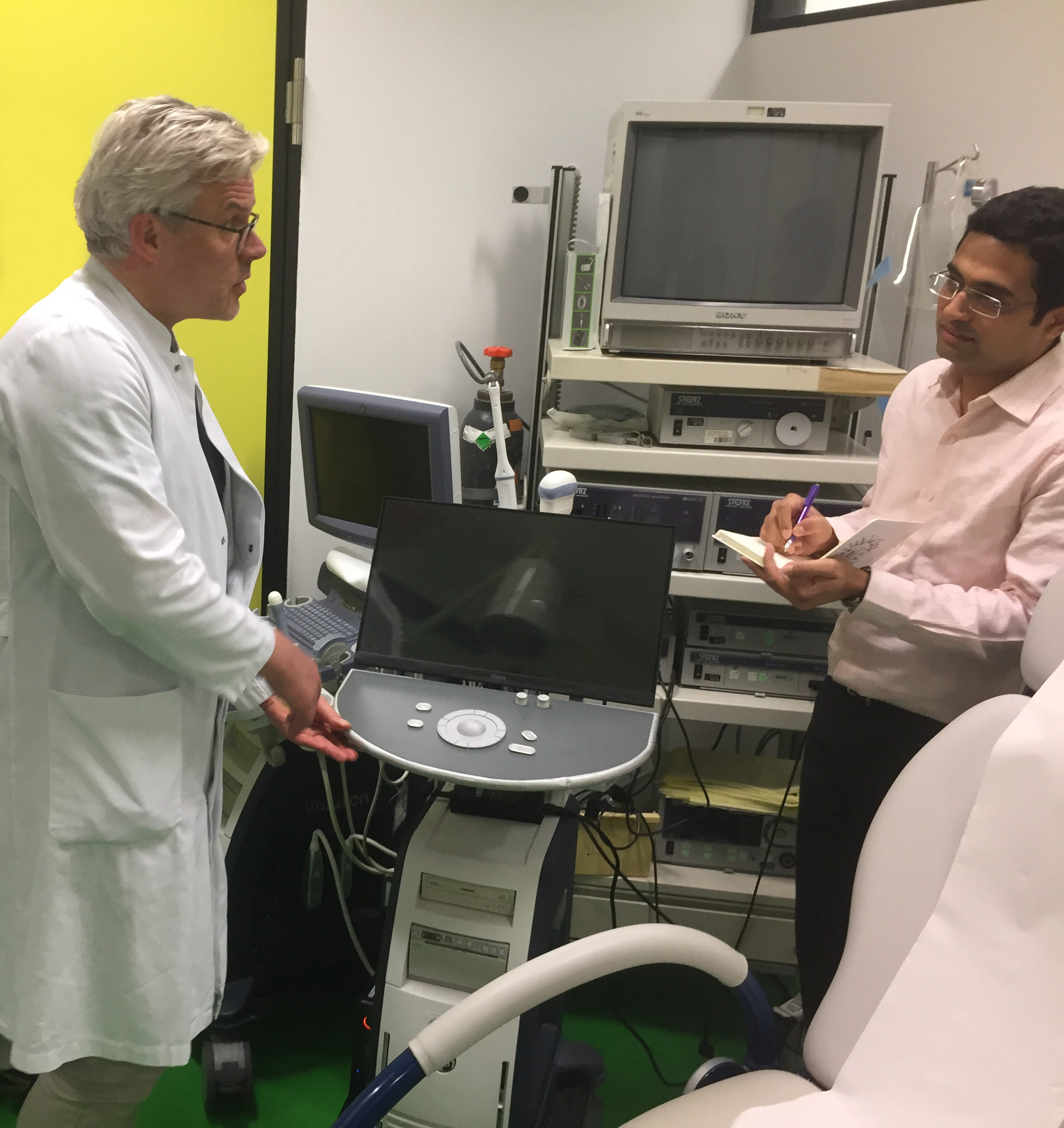 "It was a really amazing atmosphere to collaborate with the team and imagine all of the possibilities," said Dr. Rösing. "Our ideas were mostly around making the application (of the device) easier for users. We talked quite a while on how to reduce buttons on the keyboard, the possibility of incorporating a touch screen, and if we could include preset standards and workflows already ready-to-go on the device."
After two years in development, the result was a sleek, ergonomic ultrasound design specifically for women's health clinicians.
"From the first impression, I could tell the machine was very easy to handle and the dimensions were great so it wouldn't be taking up a ton of room in the office," said Dr. Rösing.
Based on feedback from users like Dr. Rösing, the system also brought a feature unprecedented to the women's health ultrasound market: a touch screen interface driven by gestures like what people use on their smart phones.
"The touch screen was a key part of making the system more intuitive for users," said Barbara. "We knew asking people to take this leap from hard keys to touch screen could be challenging, so we needed to make it easy for them to use and change their behavior. We made sure its gestures and menus were like the smart devices people already use. It was intuitive, so people have gravitated to it very easily." 
With the hardware now in place to solve clinical challenges by design, the team looked to the system's software design to further solve customer needs like simpler workflows, improved efficiency and customization. 
"When designing the software and workflows, we looked at the system and focused on how we could remove the extra steps by focusing on the task to accomplish. We wanted to take out all of the preconceived notions of what you had to do perform an ultrasound exam and simplify it into what you need the machine to do," said Barbara.  "And with the AI, we were able to take this one step further with image recognition, automating repetitive tasks, and increasing the user's accuracy. The software is where we really were able to take users to the next-level."
The prototype was in place, and the team was ready to test it with customers. Each country had posed a different need and user-type, adding another challenge to create a system that would meet each customer need despite location or user.
"There was one point where we got a piece of feedback on being able to swivel the monitor that we thought was going to derail everything," said Adam. "Instead, it resulted in some tweaking that now makes it easier for users to share images with patients while they're in the office by simply rotating the screen around. Now, the maneuverability of the SWIFT is one of the best ergonomic features."
With fine-tuning and every detail accounted for, the team was ready to share their product that was four years in the making.
A New Generation of Women's Health Ultrasound
The finished product, the Voluson SWIFT, has met the ergonomic, workflow and usability needs of customers in a way the team themselves couldn't have imagined.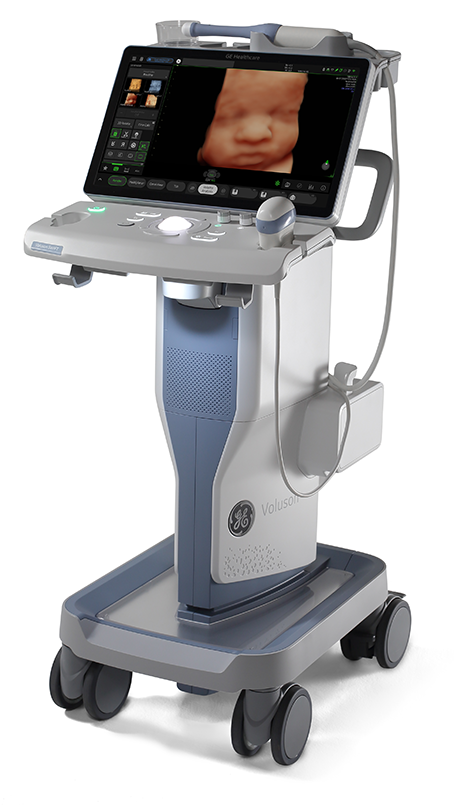 "When I first started as a sonographer, I could not have even imagined a piece of technology like this," said Barbara. "The physics and fine-tuning behind ultrasound imaging I learned in school, is now done for you. With Voluson SWIFT, clinicians can now spend less time on 'what do I need to do to work the machine' and more time on 'what do I need to do to make sure the patient has the best experience and exam they can have.'"
The Voluson SWIFT is now available in most countries and Dr. Rösing's practice will be the first in Europe to leverage the technology.
"It was a good feeling to see the final version of Voluson SWIFT and see that most of the things we were wishing for during product development were realized," said Dr. Rösing. "Obviously, it would be best if the design and the machine could be mind-reading, but I think Voluson SWIFT is quite close to that capability"
To learn more about the Voluson SWIFT, click here.
---
[1] GE Healthcare Data on File