Unforgiving 90-plus degree Fahrenheit days at the Shiokaze Park beach volleyball venue were no match for April Ross who recently won her third Olympic medal and first gold at the delayed 2020 Tokyo Olympics in August. While on the court, she stood alongside American teammate Alix Klineman, yet Ross also had an unseen partner fueling her at every point throughout the games: her mom, Margie. Margie died two decades ago, when Ross was 19, after a 10-year battle against metastatic breast cancer.
"I always think of her watching over me, and it drives me to be my best in a lot of different ways," says Ross. "Back when I was in college, I wanted to get good grades [because of her] . . .  And when I'm out there competing on the court and especially at the Olympics, when there's a ton of pressure and crazy things happen, you're just hoping for one extra point. Sometimes the ball will hit the net and you don't think it's going over, but it will roll over, and it's a point for you. I feel like that's my mom on our side, giving us that little extra advantage that we need."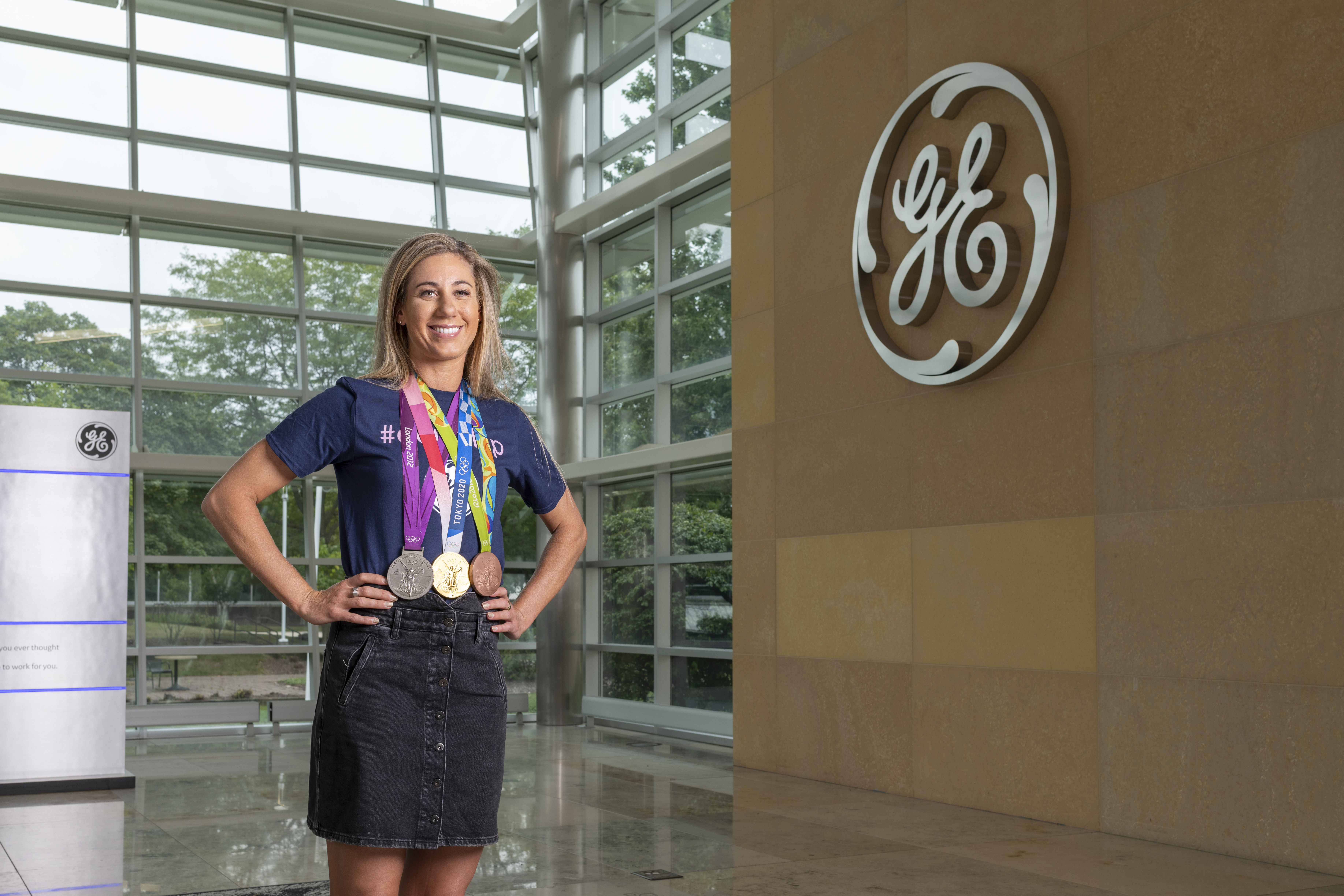 Her mom is also the reason she is committed to spreading the word about breast cancer prevention and early detection tools.
Statistics show early detection through regular mammograms is important. Women who have regular mammograms are nearly 60% less likely to die of breast cancer than those who don't.[1]
But here's the rub: A full 25% of women skip their annual mammograms for a variety of reasons.[2] Many find them anxiety-provoking, physically uncomfortable or downright painful. Recently, one study shows a nearly 60% drop in the rate of screening mammograms during the pandemic.[3]
"Because of my experience with my mom I started getting mammograms really early . . . but the first one can be a little intimidating and if you go into a sterile environment and it's not very inviting  — you feel a little anxious being in there and you don't know what's going to happen," shares Ross.
It was this shared experience voiced by many that encouraged GE Healthcare to take the daring step of reshaping mammography five years ago — becoming the first company to build a mammography device, the Senographe Pristina, based on specific patient feedback. The Senographe Pristina also features the award-winning Pristina Dueta, an industry-first, patient-assisted compression remote control device where under a technologist's supervision and guidance, a woman can control her own exam and manage the levels of compression.
"Having the control where you can adjust the pressure so that it's comfortable for you, is huge," Ross adds. "Having that power is going to encourage people to come back."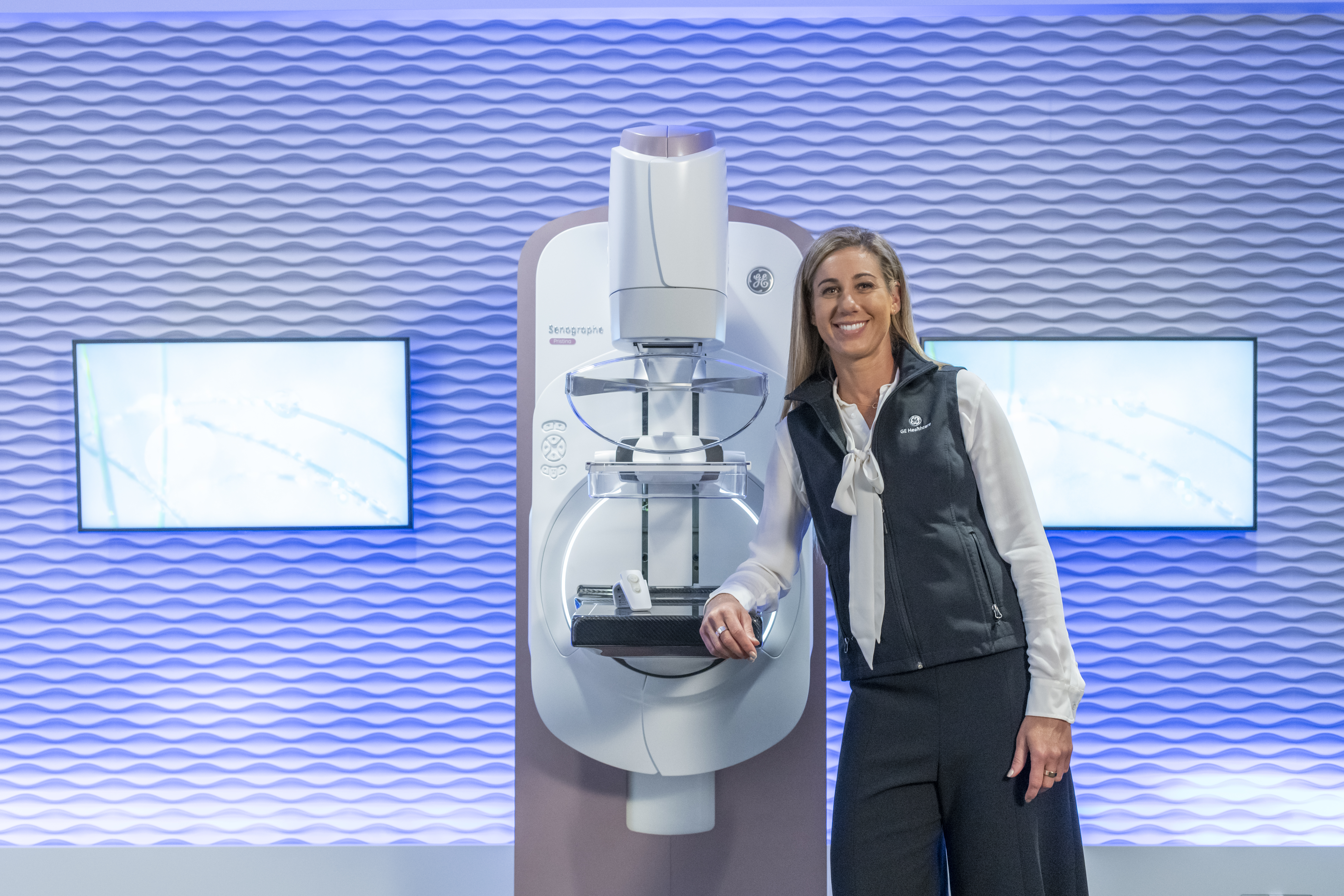 The Senographe Pristina mammography system replaces the traditional design with rounded edges and a thinner image detector to create a more pleasant experience for women. The position of the armrests also helps patients avoid tensing up during the compression and image acquisition process.
"The fact that the Pristina system is made by women for women is so inspirational, and [is] definitely going to be a better experience for women," says Ross.
Results from patient surveys show the design provides a more comfortable exam. More than 80% of patients surveyed rated their experience with Senographe Pristina as better than with previous systems, and 4 out of 5 women who used the patient-assisted compression device found it improved the comfort of their exam.[4] [5]
"Senographe Pristina was designed with empathy," says Agnes Berzsenyi, president and CEO of GE Healthcare Women's Health, which has a long history in innovating to make healthcare more accessible. "It humanizes the mammography experience by helping to increase comfort and reduce patient anxiety. The system's potential to help increase the number of annual screening exams is a critical advancement in women's healthcare."
With her mother's memory as an inspiration, Ross brings the mindset, commitment and passion required to become an Olympian to helping women understand the importance of early detection, as well as how the Pristina experience can play an important role in helping women take care of their health.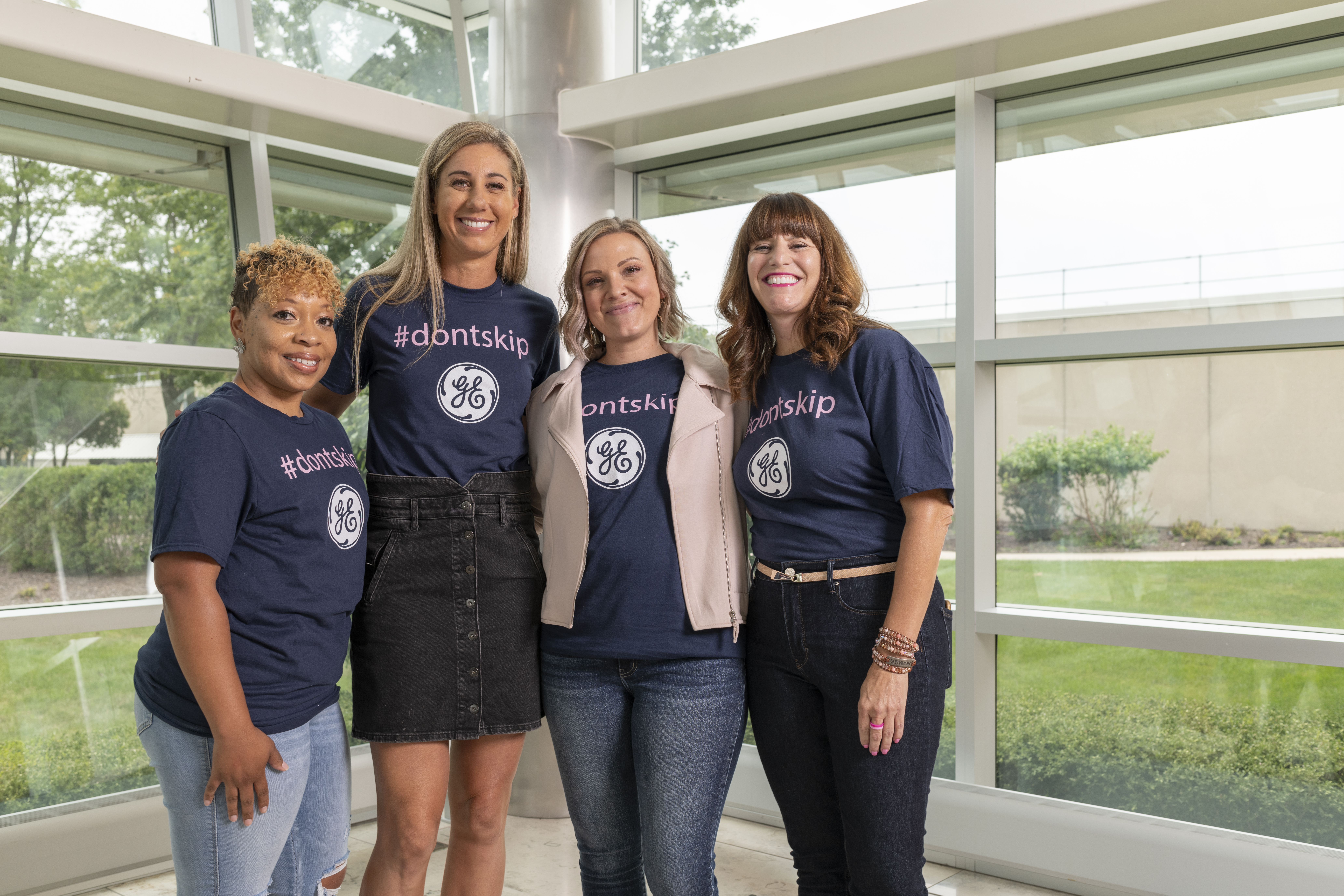 "Being an athlete, preparation is everything. Preparation for taking care of your health is the same," says Ross. "Sometimes it's hard to get yourself to take the steps necessary to take care of your health. But once it's in place it becomes routine, like muscle memory. Set up your annual visits and they get renewed. Putting that effort in on the front end is the hardest part. But once you do that, it takes care of itself."
It's a message that Ross's mom would surely be cheering for from the front row.
In the US, patients can search here to see if the Pristina system is available at a breast imaging center near them.
---