It's an all-too-familiar scenario. A woman has a screening mammogram, then receives a call about a suspicious finding. Understandably concerned, she undergoes additional diagnostic tests that either confirm her fears, call for more tests at different healthcare facilities, or simply raise the anxiety level until the next exam.[1]
Navigating all these steps take both precious time and an emotional toll. But new technologies and standards of care are changing that. As announced December 14, a clever new concept in breast care delivery called the One-Stop Clinic – with successful iterations in Europe and South America – is coming to the United States.
Postponed in a Pandemic
COVID-19 and its consequent public health crises has prompted millions of patients to cancel or postpone much-needed breast screenings, leading to dangerous delays in diagnoses and treatment.[2] In the U.S. an estimated 285,000 women missed their screening mammogram between March and June 2020 alone.[3]
"Among today's challenges of the pandemic, it is essential we rethink the patient experience and clinical workflows to relieve patient anxiety and reach an accurate diagnosis as quickly and efficiently as possible," said Agnes Berzsenyi, President and CEO of Women's Health and X-Ray at GE Healthcare.
Accordingly, the Society for Breast Imaging has recommended that providers consider implementing streamlined imaging protocols to decrease time and number of visits that patients have to make to the clinic.[4] The innovative One-Stop Clinic approach developed before COVID-19 may now be a model for adapting and serving patients in the current pandemic environment.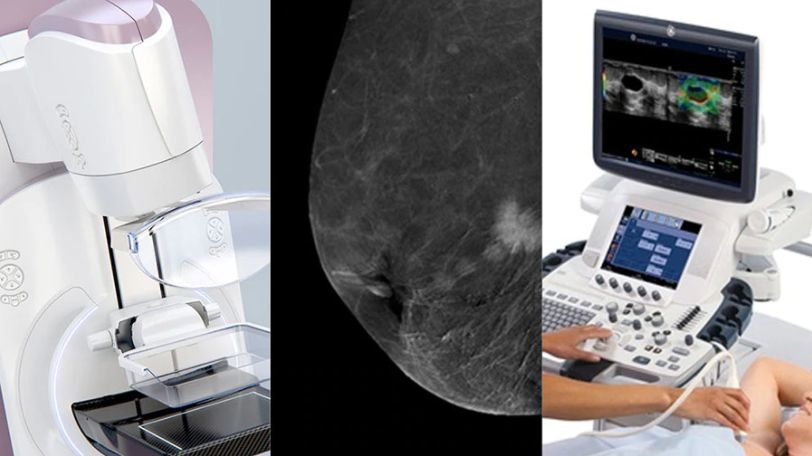 From France to Colombia and Beyond
The rapid diagnostic One-Stop Breast Cancer Clinic model provides same-day results for 75 percent of patients and 80 percent patient satisfaction at the Gustave Roussy Cancer Campus in France, where the model was first implemented.[5] One-Stop Clinic breast care technologies can include GE Healthcare's Senographe Pristina mammography system, SenoBright™ HD Contrast-Enhanced Spectral Mammography (CESM), Serena Bright™ biopsy and Invenia™ ABUS.
The clinic offers patients the ease and convenience of one place, one day, and one interdisciplinary medical team – a streamlined system that also now helps limit potential exposure to COVID-19 as well.
"It is now a safety matter. Some women have been waiting even when they do have symptoms, but in these cases, we are calling women back in to make their appointment and see what's going on," said Dr. Corinne Balleyguier, Head of Medical Imaging Department at Gustave Roussy Cancer Campus. "The idea is that at the end of the day we can give women a diagnosis, to reduce anxiety, and make a multidisciplinary assessment very fast."
The French clinic's documented success inspired a second One-Stop Clinic in Medellín, Colombia. There the average time between a suspicious mammogram and diagnosis was reduced from 65 days to less than 12 days, and for high-risk patients, to less than 9 days. To date, the clinic in Colombia has served over 100,000 women.
"Patients love the program, and so do we, and we definitely want to continue doing it," said Dr. Sebastian Diaz, breast surgeon at the clinic. "They love that at the same clinic, they receive everything that's perfect for them. They feel like they're with a great team, getting treatment, guided by a nurse navigator—I call them 'guardian angels'—moving to every stop, when they have to, in one place, instead of having long days when they had to go to multiple places."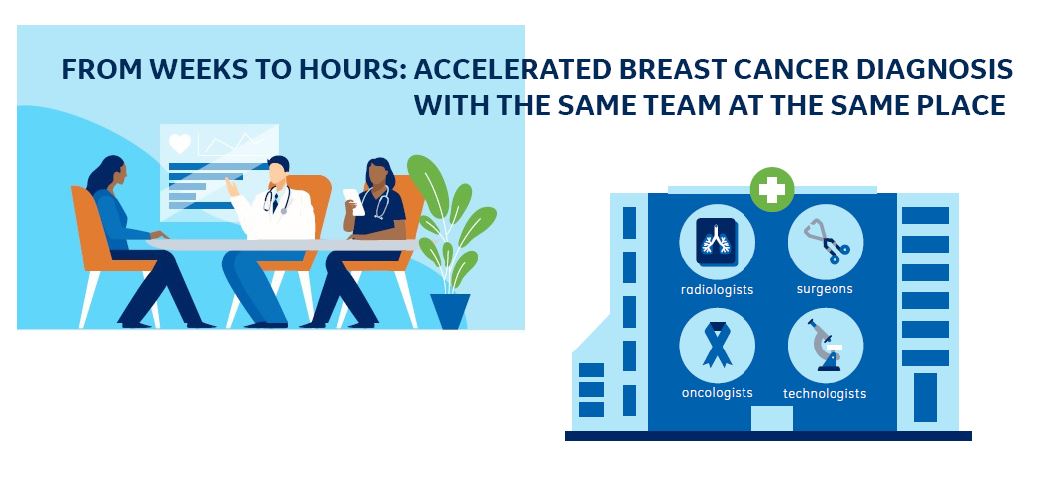 Coming to America
As announced on December 14, with Premier Applied Science's support, GE Healthcare is collaborating with St. Luke's University Health Network in Pennsylvania to bring One-Stop Clinics to America, with St. Luke's serving as the first model clinic opening in early 2021. The multi-modality approach takes patients on a coordinated journey from the initial appointment through diagnosis and treatment plan – all with the goal of a significantly shorter timeframe between when a patient receives a positive screening mammogram and a confirmed cancer diagnosis and treatment plan.
Currently, this process can take several weeks and often involves several care locations. St. Luke's was selected as the ideal pilot site as they have already taken steps to complete the diagnostic imaging flow in five days – and once the One-Stop clinic at St. Luke's is fully in motion, the goal is to achieve it in 36 hours or less. St. Luke's will serve as a model to expand One-Stop Clinics across the United States.
"With hospitals spanning two states and representation in urban, suburban and rural communities, we believe we are uniquely positioned to provide the platform for best practices to a majority of the nation's healthcare providers," said radiologist Dr. Joseph Russo, Women's Imaging, St. Luke's University Health Network. "Our entire team is committed to improving access, diagnostic wait times, and technology for all women facing a potential breast cancer diagnosis."
To learn more about these one-stop clinics and the breast care technologies therein, click here.
---