Breast cancer is the most common cancer in women in Egypt, accounting for 35% of cancers with around 22,000 cases diagnosis in 2020[1].
In July 2019, Egypt President Abdelfattah Al Sissi launched the Women's Health Initiative, a program to improve early detection of breast cancer, hypertension, diabetes, osteoporosis, and heart disease and aimed at nearly 30 million women across the country.
To accelerate this initiative, the Egyptian Ministry of Health just signed a preliminary agreement with GE Healthcare and Europe's top cancer hospital Gustave Roussy to create rapid diagnosis clinics for breast cancer in Egypt.
A pioneer in "one-stop diagnosis", Gustave Roussy's One-Stop Clinic has received more than 21,000 women since 2004, and more than 80% of them were able to obtain results and treatment planning if needed the same day. It also delivered excellent accuracy (with a sensitivity 98.4% and a specificity of 99.8% ), while reducing total cost up to 50% per patient for benign cases, and 33% for malignant cases[1][2].
This multidisciplinary service brings together professionals from different specialties, all experts in breast cancer, including radiologists, surgeons, pathologists, oncologists, nurses, technologists. It uses a comprehensive approach that can include the GE Healthcare Senographe Pristina™ mammography system, SenoBright™ Contrast-Enhanced Spectral Mammography (CESM), Serena Bright™ contrast-guided biopsy and Invenia™ ABUS.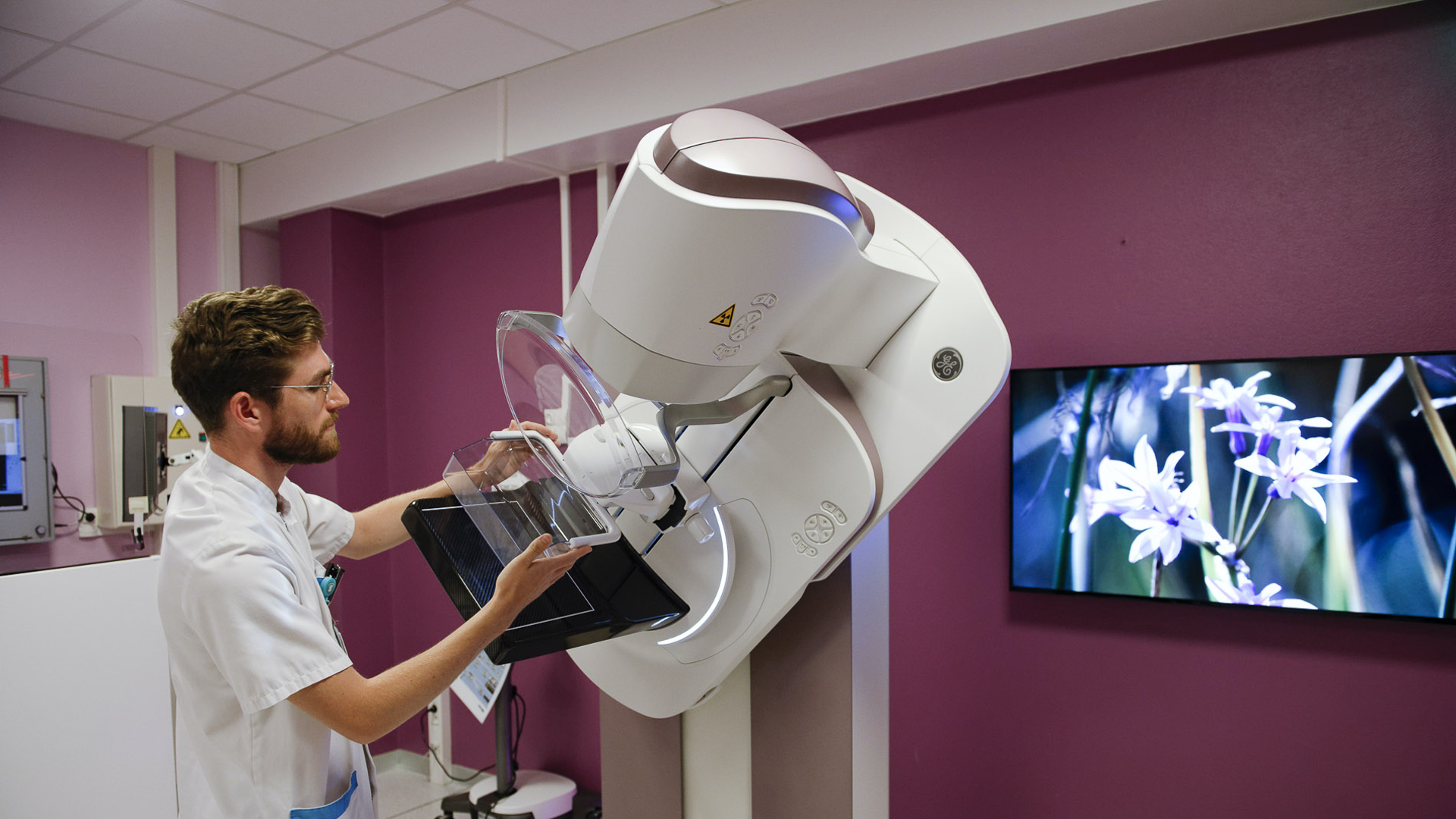 The concept, developed by Suzette Delaloge, MD, an oncologist and head of the Breast Cancer Department at Gustave Roussy, has already been replicated in Medellin, Colombia and at St. Luke's University Health Network in Pennsylvania, US.
In Medellín, the average time between a suspicious mammogram and diagnosis was reduced from 65 days to less than 12 days, and for high-risk patients, to less than 9 days. To date, the clinic in Colombia has served over 100,000 women.
The One-Stop Clinic pilot at St. Luke's began seeing patients in January 2021 and has already shown positive results with a reduction of the delay between diagnostic imaging and pathology from 8.5 business days to 2 days or less, and between screening mammography to pathology from 13.44 days to 5 days. Most patients received results in 36 hours or less.[3]
On a typical day at Gustave Roussy, between 20 and 30 women — start arriving around 8 a.m. and file into a bright waiting room. A coordinating nurse divides them into three groups based of the findings in their referrals and schedules them to see three different specialists for examination and screening.
The most serious cases go straight to an oncologist who can outline a treatment plan. Women with suspicious lesions smaller than 10 millimeters first visit a surgeon who typically carries out a series of tests. The final group visits a radiologist for a consultation.
This unique pathway demonstrates that coordination between different specialties, processes and innovative technologies can achieve excellent clinical and operational results and decrease the financial cost of breast cancer treatment.
As part of the collaboration in Egypt, Gustave Roussy will train clinical and administrative staff, and support the implementation of standard operating procedures and clinical algorithms to help set up One-Stop Clinics in the country. The aim is to improve the speed and quality of diagnosis and to reduce the costs of care, from consultation and diagnosis to treatment.
"We are extremely proud that Egypt has chosen to deploy to women the one-stop diagnosis concept invented at Gustave Roussy." comments Prof. Fabrice Barlesi, CEO of Gustave Roussy. "Women's health and the early diagnosis of cancer are causes that mobilize us and for which we deploy a lot of energy in order to develop new solutions. We are convinced that the hope of curing cancer in the 21st century lies largely in the fields of personalized prevention and rapid diagnosis."
---
[2] The challenge of rapid diagnosis in oncology: Diagnostic accuracy and cost analysis of a large-scale one-stop breast clinic European Journal of Cancer 66 (2016) 131e137
[3] St. Luke's Data on File