Related white paper available here: "The Efficiency Imperative: The Approach Healthcare Institutions Must Take Today To Thrive Tomorrow."
It's the advice parents have recited to their kids for decades: "work smarter, not harder." Of course, this trope is easier said than done… especially in a highly regulated industry, such as healthcare. In recent years, significant strain on the healthcare sector has had substantial effects.
Rising demand and declining reimbursements have placed increased pressure on clinicians to serve more patients, drive more value and demonstrate greater productivity. As a result, some studies now show physician burnout tops 40 percent[1]. 
Likewise, a move toward consumerization in medicine is causing patients to demand the same type of service and convenience they receive in other aspects of their lives. With this added level of scrutiny, many patients are disappointed with their experience – with patient satisfaction in the United Kingdom falling to its lowest level in a decade in 2018[2].
So, what is the solution? How can healthcare providers improve the patient experience without placing further strain on their healthcare workers… and all amid a global pandemic?
GE Healthcare believes the answer may be found in that old parental trope: "work smarter, not harder." Only, putting it into practice calls for the use of smart healthcare technologies to help alleviate clinical strain and allow clinicians more time to spend with patients and improve their experience. The company refers to this approach as "Intelligent Efficiency."
The Three Principles of Intelligent Efficiency in Medical Imaging
Driving greater efficiency, especially in the context of the global COVID-19 pandemic, is imperative to help address the challenges of many health systems around the world.
While it's tempting to blame COVID-19 for the most disruptive challenges facing healthcare institutions today, many of these issues have been years in the making. The pandemic has accelerated the rate of change and sense of urgency.
To solve this challenge, healthcare leaders must view efficiency as a process that improves every component of the care system and uplifts every individual who interacts with that system.
This involves considering three major principles: integration of tech, data, and the human; a simultaneous focus on both consumers and providers; and a holistic approach to the adoption of new techniques or technologies. The simultaneous application of these principles represents Intelligent Efficiency.
For some healthcare institutions, this practice is already becoming a reality, as they strive for a state in which quality care flows seamlessly and effectively for providers and patients, guided by relevant insights.
Using Imaging Data & Analytics to Serve More Patients & Help Improve Patient Outcomes
Ever since the first cases of COVID-19 struck nearly a year ago, hospitals around the world have been racing to get a step ahead of the virus. But the focus on fighting the pandemic and wanting to keep the number of people in hospitals down to lower the chance of transmission also means that standard procedures like magnetic resonance imaging (MRI) scans have been postponed. The demand for these imaging exams, however, hasn't disappeared, instead creating a backlog of 6.5 million MRI scans in the United States alone[3].
Reducing this backlog is going to require a Herculean effort on the part of radiologists and technologists across the nation to process and review images, manage scan times and disinfect MRI equipment between patients.
One way to ease the problem involves technology and data; specifically, using artificial intelligence (AI) to increase the clarity of images while cutting down on scan time.
In one real-world application, the Hospital for Special Surgery's (HSS) adoption of a novel, deep learning-based MR reconstruction technique called AIR™ Recon DL[4], led to faster radiology reads and more confidence in their diagnoses established through an early adopter user survey. Ultimately that put HSS in a position to serve more patients while maintaining diagnostic confidence.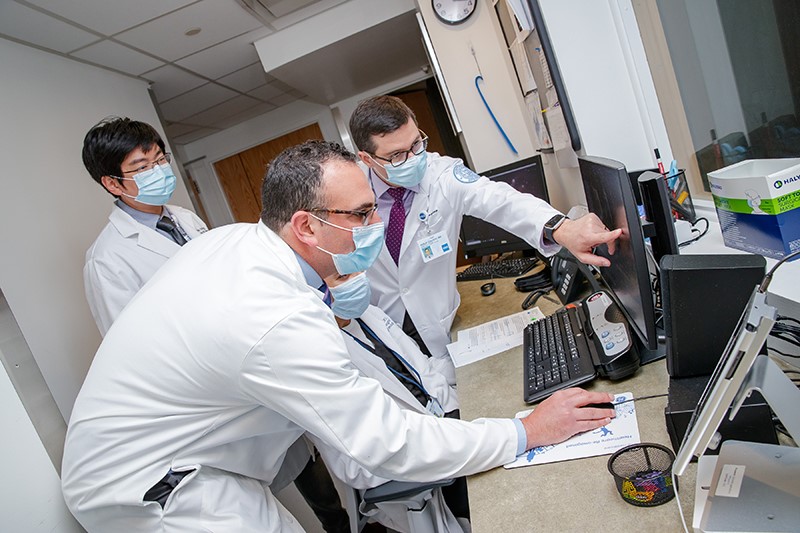 Darryl Sneag, director of peripheral nerve MRI at the Hospital for Special Surgery in New York, and his team are using new software developed by GE Healthcare — AIR Recon DL, which runs on GE's Edison software platform and uses a deep learning algorithm to improve MR image reconstruction. 
In this way, Intelligent Efficiency means physicians and other frontline providers are empowered and freed to deliver quality treatment, with better, more integrated data and tools, and without many of the current issues that lead to widespread physician burnout. It lets providers spend more time treating their patients and less time struggling with ad hoc systems that often take away from doing so.
Adopting Patient & Provider-Centric Technology to Create A More Satisfying Patient Experience
As healthcare moves toward more consumerization in medicine, patients are demanding the same type of service and convenience they receive in other aspects of their lives.
With this in mind, front-line healthcare workers effectively meet consumer demands and provide timely, understandable, and actionable information to patients about their health and treatment plans. The most crucial new technology will find a way to make this type of contact a seamless part of care that does not take excess time or make care delivery less efficient.
Setting up systems and adopting technologies that help patients better understand their care and consistently communicate benefits and risks, as well as reduce waiting times for tests and procedures will be essential to meeting the challenges of consumerization. Of note, it will boost patient satisfaction and improve patient loyalty to a hospital system.
GE Healthcare's Centricity Cardio Workflow is a great example of this, offering significant advantages that help healthcare professionals provide better care for patients. At the nearly century-old American Hospital in Istanbul, Turkey, the cardiology department incorporated the system to automate their cath lab and echo workflow, bringing in the hospital's IT department to assist with the adoption. The system eliminated the need for manual entry of some patient information, paper-based worksheets, and transcription, which allowed the hospital to reduce turnaround times for anxious patients. But even more importantly, the cardiology department was able to virtually eliminate error-prone manual processes.
In this way, Intelligent Efficiency can help simplify clinicians' workflows so they can provide patients with more face time and a seamless patient experience.
Taking A Holistic Approach to Improve Patient Care
COVID-19 has underscored the need to support healthcare worker efforts with technologies designed to support their efforts with holistic solutions that help increase productivity, foster better communication, and organize the explosion of actionable data.
Oregon Health & Sciences University (OHSU) was the first hospital system in the world to test the Mural Virtual Care Solution. The software was intended to bring various streams of data together allowing doctors and nurses to access the status of multiple ICU patients in one central place.
In the face of this pandemic, Oregon Health and Science University (OHSU) adopted a technology to help do just that: GE Healthcare's Mural Virtual Care Solution (Mural). The timely adoption of the Mural platform allowed the teaching hospital to operate more efficiently by enabling specialists in a central location to provide clinical support to bedside teams caring for patients in multiple ICUs.
The result was a system that allowed critical care experts to remotely oversee data – such as patients' vitals – and best practice standards in near real time. Just as importantly, it also allowed for better visibility into ICU bed access for those in need of intensive care, better data collection and monitoring for individual patients, greater satisfaction among providers who found it easier to fulfill their mission of delivering high-quality patient care, and a more efficient distribution of hospital beds across the system.
In this example, Intelligent Efficiency not only helps improve processes and outcomes, but most importantly, it can help improve patient care – even under the most strenuous circumstances.
GE Healthcare believes it's possible to improve care and efficiency at the same time. Leveraging intelligent solutions, we can create a better experience for both patients and hospital staff.
By viewing efficiency as a process that improves every component of the care system and uplifts every individual who interacts with that system. Data and analytics are front and center for administrators, providers, and patients. The result is time gained across the care spectrum and operations that add value behind the scenes.
Working smarter, not harder… that's GE Healthcare's Intelligently Efficient approach.
---