Asset Performance Management
---

GE Healthcare is digitizing the workflow including devices, equipment, service delivery and day-to-day operations. We provide a unified view of assets and operations all around the world, and can remotely connect to our machines and repair them. We constantly monitor data from sensors and asset management systems. We use that data for preventive, predictive and prescriptive analytics to transform operations, healthcare delivery and services. This is Asset Performance Management (APM) and is a major part of our digital story.
The APM ecosystem quickly gives C-suite (COO), Radiology Directors, Biomed (Clinical engineering) Directors and their teams access to data and analytics to predict, maintain, locate and analyze their asset fleet and related operational activities. This allows you to proactively make the right decisions at the right time.
Locate

Building on our expertise in asset tracking, GE continues to innovate the next generation of real-time location system (RTLS), providing location data as a service, to increase asset utilization, reduce rental expenses and improve staff productivity. It positively impacts patient satisfaction by being able to quickly find equipment.
Encompass
Predict

Analyze machine data and remotely predict disruption events
Diagnose and repair errors remotely or proactively schedule a service dispatch to repair onsite with an FE
Provide real time notification of such events on a smart phone, to keep users/stakeholders informed
Predict helps target a state of zero unplanned downtime, thereby helping avoid disruption to patient schedules
Leverage GE Healthcare's proprietary infrastructure and OnWatch predictive algorithms, which have demonstrated a 32% decrease in unplanned downtime.2
OnWatch
Maintain

Maintain gives you to have a single unified view of all assets in your fleet - GE and non-GE along with relevant asset configuration, service history, warranty, billing and operational data.
iCenter
Help Improve Your Operational Performance
GE Healthcare Services can help you achieve greater visibility of current performance and translate that into actionable insights. With iCenter, we can help improve asset utilization and help drive productivity. iCenter, a secure cloud-based asset maintenance and management software application provides data and analytics on asset status, location, maintenance history, utilization, and planning.
The new iCenter platform reflects input from our customers around the world. The result? A robust and scalable application which helps support our customers in accomplishing their operational and financial goals. iCenter is included with your service agreement and offers features and value for maintenance, planning and performance initiatives.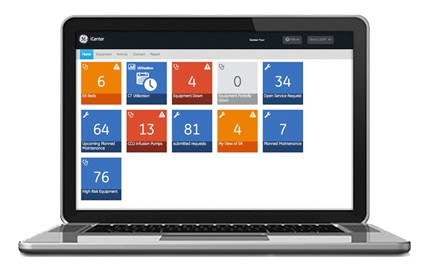 Analyze

With APM analyze, you can gain access to critical reliability metrics, total cost of ownership, effectiveness of PM's, etc. and compare them against benchmarks to drive improvements in operational and financial performance. GE's unique and sophisticated machine learning based algorithms does robust data mapping and processing on your CMMS data to generate valuable insights.