Theranostics is making a difference in healthcare by offering newfound hope to patients with cancer. Combining precision diagnostics and therapeutics, Theranostics is enabled by radiodiagnostic and radiotherapeutic pairs used along with advanced imaging technologies to target specific malignancies. Cancerous illnesses pose an ongoing threat to patients worldwide. According to the World Health Organization, there were over 10 million newly diagnosed cancer cases in 2020, resulting in more than 10 million deaths related to the disease.[1]
Within the realm of molecular medicine, Theranostics is garnering substantial interest for its potential to help improve outcomes of even late-stage cancer through precision oncology treatments. Experts in nuclear medicine and molecular imaging view Theranostics as one of the most exciting areas for continued exploration.
Integrating Theranostics into clinical practice
The Theranostics approach stands as a revolutionary method for cancer treatment by enabling personalized management and treatment of the disease. Currently, radiotherapeutics are approved for clinical indications including prostate cancer, bone metastases from prostate cancer, neuroendocrine tumors, non-Hodgkin's lymphoma, adrenergic tumors, in addition to the well established use for treating hyperthyroidism or thyroid cancer.[2]
Numerous other agents are undergoing discovery and trials, with the expectation of a wide range of radiotherapeutic applications in the future. The prospects for Theranostics are highly promising, sparking discussions among clinicians about the necessary changes to support these endeavors and integrate them into daily clinical practice.
"The tsunami of Theranostics is coming," said Dr. Anthony Chang, the founder and CEO of BAMF Health, a dedicated treatment center for precision medicine and Theranostics in Grand Rapids, Michigan. "We currently don't have enough capacity to treat this high volume of patients and this is going to be very difficult to solve."

Dr. Chang continues, "I never imagined I would run a business, but this is too important. One thing I can't stand to see is that patients are dying every single day, while we have the technology in our hands. Theranostics must be affordable and accessible to everyone."
Adopting Theranostics to continue improving cancer care and patient outcomes
In a recent panel discussion led by Elfareato Remekie, Vice President of Oncology Solutions for the US and Canada at GE HealthCare, clinicians and industry partners highlighted the significance of Theranostics in cancer care and its potential impact on patient outcomes, and how its transition to more routine clinical practice can advance the future of precision healthcare. The panel began by sharing an inspiring story from BAMF Health that showcased the transformative power of Theranostics in one patient's life. BAMF Health treats metastatic prostate cancer and neuroendocrine tumors with targeted Theranostics treatments. This patient's positive response to Lutetium-177 targeted treatment for advanced prostate cancer serves as an inspiration for further exploration and adoption of Theranostics.
"Honestly, this patient was likely weeks away from not being with us," shared Dr. Brandon Mancini, Medical Director at BAMF Health. "He and his wife were very supportive of trying this new treatment. His PSA dropped by 99 percent after just one treatment. It's the most dramatic change I've ever seen in a patient in my career."
"The successful outcomes of Theranostics treatments such as was seen in Dr. Mancini's patient are some of the factors driving increased demand outside of academic medical centers and larger hospitals," reported Chris Heble, Senior Director of Strategy for Molecular Imaging in the US and Canada for GE HealthCare.  "Though Theranostics provides hope and improved treatment options for cancer patients, it's not yet widely accessible. Over the next several years, Theranostics is projected to grow exponentially, pushing the market well past $30 billion by 2031."[3]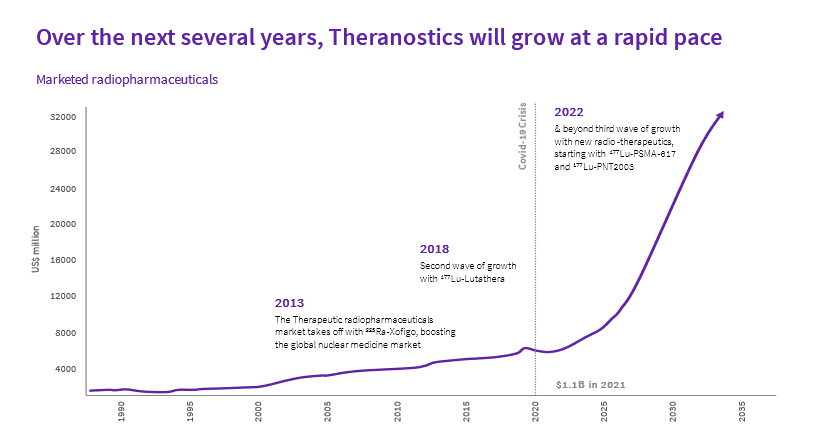 As a trusted partner to providers, GE HealthCare understands that many complex challenges come with cancer care, in part because of the high volume of patients and the broad spectrum of variability. Each instance of cancer presents differently in each individual patient due to many variables, from family history to genetics to lifestyle. Their commitment to connecting all phases of the Theranostics care pathway, from drug discovery to disease diagnosis to treatment monitoring, with scalable solutions, connectivity, and advanced imaging technologies, helps clinicians tailor Theranostics treatments to each patient to help get the best potential outcome.
Building a Theranostics infrastructure to support the transformation of cancer care
As more providers choose to establish Theranostics programs, they need access to advanced resources complemented by cutting-edge imaging technologies, including state-of-the-art cyclotrons, positron emission tomography (PET) radiochemistry systems, and tracer production facility solutions.
Collaborating with an established industry partner in molecular imaging and radiopharmaceuticals is important to offer the robust tools needed to enhance the production of well-established and newly found tracers and therapies. Industry partners, such as GE HealthCare, offer a comprehensive suite including cyclotrons, PET radiochemistry systems, and tracer production facility solutions, catering to a diverse range of tracer needs.
Molecular imaging techniques like PET/Computed Tomography (PET/CT) and single-photon emission computed tomography (SPECT)/CT play a crucial role in the Theranostics process and in evaluating treatment effectiveness. They enable clinicians to stage diseases and continuously monitor and understand their progression. The panel discussed the need for scanners capable of ultra-high sensitivity, high spatial resolution, and quantitative accuracy to help provide as much diagnostic confidence as possible.
"Molecular imaging has a unique property that allows us to identify molecular processes at an early stage. Using PET, you can actually track the journey of the radioactive targeted treatment or molecular targeted radiotherapy," said Dr. Harshad Kulkarini, Chief Medical Advisor at BAMF Health.
Dr. Chang continued, "We can use that information to plan the treatment. 24 hours after injection, using cutting-edge, high resolution, high sensitivity SPECT/CT, we will know if the drug got into the tumor. And we can create a very precise dosimetry map so we can offer an accurate prediction of progress."
"The advantage of the Theranostics approach for treatment is that you can get very precise," added Dr. Kulkarini, "because we are able to actually pinpoint the biodistribution of the tracer after the treatment by doing the post-therapeutic SPECT/CT and identifying the targets by the pre-therapeutic PET/CT imaging."

Leveraging the potential of data and AI in Theranostics
In this rapidly advancing field, the integration of AI and genomics holds immense potential to further enhance precision diagnosis, therapy planning, and therapy delivery. Data serves as the foundation for Theranostics. By adding genomic data, vast amounts of genetic and molecular data can be collected from patients, providing valuable insights into their individual characteristics and disease profiles.
AI algorithms have the potential to analyze this data, identifying patterns, correlations, and biomarkers that may not be easily discernible to clinicians. By leveraging machine learning and deep learning techniques, AI can aid in efficiently processing and interpreting complex genomic data, potentially enabling clinicians to make more accurate and informed diagnoses.
AI can also significantly enhance therapy planning, delivery, and dosimetry in Theranostics. With the help of AI algorithms, genomic data can be used to predict individual responses to different treatment options, enabling clinicians to select the most effective therapies for each patient. Organ systems and lesions can also be segmented using AI-enhanced applications to simplify and expedite the complex and sometimes laborious process of performing dosimetry calculations. Integrating AI and genomics can empower healthcare professionals with valuable decision-support tools, accelerating the development and implementation of personalized therapies.
Empowering a promising era in Theranostics
Theranostics, a captivating domain of molecular medicine, holds immense potential for transforming outcomes in cancer care. By leveraging precision medicine, advanced imaging technology, and evolving AI tools, Theranostics offers a valuable approach to identifying cancer patients more likely to respond to targeted therapies. In collaboration with trusted partners like GE HealthCare, providers like BAMF Health are actively establishing the essential groundwork to support the future of precise therapeutics. The persistence of disease strongholds, particularly in prostate and other cancers, underscores the urgent need to harness precise therapeutics and integrate these treatments into everyday clinical practice.
"We don't just believe," concluded Dr. Chang, "we know that Theranostics will have a huge impact on the future of medicine. It's our job to work with each other to realize this kind of hope for patients and make these treatments accessible to them."
---

---
RELATED CONTENT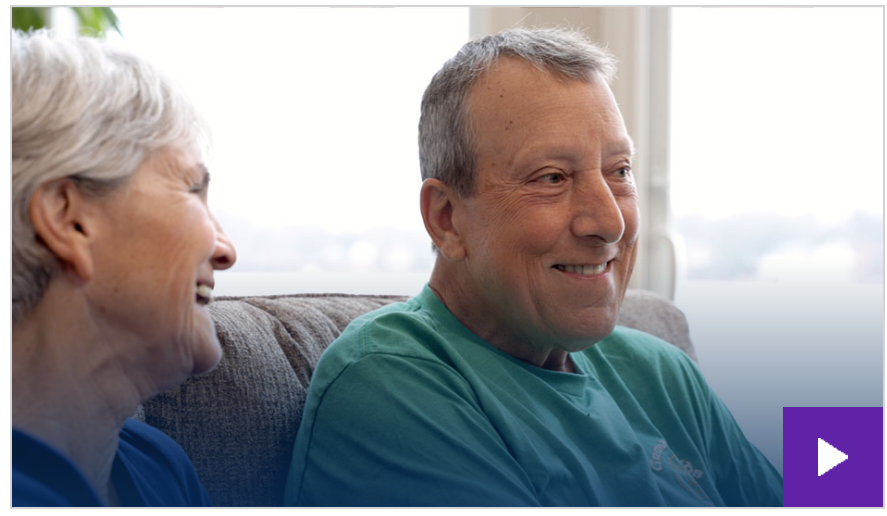 ---
DISCLAIMER
Not all products or features are available in all geographies. Check with your local GE HealthCare representative for availability in your country.
REFERENCES
---
[3] MEDraysintell 2021; Marketed Radiopharmaceuticals Report & Directory – Edition 2021