When physicians suspect that a patient has prostate cancer, they can now drape a special blanket-like device over the patient's midsection, then perform an MR-guided biopsy. Just five years ago, the same patient would have needed an endorectal coil inserted through the anus to produce the MR images needed to locate the cancer.
Blanket-like AIR Coils not only improve a patient's comfort levels during biopsy, but they can also produce crisp MR images in a short period of time, when used with the deep-learning software AIR Recon DL. As GE HealthCare researchers continue to improve prostate imaging, prostate cancer diagnosis and treatment should become more precise.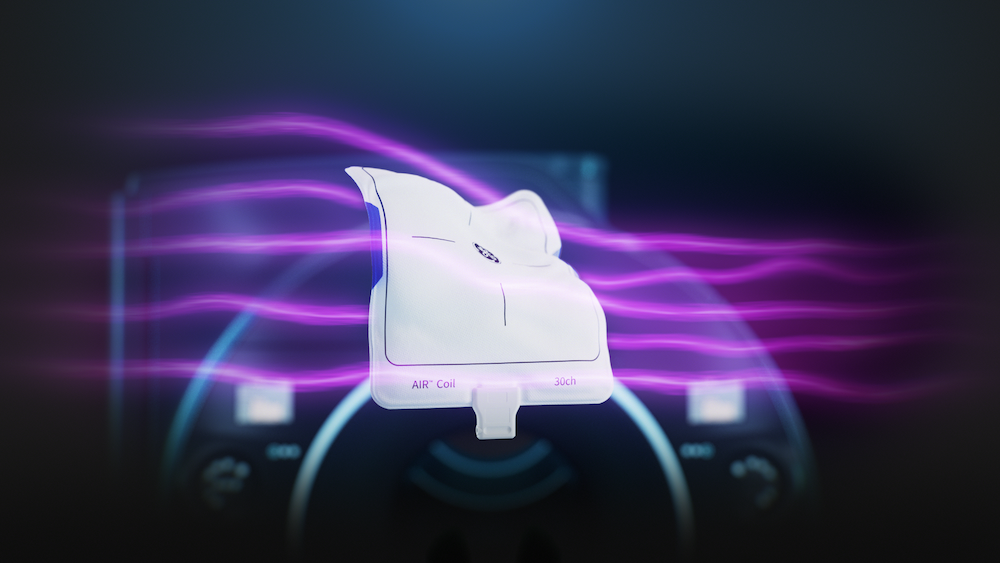 "AIR Coils have been a real substantial improvement on image quality, but neither GE HealthCare nor we would like to stop there," says Dr. Aytekin Oto, chair of the department of radiology at UChicago Medicine. "It's a constant journey to improve things."
Earlier Prostate Imaging Techniques 
Radiologists began using MR imaging exams during prostate biopsy procedures about 20 years ago. It was superior to its predecessor, ultrasound imaging. Ultrasound can't pinpoint the location of a suspected tumor within the prostate, so physicians often missed the most concerning areas during biopsies.
"Ultrasound was being used to identify where the prostate is, whereas MRI is used to identify and target where the cancer is," Oto says. "There's decades of data about ultrasound-guided biopsies which show that it misses clinically significant cancers."
With MR imaging, physicians locate and biopsy clinically significant cancers using radiofrequency (RF) coils that act like antennas, receiving signals that are used to create images of neighboring body parts. Without an RF coil near the prostate, the MR can't produce images of this gland, which is located just in front of the rectum. So until now, radiologists have had to insert an endorectal coil — a thin wire covered with a rubbery latex tube — to get reliable MR images of the prostate.
The process was "uncomfortable [and] inconvenient for the patients," Oto says, but "there's a good chance that we had a very accurate representation of patients' risk determination at the time of the diagnosis."
A Kinder, Gentler Technique
Radiologists are beginning to phase out endorectal coils in favor of AIR Coils, which look and feel like a lightweight, flexible blanket.
"The coil itself is very light, yet it has all the elements," Oto says. "The closer we can get the coil to the area of interest that we want to image, the better image quality we get."
During an MR exam with AIR Coils, a lightweight conductive fabric is draped over a patient's abdomen and groin, then tucked between the legs. Other coils are built into the MR scanning bed, against the patient's back. This, together with AIR Recon DL, help to pinpoint the prostate, creating MR images that are comparable to endorectal coil images.
Because it's easy to position AIR Coils, the MR exam involves quicker setup and far more patient comfort than an endorectal coil exam. AIR Recon DL helps to make the scan time quicker, while producing sharp images.
"The AI-enforced reconstruction of the data adds speed to the AIR Coil," Oto says. "That's a great combination, essentially combining convenience with speed."
MR centers that use AIR Coils and AIR Recon DL can perform more prostate MRIs within a day, which helps to expand the reach of the technology.
"If we're going to use prostate MRI for screening purposes of large populations," Oto says, "we have to find a way that will be quick and convenient yet accurate and reproducible, with good quality. I think AIR Coils check all these boxes."