Most of the time when people think of medical needles, they fret about the jab: that quick, sharp poke in the upper arm that delivers disease-preventing vaccines. But needles are often used for more serious and exacting procedures, including biopsies, ablations, osteosynthesis, and drainage. Unlike with that shallow shot in the arm, these long needles plunge deep into the body, through layers of muscle, past major veins and arteries, into organs and bones — and they need to precisely hit their mark.
Until recently, doctors used CT scans to guide the path of the needle. The process was lengthy and required multiple control scans — and therefore more radiation — to get the best position and angle.
The team at IMACTIS, a small med-tech company in Grenoble, a university town in the French Alps, spent a dozen years designing an innovative navigation system to improve interventional workflows. The result of their work, CT-Navigation, uses interactive 3D imaging to show doctors exactly where their needles should go before they actually do the insertion. IMACTIS CEO Pierre Olivier describes it as "a GPS to help clinicians navigate inside CT or CBCT [cone-beam CT] images when doing a biopsy or tumor ablation."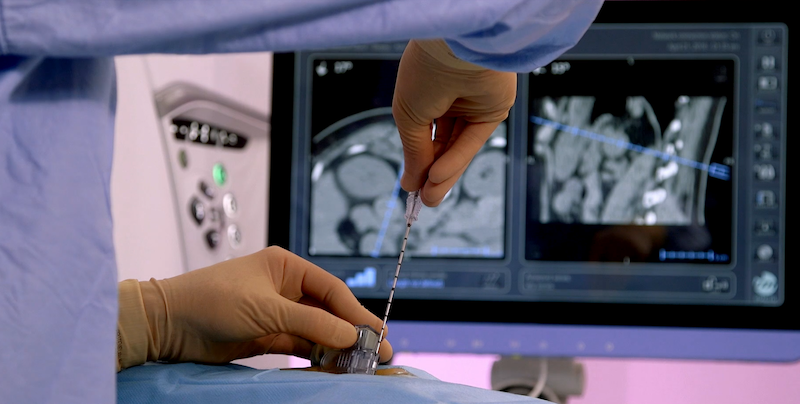 CT-Navigation has enjoyed much success in Western and Northern Europe as well as the United States. There are more than 80 units currently in operation, which have collectively performed more than 14,000 procedures. A dozen independent research studies have attested to its clinical benefits: It's faster and more accurate than conventional 2D CT techniques, it reduces radiation exposure, and it reduces variability, for ease of use. If it could become more widely known and a standard of care, Olivier believes, it could benefit radiologists all over the world. However, IMACTIS is a small company with limited resources. Its sales-and-marketing team is just four people. They needed help.
IMACTIS wanted to expand its reach by working with a bigger sales team and utilizing connections in the healthcare system. Olivier zeroed in on GE HealthCare because of its market access and the opportunity to integrate the IMACTIS system into GE HealthCare products to help further improve workflows while keeping ease of use top of mind.
GE HealthCare's executive team, in turn, was impressed by CT-Navigation. This month, the two companies entered into an agreement in which GE HealthCare would acquire IMACTIS. This deal would position CT-Navigation to take its place in medical facilities across the United States and eventually in other major markets, including Japan and China. (The consummation of the transaction is subject to customary closing conditions, including review by the relevant governmental authorities in France.)
"We're thrilled to take this step in strengthening our interventional guidance offering for patients and customers," says Jan Makela, president and CEO of imaging at GE HealthCare. "The IMACTIS CT-Navigation system is designed to improve workflow for interventional radiologists and hospitals by increasing procedural accuracy, while helping to reduce procedure time and radiation dose for patients and physicians. It is an innovative navigation solution for image-guided percutaneous procedures that aims for better patient outcomes, by reducing variability for simple and complex procedures and improving reproducibility."
CT-Navigation is compatible with all CT scanners and needle sizes from 25 gauge to 11 gauge, and it works with both soft and hard tissue. In appearance, the workstation resembles a desktop computer on a trolley. It's surprisingly simple and intuitive to use: Setup takes less than five minutes, and IMACTIS's postmarket surveillance studies have shown that after an average of 6.4 procedures, doctors consider themselves familiar with the system.[i]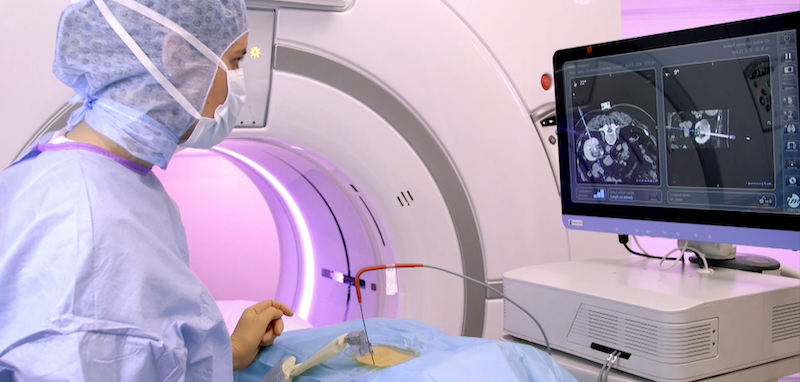 Here's how it works: A single initial CT scan gets a picture of the area where the needle will be inserted, which is uploaded to the CT-Navigation system. Then, moving a small portable electromagnetic scanner that's attached to the needle holder over the patient's body like a computer mouse, the radiologist can explore the anatomy and test out various locations and angles for the needle insertion. As the needle holder moves and angulates, multiplanar reconstructed images are computed in real time and the anticipated path of the needle is shown via images displayed on the CT-Navigation screen. The doctor can zoom in and out on the image for more detail. Once the radiologist chooses the best insertion location and angle, the CT-Navigation system guides the clinician during the needle insertion to position the needle as wished.
"The CT-Navigation system is augmenting the radiologist," says Olivier. "It's augmenting the brain: It can plan for the surgery. It's augmenting the eyes: Instead of static images, now they can navigate in 3D. It's augmenting the hands: They can do navigation on the patient."
Clinicians who have used the system agree. "With CT-Navigation we can better target and treat lesions for ablations, biopsies, and many other image-guided interventional procedures," says Dr. Fred Lee, professor of radiology and chief of abdominal intervention at the University of Wisconsin–Madison.[ii] "This improves patient care and treatment outcome while decreasing the radiation dose to the operator." (UW-Madison is one of three facilities in the U.S. that already has CT-Navigation systems; the others are Memorial Sloan Kettering in New York City and the Miami Cardiac and Vascular Institute.)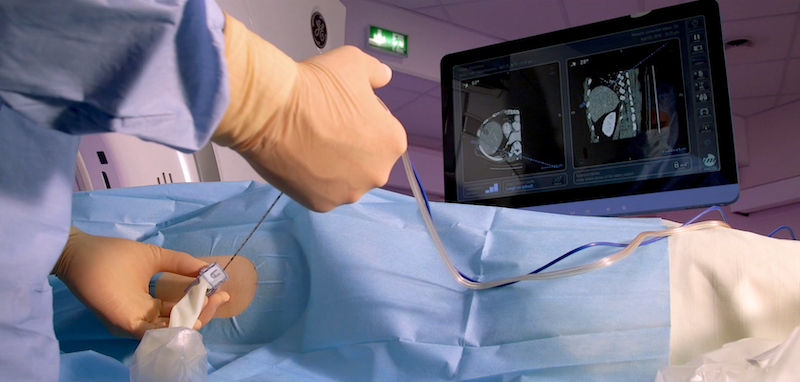 Though IMACTIS and GE HealthCare have entered into an agreement, improvements to CT-Navigation will continue on both the hardware and software fronts, says Olivier. He believes that CT-Navigation will become fully integrated into other GE HealthCare systems, particularly scanners and software. He also believes IMACTIS engineers are capable of making the CT-Navigation workstation smaller and more portable.
"In life," he says, "timing is everything. The timing to join GE HealthCare is perfect, and our team is very excited and eager to kick off this new chapter. We're bringing more patients much, much better care, and that's fantastic."
Forward-looking Statements
This article contains forward-looking statements. These forward-looking statements might be identified by words, and variations of words, such as "will," "expect," "may," "would," "could," "plan," "believe," "anticipate," "intend," "estimate," "potential," "position," "forecast," "target," "outlook," and similar expressions. These forward-looking statements may include, but are not limited to, statements about the transaction, the expected results of the transaction, and growth opportunities. These forward-looking statements involve risks and uncertainties, many of which are beyond the control of GE Healthcare (the "Company"). Factors that could cause the Company's actual results to differ materially from those described in its forward-looking statements include, but are not limited to, operating in highly competitive markets; the actions or inactions of third parties with whom the Company partners and the various collaboration, licensing, and other partnerships and alliances the Company has with third parties; demand for the Company's products, services, or solutions and factors that affect that demand; management of the Company's supply chain and the Company's ability to cost-effectively secure the materials it needs to operate its business; disruptions in the Company's operations; the global COVID-19 pandemic and its effects on the Company's business; maintenance and protection of the Company's intellectual property rights; the impact of potential information technology, cybersecurity or data security breaches; compliance with the various legal, regulatory, tax, and other laws to which the Company is subject and related changes, claims, or actions; environmental, social, and governance matters; the Company's ability to successfully complete strategic transactions; the Company's ability to operate effectively as an independent, publicly traded company and achieve the benefits the Company expects from its spin-off from General Electric Company; and the incurrence of substantial indebtedness in connection with the spin-off and any related effect on the Company's business. Please also see the "Risk Factors" section of the Company's Form 10 filed with the U.S. Securities and Exchange Commission and any updates or amendments it makes in future filings. There may be other factors that could cause the Company's actual results to differ materially from those projected in any forward-looking statements the Company makes. The Company does not undertake any obligation to update or revise its forward-looking statements except as required by applicable law or regulation.
REFERENCES
[i] IMACTIS data on file.
[ii] Not a consultant for GEHC: The statements by GE's customers described here are based on their own opinions and on results that were achieved in the customer's unique setting. Since there is no "typical" hospital, and many variables exist — e.g., hospital size, case mix, etc. — there can be no guarantee that other customers will achieve the same results.