At a GE HealthCare manufacturing plant in Ciudad Juárez, Mexico, machines churn out blood-pressure cuffs at the dizzying rate of 1.4 million per week. One of the final steps in the process is trimming the edge of the cuff so it looks good and feels comfortable for the patient.
As production has ramped up, so have the piles of trimmings — reaching 624 tons of material a year. The trimmings are currently made of new PVC plastic. And international law requires them to be returned from Mexico to the United States, where at present they are buried in a landfill, costing the facility $52,000 annually.
But managers at the plant have found a more sustainable solution. Instead of dumping the leftover PVC, they are working with companies in Mexico to transform it into a new product: the soles of shoes. They want their initiative to be a model for reducing waste, saving money, and helping GE HealthCare achieve its environmental, social, and governance (ESG) goals.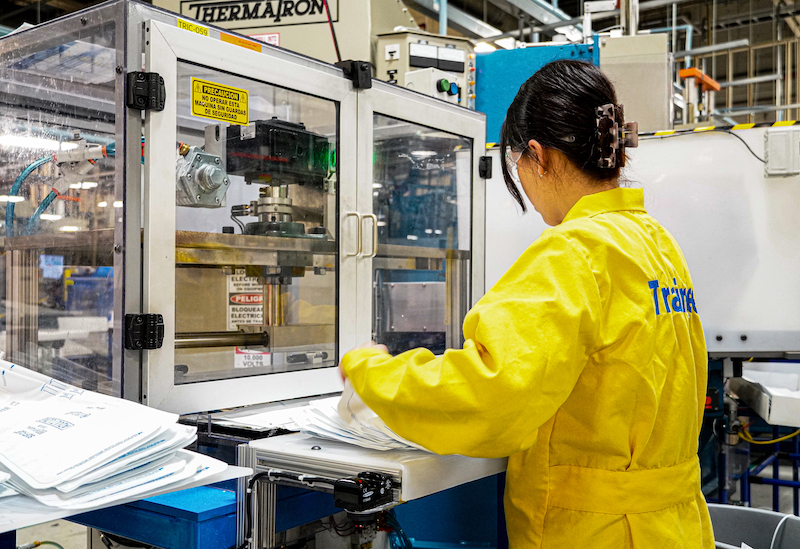 Making blood pressure cuffs at the facility in Cuidad Juárez. Top, from left: Ramiro Alcoverde and Enrique Pineda.
Ramiro Alcoverde is the environmental, health, and safety (EHS) manager for GE HealthCare's Border Operations facilities, which encompass the plant in Ciudad Juárez and two other sites, one in Mexico and one in the U.S. He coordinates the return of leftover materials for 79 different products, making sure the plants comply with the customs, legal, and financial regulations of both countries.
Alcoverde had been exploring ways to recycle or reuse by-products for a long time. Years ago, he had looked into using leftover Thermadrape, a type of warming blanket, to help children in Central American hospitals, but the rules regarding medical products were too stringent and he couldn't get the project approved.
A different perspective helped him find a way forward. In 2021, Alcoverde and Enrique Pineda, a Border Ops plant manager based in El Paso, Texas, were approached by a company called Recilogic in Chihuahua, Mexico. The business specializes in finding profitable uses for industrial by-products.
"We know for a fact that you are disposing of clean PVC from your blood-pressure cuffs," Alcoverde recalls the representative saying, "and we think that the shoe industry in Mexico could take advantage of your by-product."

Left: Scraps. Right: Soles. 
Alcoverde and Pineda agreed to test several pounds of the PVC with a manufacturer in Guanajuato, in central Mexico. Through experiments, the company found that a mixture consisting of 60% of the trimmings from the blood-pressure cuffs, combined with special resins and adhesives, formed a strong and flexible shoe sole.
"The beauty around this project is that typically the recycling industry is not, I would say, very clean," Alcoverde explains. "They receive a lot of mixed plastics and need to wash and clean them. Because we are a medical-grade industry producing medical-grade scraps, our by-product is very clean, and they are really happy for that."
The first shoes using the leftover PVC were produced in November. Today, workers at the Ciudad Juárez plant gather the trimmings in large drums for Recilogic, which shreds the material and sends it along to the shoe-sole maker.
"When people come to visit the site and we tell them that we are doing this, you can notice the pride and emotion in whoever is sharing the story, from the plant manager to the business team leader," Alcoverde says. "We are making this world cleaner."
While the project is promising, he continues to navigate challenges. The business is used to selling finished goods, not by-products, so GE HealthCare's customs and financial teams have had to work out how to invoice for the PVC material and how to conform with customs regulations to sell directly to other companies in Mexico, rather than importing raw materials into Mexico and exporting finished goods to the United States.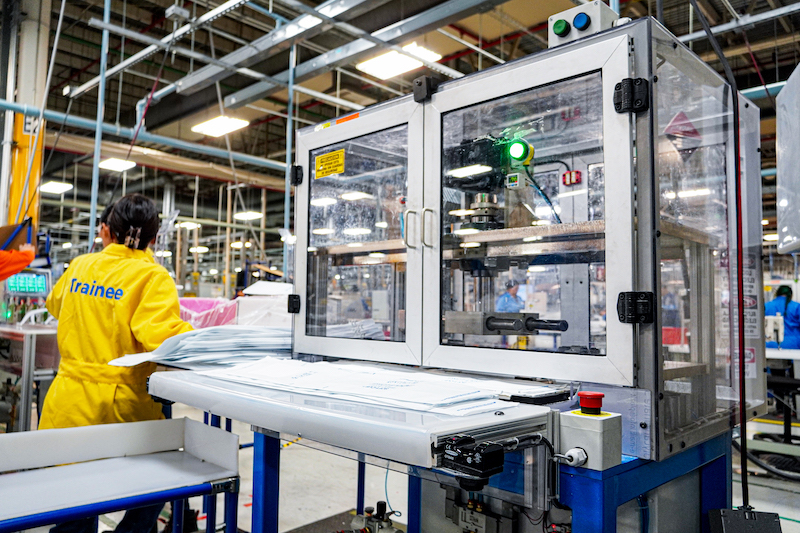 Alcoverde and Pineda want to apply what they have learned to creating reuses for other by-products. They have another type of leftover plastic that they think might be suitable for construction. They also are contributing to the efforts of Chihuahua Green City, a Mexican nongovernmental organization that promotes recycling and finding new applications for excess materials. The larger goal is to create a circular economy, in which waste is minimized, and recycling or downcycling is built into the manufacturing process. Supported by the European Union in Mexico, Chihuahua Green City helps businesses comply with the Paris Agreement on climate change, which aims to limit global warming to 1.5 degrees Celsius above preindustrial levels.
Alcoverde encourages managers at other plants to contribute to these types of efforts. "As the circular economy brings a new mindset, it's a new value for GE HealthCare," he says. "It's not only about being cost-efficient with the core business at your site, but there might be several entrepreneurial opportunities using the by-products, or there might be opportunities for greening the supply chain."