On Japan's remote and windy island of Miyakojima, it's hard for elderly residents like 101-year-old Chiyo Tomori — who lives upon a high hill and has chronic obstructive pulmonary disease, dementia, and asthma — to visit a hospital or doctor's office.
In her home, where goats, chickens, and ducks run through rooms, Chiyo has trouble walking because of her high blood pressure, cystitis, and knee osteoarthritis. For the past 25 years, she and other aging patients on the isolated island of approximately 55,000 have received their healthcare through house call visits from "the Jet Ski Doctor," Dr. Keigo Yasukawa.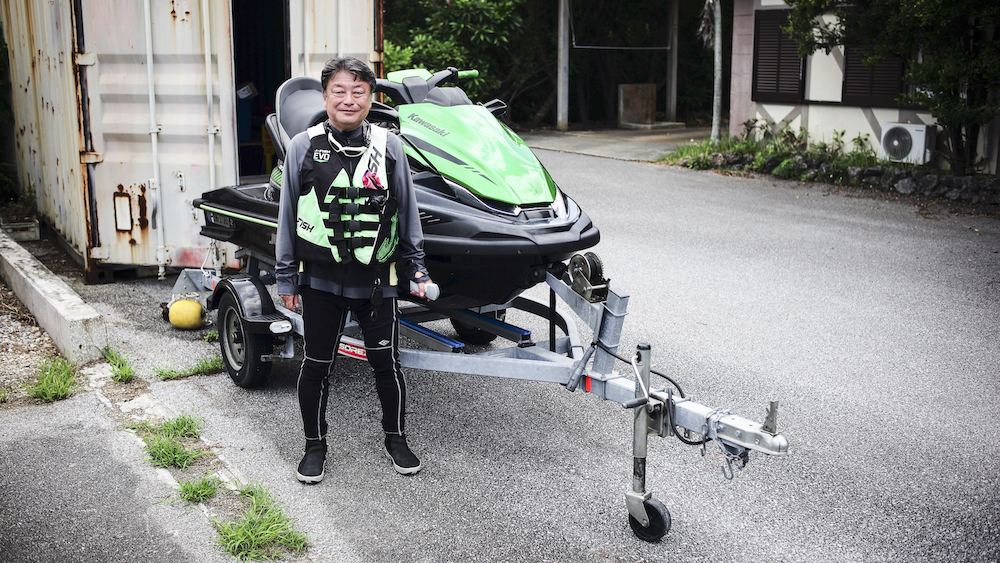 On Miyakojima, the main island in the Miyako chain, Dr. Yasukawa runs the Dr. GON clinic, caring for mostly elderly patients, many of whom have dementia and limited mobility. The island is hundreds of miles from mainland Okinawa, and it has very limited surgical facilities and hospital beds. To reach patients on Miyako's seven smaller islands — one lacks bridges, and a ferry takes hours to reach it — Dr. Yasukawa navigates to his patients on his Jet Ski.
Dr. Yasukawa was born on Miyakojima, and he's a familiar and welcome face for his patients. During a recent home visit with Chiyo, he discovered she had a fever. After an exam, he performed a chest scan with a pocket-size wireless ultrasound scanner he carries in his doctor's kit, GE HealthCare's Vscan Air.
The doctor quickly discovered that Chiyo had inflammation in one of her mammary glands. He diagnosed her with bacterial mastitis and treated her with antibiotics. During a prior visit, the Vscan Air had shown that Chiyo had cystitis, or bladder inflammation. Dr. Yasukawa was able to prescribe medicine that soon gave her relief.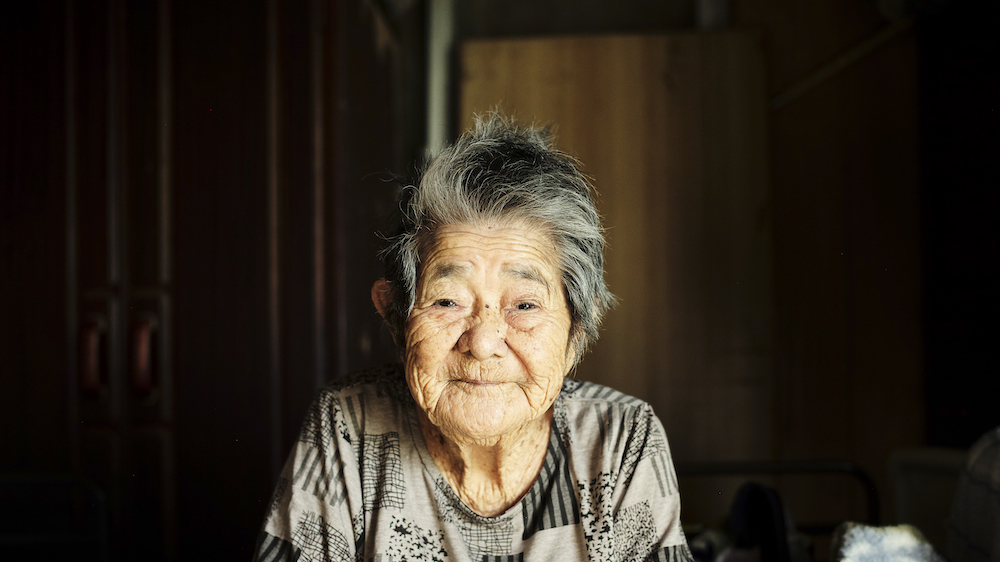 Chiyo Tomori
On nearby Ogami Island, Dr. Yasukawa arrives by his Jet Ski to care for six elderly patients. "There is no ferry service available at night," he says. "Also, when there are high waves, if they fall sick, they just suffer. All of them know they have no choice. So they just try to endure, depending on the case, but some of them die."
Dr. Yasukawa's services are critical on the Miyako Islands, where around 62% of the population is over age 40. Japan's population as a whole is aging faster than any other country's, and 8% of people live in remote areas with limited access to proper healthcare.
For Dr. Yasukawa and others who care for patients in remote parts of the world, Vscan Air makes high-quality healthcare more accessible. Patients have access to precise diagnostics at home, without delay. They no longer need to travel for medical checkups or emergencies.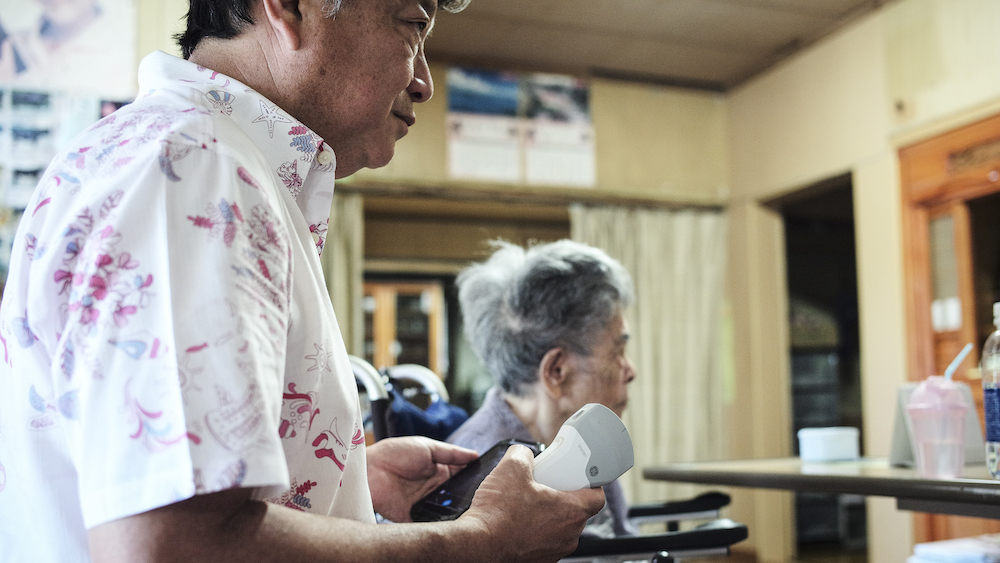 Doctors use the portable technology to make accurate diagnoses on the spot, in real time, while they're at their patient's side, and they can refer people to a specialist if needed. Vscan Air helps them conduct quick scans, which can help diagnose issues and sometimes catch serious health problems.
"A simple thing like a bellyache could actually be a big problem like a kidney stone or appendicitis," says Vaishali Kamat, general manager of new ventures in the ultrasound digital unit at GE HealthCare. "Difficulty breathing could be an asthma attack, or maybe a patient's lungs are compromised. The tool helps doctors be much more effective, because now they can pinpoint the problem and therefore treat it more effectively. It's an efficient tool that can go with doctors wherever they're going."
One end of the hardy, waterproof Vscan Air device is designed for high-frequency scanning of organs close to the skin, like veins and the thyroid. The other emits sound at lower frequencies and works on organs deeper in the body, helping detect conditions like a kidney stone. Custom microchips in the probe make all images sharp and clear.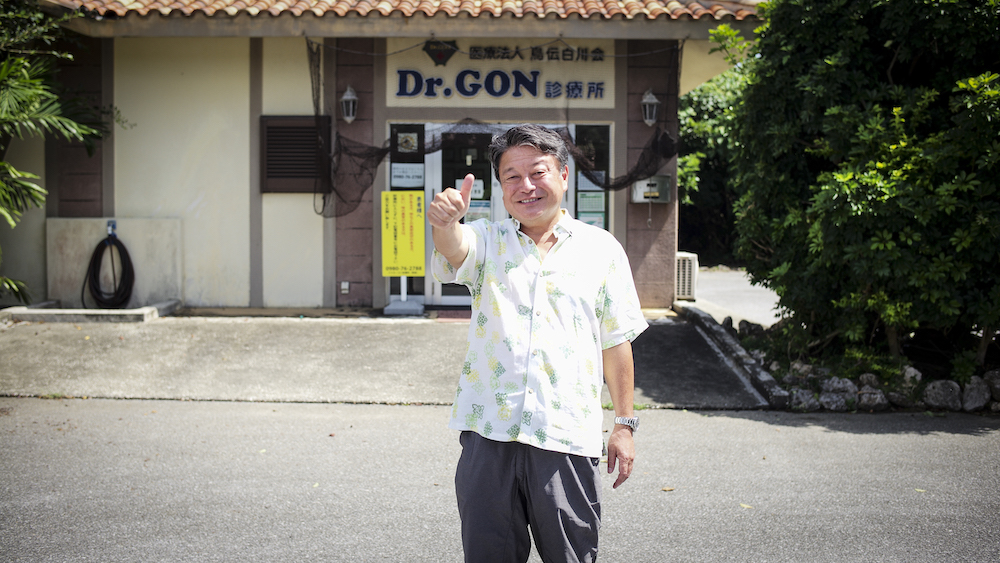 "Our technology allows us to get that really good image quality from a device this small," says Kamat. "Doctors can discern small issues and diagnose more easily with good image quality." That's especially important, she adds, in harsh environments or during trauma situations, when doctors are in a hurry and need to diagnose quickly.
What's more, scanning doesn't require an internet connection, so doctors in even the most remote locations can use the probe to scan and save images on their mobile device.  The rechargeable internal battery supports nearly an hour of continuous scanning. The probe pairs via Bluetooth with a simple-to-use mobile app providers access on their smartphone or tablet. Images are securely stored within the app. When on a cellular or Wi-Fi network, providers can export encrypted scans to the cloud so reviewers anywhere can weigh in.
But the device isn't just essential for emergencies or traumas. It can also help with preventive screening and early disease detection. Pregnant women in remote areas can get prenatal scans to check their baby's growth. "In emerging countries especially, many women don't get any scans during pregnancy," Kamat says. "Then, during labor, you find issues that pose a risk to the mother or baby that could have been uncovered before."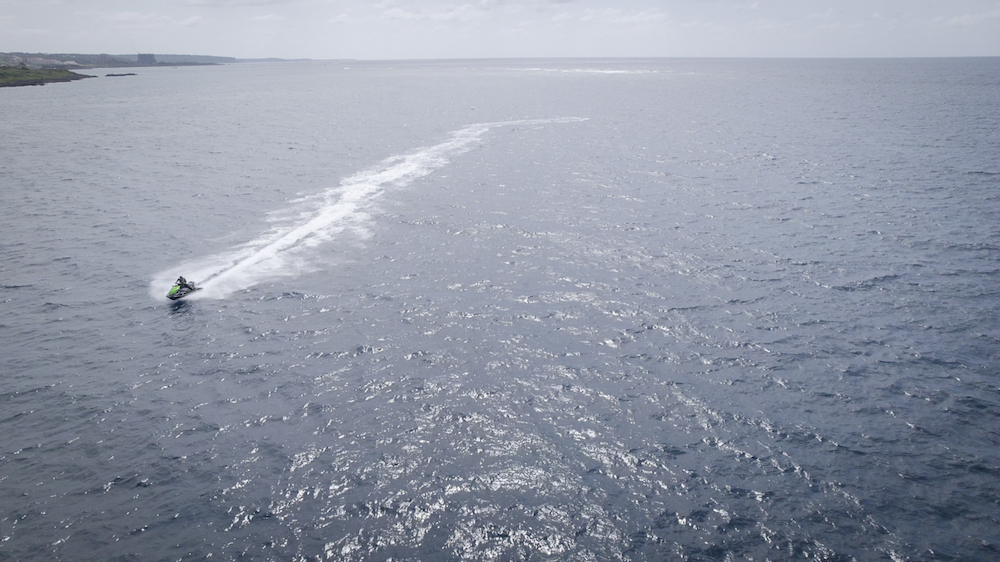 "In some countries in Europe, we are seeing increasing use of this pocket-size ultrasound at the bedside when women are in labor to make sure babies are positioned correctly for birth," adds Kamat.
Vscan Air can help physicians check for signs of cardiovascular disease and for deep vein thrombosis and other blood clots, helping to catch what could become chronic conditions early, or even averting potential health emergencies.
"In rural or remote areas, people often just don't have access to advanced clinical facilities, and thus diseases often don't get diagnosed until an adverse event happens, which can have bad consequences given no care nearby," says Kamat. "So this type of early detection in the primary care setting can really make a huge difference.  And we are working on new AI technology that will make it even easier for clinicians to begin using ultrasound for simple diagnostic scans." 
Fortunately for the elderly patients on the Miyako Islands, they are often just a Jet Ski ride away from a doctor's support.
GE HealthCare recently introduced Vscan Air SL, a wireless handheld ultrasound device that offers a sector array and a linear array on a single device, which is ideal for switching between focused cardiac assessments and vascular assessments right at the point of care — both inside and outside of the hospital. It is the newest addition to the Vscan product suite.