As Dr. Shih began the C-section, a small hand reached out to him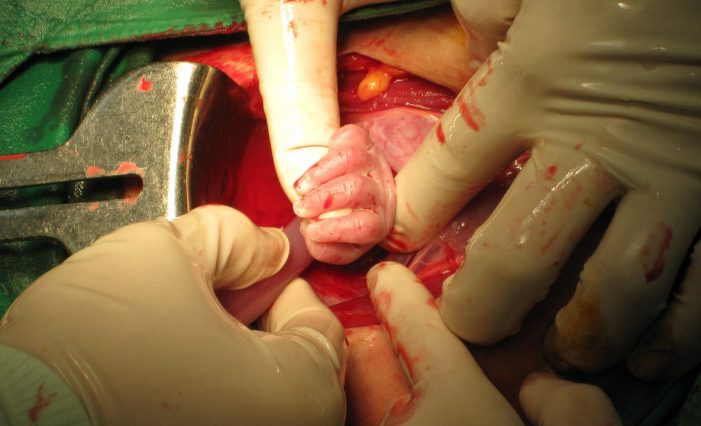 Photo courtesy of Dr. Jin Chung Shih
Tiny fingers grasping a doctor's hand. Real strength, an incredible photo, and an even more powerful story.
Dr. Jin Chung Shih is head of the labor ward and Assistant Professor in the Department of Obstetrics and Gynecology at the National Taiwan University Hospital. He is also the secretary general of the Taiwanese society of ultrasound in medicine and biology, and was an early adopter of 4D ultrasound in 2002, which helps him diagnose his smallest patients.
It's also his finger being grabbed in the image above. "A moment I will never forget," says Dr. Shih.
Here's the story.
In June 2016, Dr. Shih used GE Healthcare's Voluson™ E8 4D ultrasound system to help him care for a mother who was 31 weeks pregnant with twins. The twins suffered from Stage 1 twin-to-twin-transfusion syndrome (TTTS), an imbalance in the blood flow between identical twins who share a placenta. One twin was polyhydramnios – too much amniotic fluid – and the other twin was anhydramnios – almost no amniotic fluid.
"To prevent irreversible change – including damage to the central nervous system – we decided to perform a Caesarian Section the following day," he says. "It was a difficult decision, but we determined that the risk of preterm birth was less than fetal surgery."
After he started the C-section in the labor ward at National Taiwan University Hospital, something amazing happened. "The hand of the recipient twin suddenly extended outside the dark uterine cavity and tensely grasped my finger like a drowning man grasping a floating piece of wood," he says. "It looked like a call for help to me. Everyone here held their breath. Although nobody taught the little baby, he presented a strong wish to survive. I felt touched."
"I share this photo to raise awareness about a simple truth: do not forget our inherent nature," he says. "Nobody teaches the baby, but the baby has the inherent desire to survive. I hope people who read this cherish their lives. Even an innocent baby knows how to fight to live."
Today, the one-year-old twins are happy and healthy.
Dr. Shih is an early adaptor of GE Healthcare's Voluson™ ultrasound, "Voluson allows me to discuss the best plan and ensure the best outcome for the baby and parents."
In the 1960s, clinicians began using ultrasound in obstetrics and gynecology to avoid the side effects of X-ray exams to both the mom and baby. This year, GE Healthcare celebrates its 15-year anniversary of the Kretztechnik acquisition, which introduced the Voluson™ ultrasound line to its Women's Health business. GE Healthcare is now the world market leader in women's health, impacting more than 230 million lives annually; that's five lives every second, sometimes two at a time. Take a look at these incredible Voluson moments from the past five decades.