When every second counts, hospitals must make heroic efforts to turn back the clock on the world's leading cause of long-term disability.


In the neurology community, there's a saying about stroke: Time is brain. The more quickly a stroke victim gets help, the better their chances are for a full recovery. In fact, by arriving at the emergency room within the first three hours[1] after a stroke's first symptoms, patients can improve their chances of surviving a stroke, compared to those who receive delayed care.
So, when Dr. Ameer Hassan, the Head of the Neuroscience Department at Valley Baptist Medical Center in Harlingen, TX, saw a 45-year-old male firefighter rush into the ER with the telltale signs of a stroke, he knew that time was critical to the man's survival.
Few people are aware, but "every minute during a stroke, two million neurons die," says Dr. Hassan. "The key to significantly improving outcomes is treating patients quickly; whether it's with the IV medications or getting them to cath lab (a hospital's catheter lab, dedicated to minimally invasive procedures) quickly. If you treat most patients from onset of symptoms within three hours, they do very well."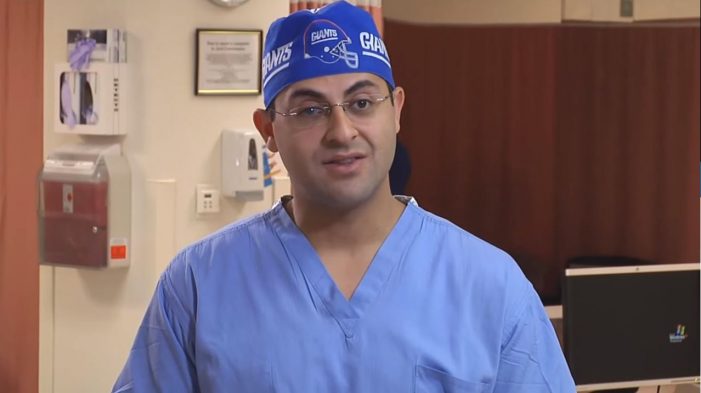 Dr. Ameer Hassan, Head of the Neuroscience Department at Valley Baptist Medical Center in Harlingen, TX
For this local hero, the time between entering the ER and having the clot removed was an astonishing one hour, two minutes and 24 seconds. And the time between entering the artery through the groin to removing the clot – also called groin to recan (recanalization) time – was a lightning-fast eight minutes and 37 seconds.
"It's amazing," says Dr. Hassan. "Most people in the country, their average is 47 minutes."
And that's not the fastest time. "Our record was saving a three-time Olympic gold medalist, with a groin to recan time in about seven minutes. He did very well and today he's completely functionally independent and back to normal."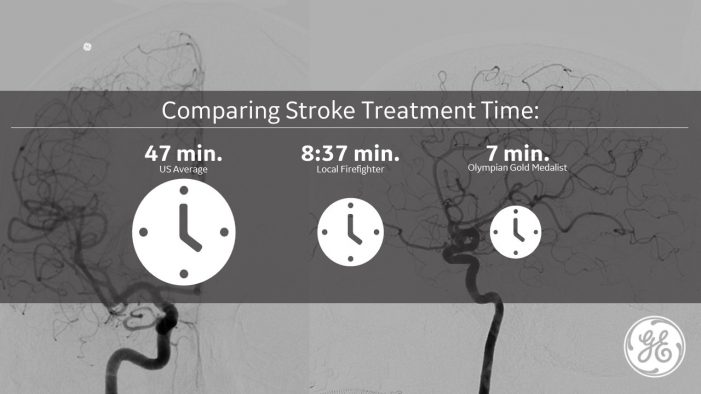 Reaching the ER within Three Hours
If patients reach the ER within the first three hours of stroke symptoms, they can receive an intravenous dose of a clot-busting medication that can stop the stroke in its tracks. But some patients have extra-large clots that can't be treated with blood thinner medication. Those patients need to go to the cath lab, a dedicated medical suite where doctors make a small incision, insert a catheter into the groin, and navigate the body's vascular system to remove the clot – all via minimally invasive (non-surgical) procedures. The goal is to get patients into the cath lab within two hours of arriving at the hospital.
The firefighter made it to the cath lab within minutes. "This patient actually ended up getting to the cath lab. We got the clot out of his brain and we pulled it out all within 62 minutes from the time the patient arrived at the hospital's front door," says Dr. Hassan. "That is extremely fast."
That incredible timeframe is due to a unique process Dr. Hassan created in collaboration with GE Healthcare called STEPS-T, a stroke education program for Valley Baptist staff that stands for Stroke Triage Education, Procedure Standardization, and Technology.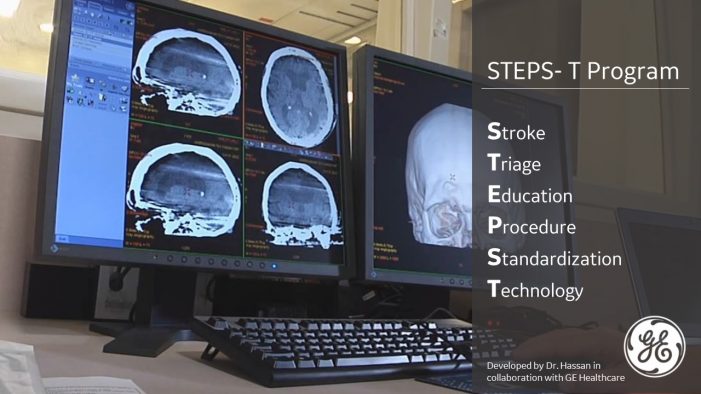 "We initiated it after my first year here in 2012 and implemented it in 2013, and we saw significant improvement in all of our treatment times. And it keeps improving."
GE Healthcare provided technology for the cath lab – including monitoring and recording system called MacLab® and a biplane called Innova IGS 630.This is a highly-advanced imaging system that allows Dr. Hassan to visualize the blood vessels in a patient's brain.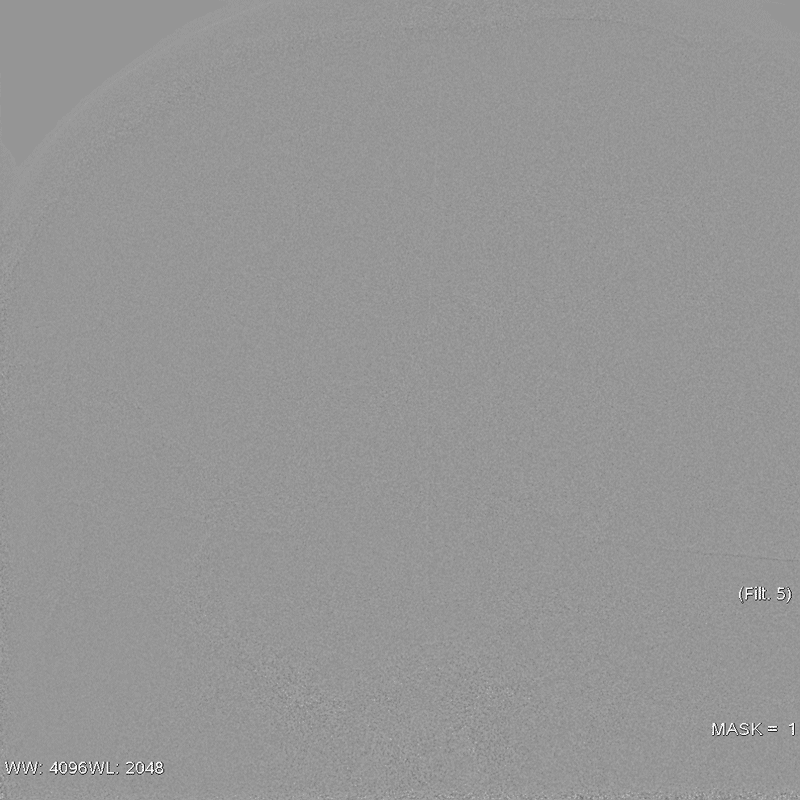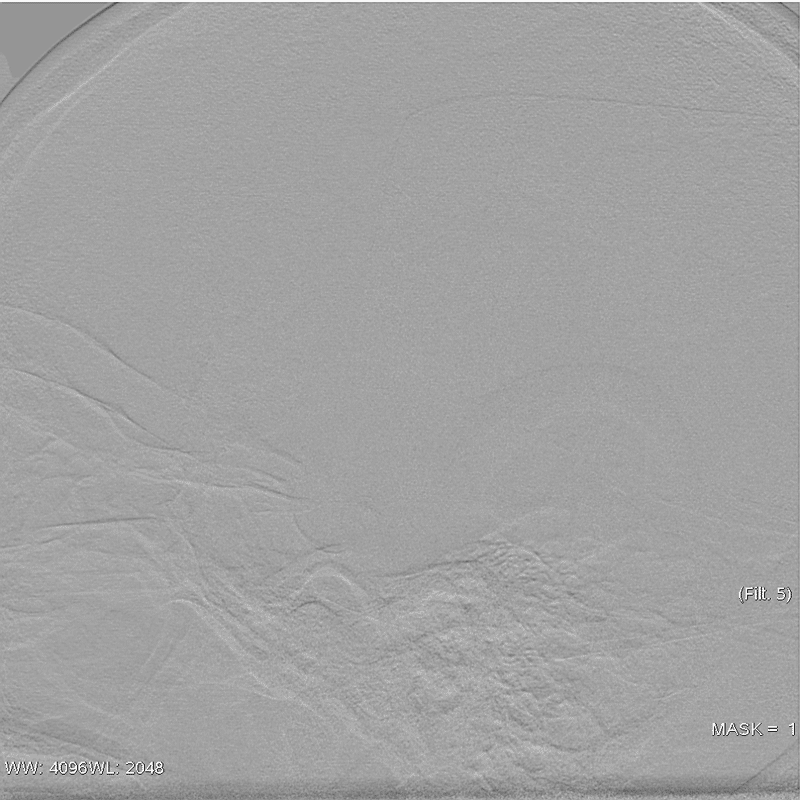 Live x-ray images acquired by GE's IGS biplane, illustrate the blood vessel blockage (left) and the dramatic change when the clot is removed and blood flow is restored to the brain (right).


"In the angiogram, you could see where the blood just stops at a certain point. After we pulled the clot out, you could see the normal blood flow," says Dr. Hassan. Clinical images acquired from the IGS biplane Live x-ray images from the biplane IGS (showing frontal and lateral) – guidance and assessment.
GE also offered educational services that allowed the staff to learn the new standardization and triage protocols and roll out the program. GE applications specialists also helped the staff learn settings on the cath lab equipment that could help them improve their process workflow.
"At the end of the day it's education, standardization, and creating these great protocols that keep educating our staff," he says. "For our staff, it's all muscle memory now. When that patient comes in, they know what to do, they know the next step. They're not waiting for physicians to call back."
Dr. Hassan credits this program with helping the local Texas firefighter completely recover. "Even later that day, he was completely asymptomatic. He was 100% recovered and was back to work within five days," says Dr. Hassan. "He recovered so well because of how quickly he received treatment."
Now Dr. Hassan and his team have treated more than 350 patients with STEPS-T.
"The nice thing about this process is everything is standardized. The imaging, the triage, knowing what to do next, everything," he says. "We're able to get these patients treated even without the IV medications fairly quickly. And if you include the IV patients, we've probably treated over 700 in the last five years."
The firefighter's door to recanalization time was outstandingly fast. "Everything was perfect. it went exactly the way it's supposed to go."
Dr. Hassan is a paid consultant of GE Healthcare. The Statements by GE's customers described here are based on results that were achieved in the customer's unique setting. Since there is no " typical " hospital and many variables exist i.e. hospital size, case med, there can be no guarantee that other customers will achieve the same results.
[1] https://www.cdc.gov/stroke/facts.htm