From a technique that tracks blood flow in the body during an MR scan to the imaging tech that sees the brain like never before, the University of Wisconsin-Madison's work with medical tech continues to help patients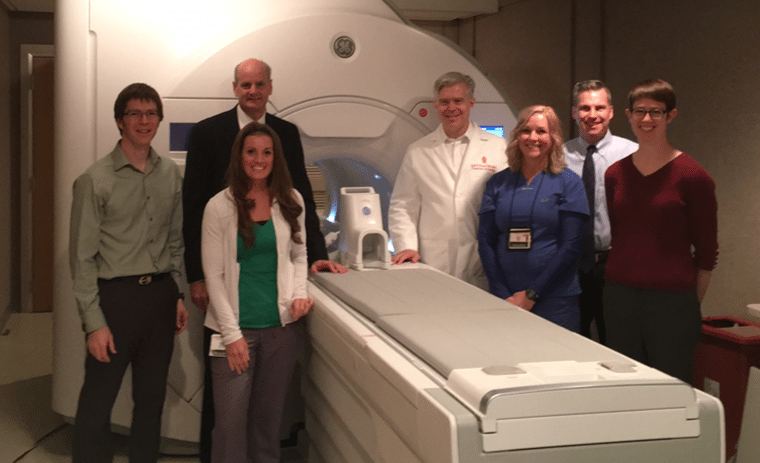 Members of the UW radiology team with their new SIGNA Premier
When Elizabeth Korosec started having dizzy spells, her husband, Frank, rushed her to the ER of their local hospital in Madison, Wisconsin, where doctors decided she needed a Magnetic Resonance (MR) scan to determine what was going on.
At the time, Frank was a graduate student in the medical physics department of the University of Wisconsin (UW) - Madison developing vascular imaging methods for MR systems. In a twist of fate, Elizabeth was scanned using the very methods Frank had developed for his graduate thesis.
"I knew they were using my method on patients, but I never knew that my wife would be one of those patients," Frank Korosec says. "It was rewarding knowing that I could actually develop something to help people."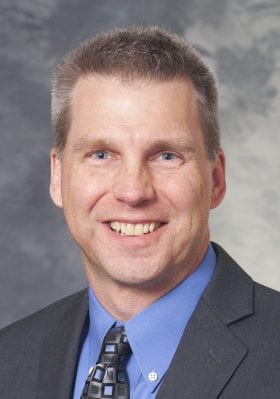 Frank Korosec
Since then, Korosec has refined those vascular imaging methods into Time Resolved Imaging of Contrast Kinetics, also known as TRICKS, a technique that tracks blood flow in the body during an MR scan. It's used to help thousands of patients every year, and last year the software helped save the life of former UW Chancellor John Wiley.
Like many medical imaging inventions from UW-Madison, TRICKS was developed in collaboration with GE Healthcare, and now is used on GE scanners in clinical routine.
"TRICKS was a great collaboration that originated from the requests of radiologists, was built by medical physicists into a tool that could be used for research purposes, and then was evaluated and commercialized as a cleared as clinical solution with the help of GE Healthcare," Korosec says. "Now it's used worldwide and it's highly impactful. It's really rewarding to know that we can all work together for the common good of medicine to provide resources that can be used in clinics all over the world."
Three decades of partnership
Since the mid-1980s, the symbiotic relationship between the UW and GE Healthcare has produced some of the most important medical imaging inventions of the last quarter century. Korosec, now a professor of radiology and section chief of Imaging Sciences in the Department of Radiology at UW, has been instrumental in this relationship since he was a graduate student.
"I think that we couldn't do what we do without help from GE," he says. "Our goal is to help patients. So this collaboration is beneficial because we pool our strengths to get the best tools in the hands of the radiologists so that they can make the best possible diagnosis."
Korosec helped negotiate the latest 10-year agreement between GE and UW, designed to support collaboration with UW's radiology and medical physics researchers and supply them with GE's newest computed tomography (CT), positron emission tomography (PET) and MR scanners.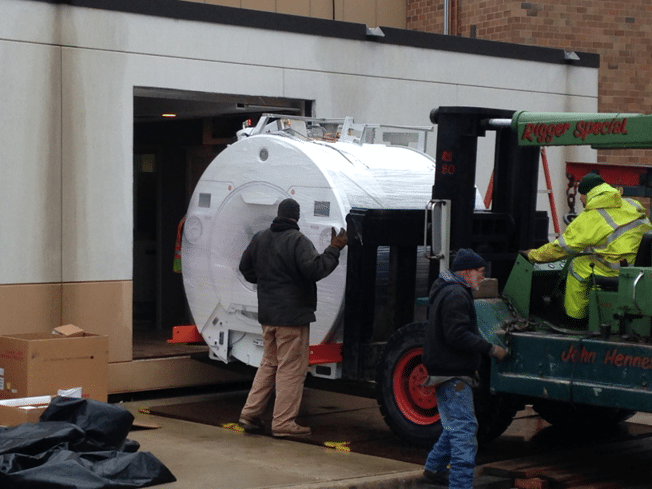 SIGNA Premier being delivered
"In working to come up with collaborative projects within the agreement, I see the great impact of it all across the spectrum. I think it's the way to advance medical imaging. Together, we're making improvements that are much more beneficial than if either side worked alone."
One of these systems is the SIGNA Premier, the latest 3.0T MR scanner. Feedback from UW researchers helped GE refine SIGNA Premier while allowing UW researchers to use it for certain defined research purposes.
When developing an MR scanner, manufacturers can scan volunteers in the factory but they can't scan patients to see pathology or inject contrast, which can limit developers' understanding of how the system will work in the clinical world.
When the SIGNA Premier was under development, a pre-product version of the system was placed at UW, which allowed UW researchers to scan patients on the system, including neurological, liver, body, cardiac, prostate and breast MR studies. In a pilot study, the SIGNA Premier delivered high-quality images.
"They really went above and beyond," says Jason Polzin, General Manager for Applications and Workflow for the global MR business at GE Healthcare. "They provided feedback on all clinical aspects from neuro, to body, to cardiac, to musculoskeletal. Specifically, they provided us really good feedback in terms of what features and capabilities showed clinical benefits and where there were also opportunities for improvement."
For example, UW feedback helped refine GE's new Air Coil technology, a lightweight blanket-like coil that comfortably conforms to the patient's body to deliver exceptional images. UW researchers tested out the technology and suggested improvements to the design.
In June 2018, a second SIGNA Premier system was installed in the Wisconsin Institutes for Medical Research (WIMR) building at UW and will be used solely for research purposes. The SIGNA Premier is already being used at UW in the latest neurological research to construct a map of the complete structural and functional neural connections in the brain. Now researchers will be able to take advantage of the system's wider patient bore to measure liver fat in bariatric patients and study blood flow in the placenta to better understand placental development during pregnancy. Another group of researchers will use the SIGNA Premier to study the causes of Alzheimer's disease and potential treatments by repeatedly scanning patients over time and monitoring changes.
Academics + Research + Clinical: A trifecta of success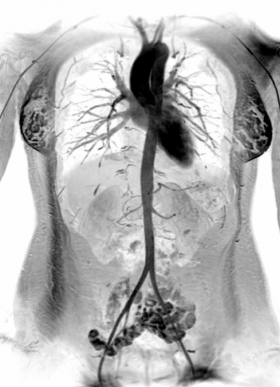 TRICKS image taken with AIR Coil on SIGNA Premier. Time Resolved Imaging of Contrast KineticS (TRICKS) rapidly generates time resolved 3D images of blood vessels.
GE also hires a lot of UW graduates, including Polzin, who has three degrees from the University. He calls Korosec a "mentor" who taught him how to program a GE MR scanner. Polzin joined GE in 1995 and works closely with GE scientists embedded on site at UW.
"They're just really nice people," he says of the UW researchers. "They're open. They're constructive. They're collaborative. The relationship works on so many different levels."
A solid foundation to build the future
UW-Madison researchers are also working with GE's new PET/MR technology, which combines the MR technology to see soft tissue with PET tracers to get a deeper look at cells. This combination helps researchers get more information about tumors or diseases that they can't get from MR or PET scans alone. Korosec says GE and the UW are in discussions about how to best use PET/MR in clinical applications. They're also discussing one of the hottest topics in medicine today: How to leverage artificial intelligence in imaging techniques.
Korosec says this ongoing synergy allows him to broaden his research investigations. "I'm not confined to the same restrictions that GE scientists and engineers have," he says. "On the academic side, we have the flexibility to explore a lot of different areas of research. We can spend years working on and developing methods that we can then share with GE at the end. We need GE to help as a commercial partner because much of what we do as scientists is trying to come up with new ways of advancing medicine."
Ultimately, it's all about helping patients like his wife, Elizabeth, and the former Chancellor Wiley.
"I think that without these partnerships, the advances wouldn't be nearly what they are, and the patients wouldn't get the best possible care," says Korosec. "I think that by working together, you're getting the best of both sides. And I think that's what advances medicine and provides the best possible technology for patients."