An inside look at a team of mammo techs that performs 50-60 mammograms a day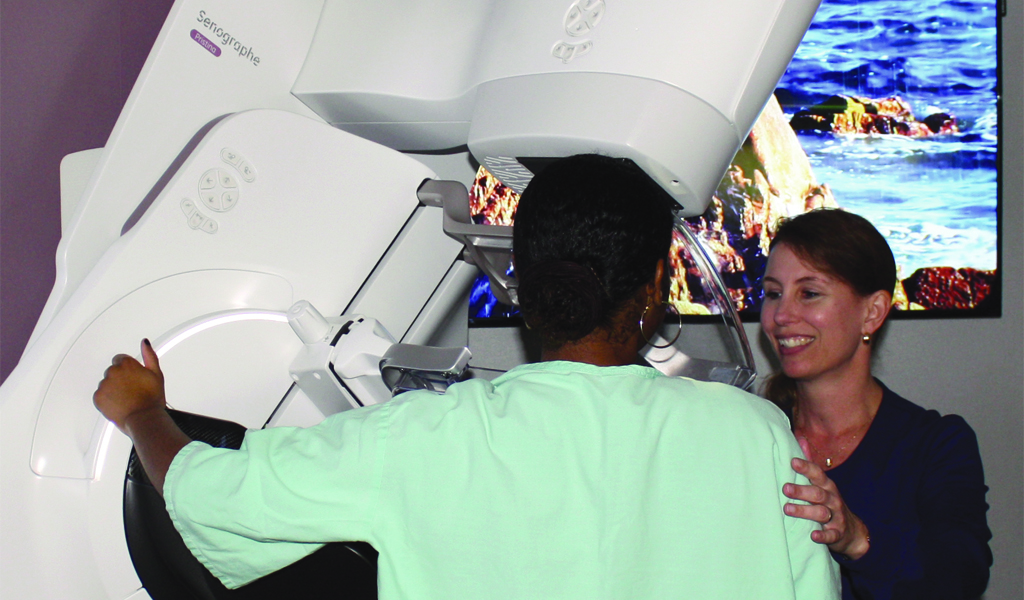 Kim Flores, right, positioning a patient for her annual mammogram on the Senographe Pristina. Southwest Diagnostics has two Pristina systems that scan 50-60 patients per day.
For many women, an annual mammogram can trigger anxiety or fear. Even if this isn't their first exam, they're often not sure what to expect or what the results could show.
That's when women like Kim Flores make all the difference. As lead mammography technologist at Southwest Diagnostic Imaging Center in Dallas, TX, Flores loves caring for women during what can be a scary and uncomfortable experience.
"I've been a mammography tech for 23 years, and my favorite part of this job is truly patient interaction," she says. "I enjoy being able to calm patients, and I do a lot of reassuring patients with exam results. I really enjoy that aspect of my job."
In radiology school, Flores specifically chose mammography so she could have more personal connections with patients on a regular basis. "Mammography was appealing in that my interactions with patients are very personal. You see the same patients on a yearly basis and get to have a good relationship with them over the years. You almost make friends with your patients," she says.
And now Flores has a new tool helping her make women feel more comfortable during their mammography exams. Senographe Pristina™ was developed by a team of women to change the entire mammogram experience by making it more comfortable. Their goal was simple – if they can help make mammograms more comfortable, fewer women will avoid their annual screening appointments.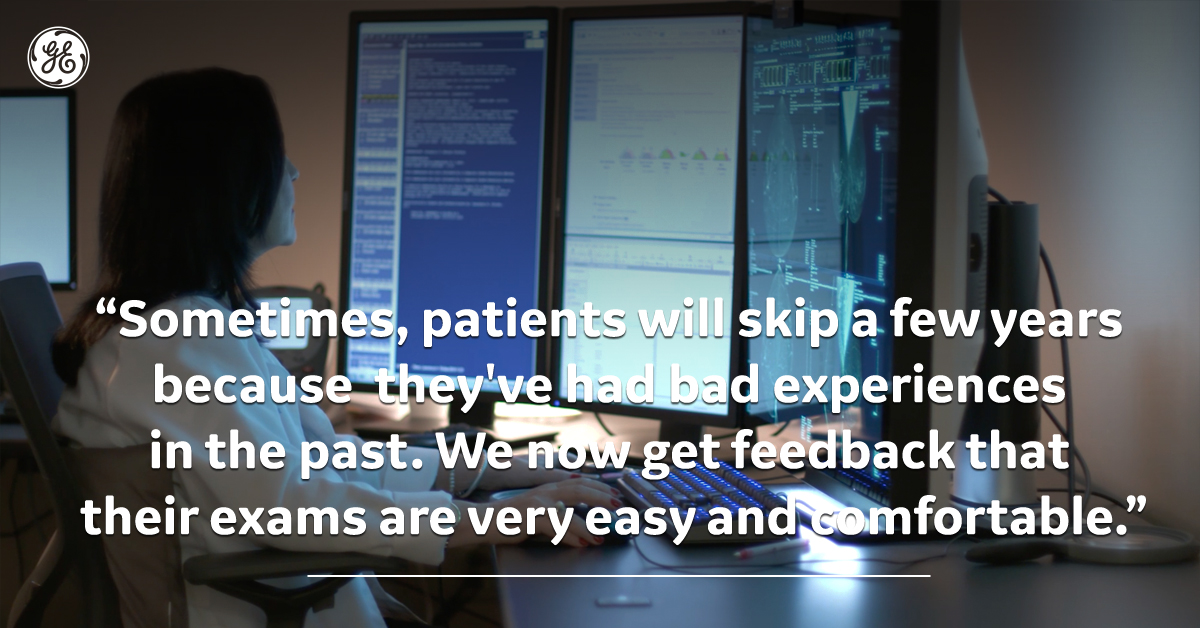 "Now that we're using the Senographe Pristina, we've had feedback from patients who say they are much more likely to come back in the future," says Flores. "Sometimes, patients will skip a few years because they've had bad experiences in the past. We now get feedback that their exams on the Pristina were so very easy and comfortable that they would have no problem coming back in the future for their annual mammogram."
"Pristina" features the industry's first patient-assisted compression device, called Pristina Dueta, a remote control that allows women to adjust the amount of compression pressure, under a technologist's supervision, empowering patients and giving them a sense of control during the exam to minimize the perceived pain and discomfort often associated with a mammogram.
The gentle, rounded corners of the image detector where the woman places her breasts changes the stance of the traditional mammogram, helping reduce discomfort and anxiety. It's also thinner and warmer so there's less hard, cold metal pushing into patients' ribs.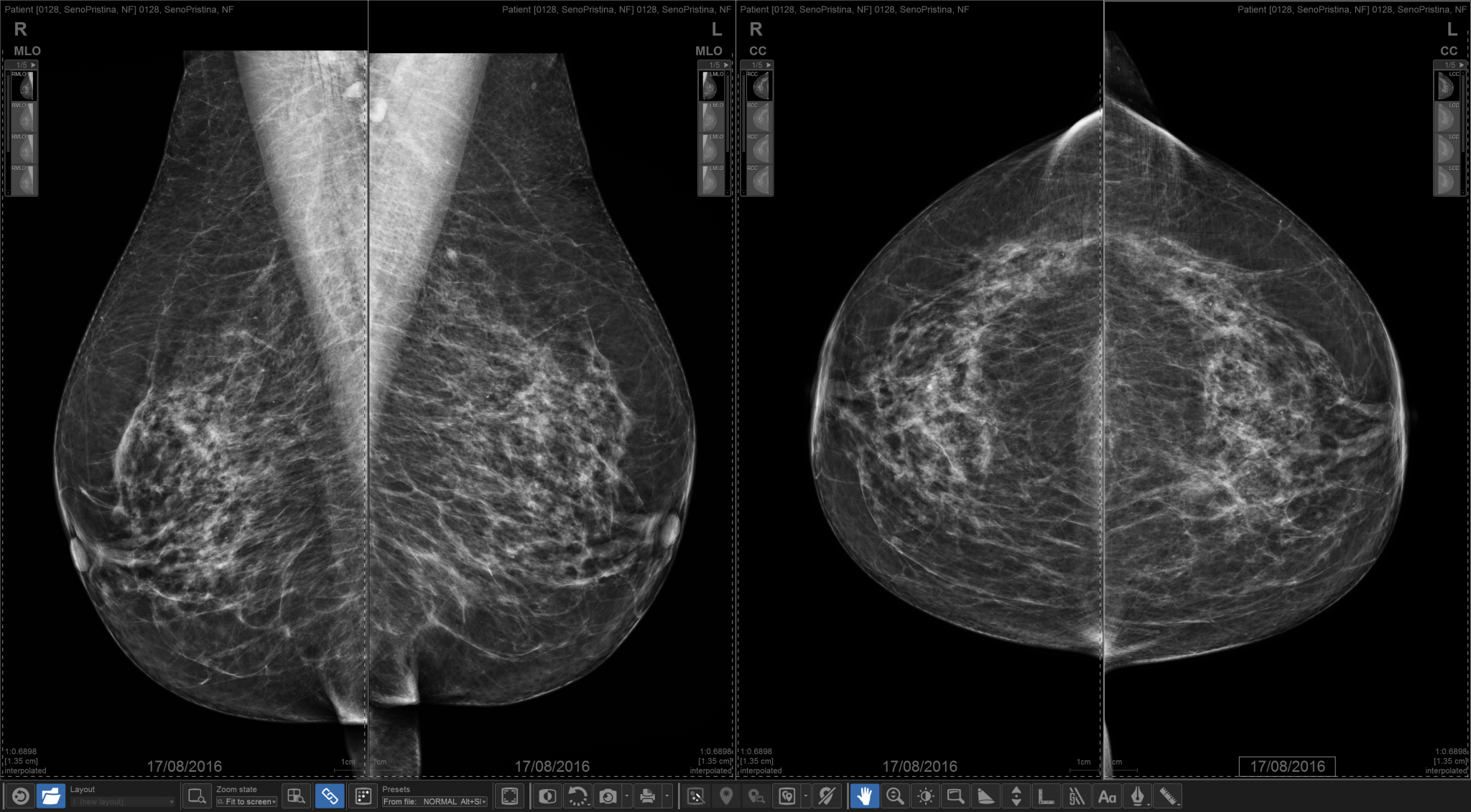 "We have had positive feedback from our patients with the new system. Our imaging times have decreased significantly, which means patients aren't compressed for very long at all. And it has rounded edges on the image detector, so patients say it's much more comfortable," she says. "I've noted that patients are allowing us to compress them more than we were able to do on prior systems."
Better positioning helps Flores and other mammography technologists get a clear image for radiologists to review, which could lead to more accurate diagnoses.
"The more breast tissue we can obtain, the better. It's better for radiologists to review images, and there's a better chance of finding cancers that might be very far back against the chest wall," she says. "The compression allows us to spread the breast tissue out more so the radiologist can see through the structure much more easily. It's allowed us to have fewer call backs for superimposed breast tissue because the structures are spread out nicely."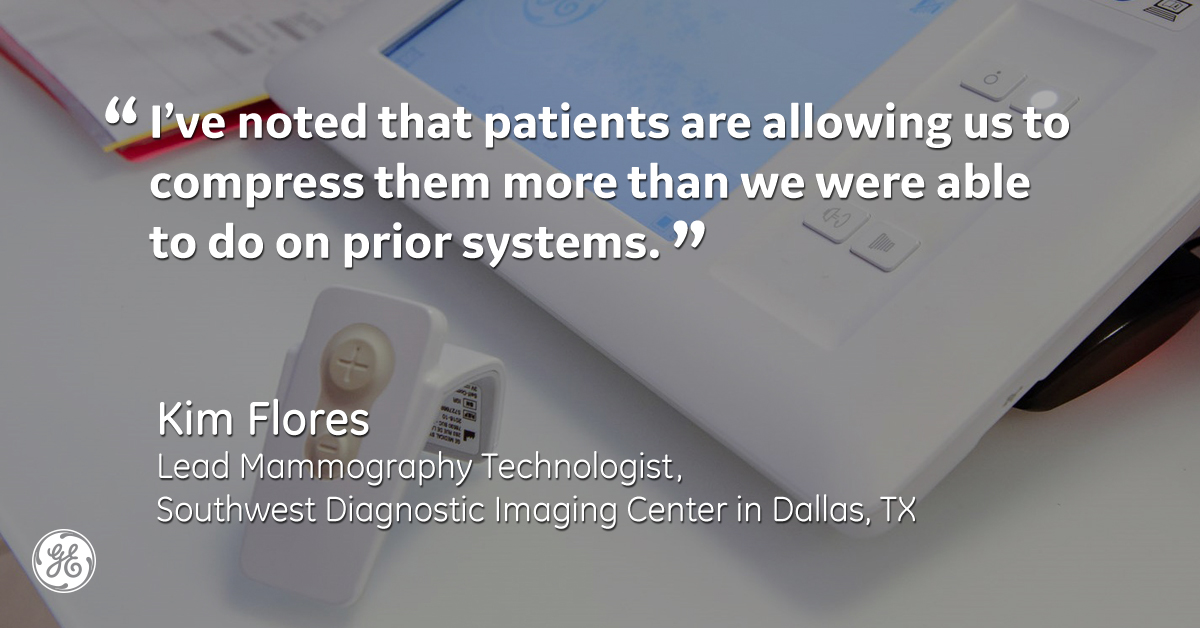 Pristina includes the latest in 3D digital mammography technology, also known as digital breast tomosynthesis, which delivers superior diagnostic accuracy at the same low dose as a 2D mammography exam – and the lowest patient dose of all FDA-approved 3D mammography systems.[1] Texas just became the sixth state to pass legislation requiring insurance providers to cover all forms of low-dose mammography (including 3D), giving women access to the latest breast cancer screening technology without financial limitations or worry.
"We use both 2D and 3D mode for screening mammograms, diagnostic mammography and also localization; and the localization time has dropped," Flores says. "It's been a big improvement to what we've had in the past so we are really enjoying it."
Now she's planning to give herself the same compassionate and comfortable experience she's given so many other women in her mammography suite. "The Pristina is awesome. You should get your mammogram on it. I'm going to get mine on it."
[1] GE screening protocol consists of 3D CC/MLO + V-Preview CC/MLO, V-Preview is the 2D synthesized image generated by GE Seno Iris mammography software from GE DBT images. FDA PMA P130020/S001http://www.accessdata.fda.gov/scripts/cdrh/cfdocs/cfPMA/pma.cfm?id=P130020S001, Data on file. pp. 7893-7907.