The global refurbished medical equipment market plays a critical role in helping improve access to affordable quality healthcare. The pandemic's impact on supply and demand greatly disrupted this market in 2020, and companies like GE Healthcare were challenged to secure used assets while demand spiked for new and refurbished equipment to care for COVID-19 patients. On Earth Day 2021, there is reason to believe this market – which benefits the healthcare industry and environment alike – is starting to stabilize.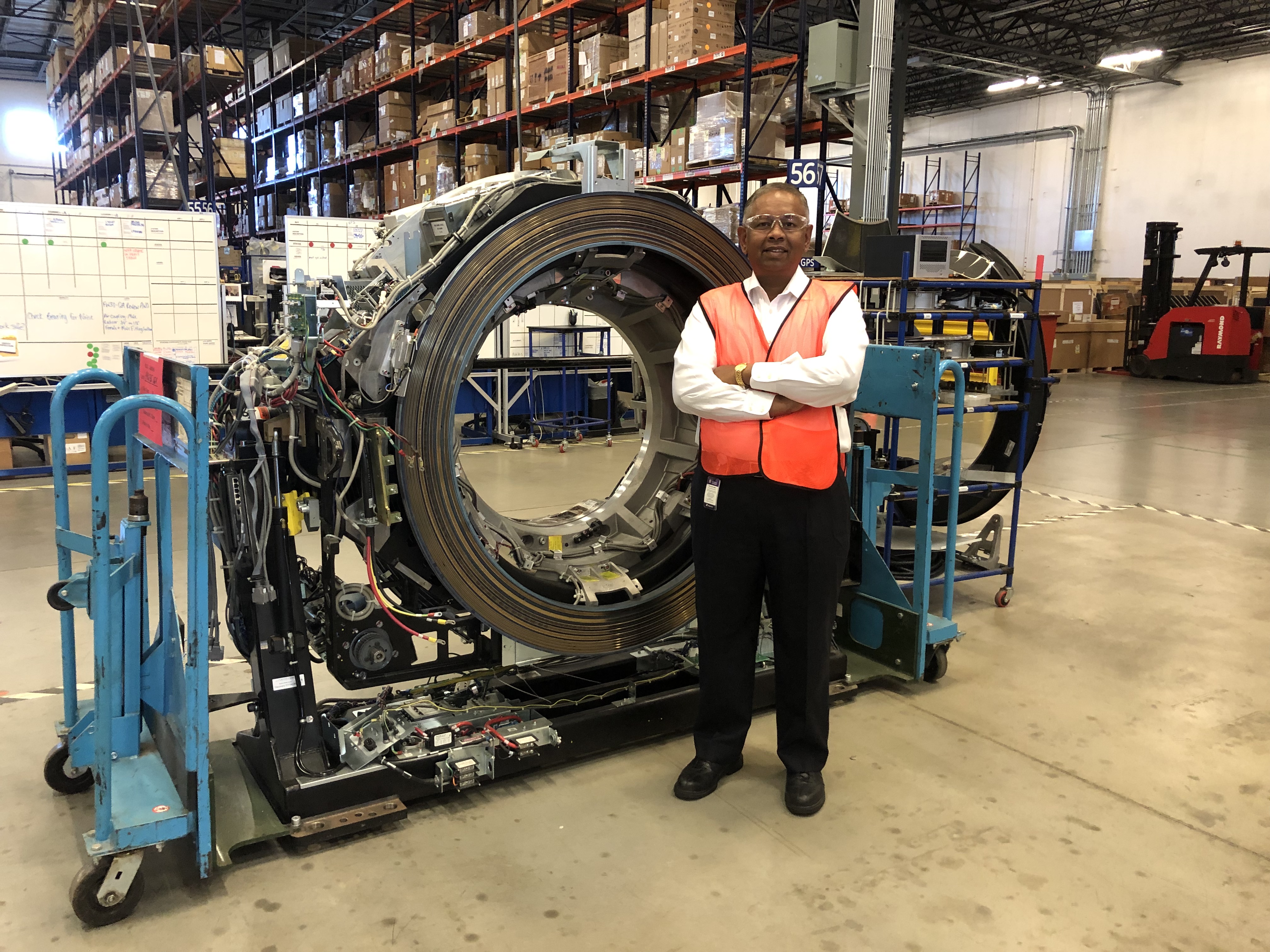 A Circular Economy: The benefits of refurbishing medical imaging equipment
High-quality refurbished medical equipment is a viable diagnostic imaging option for hospitals seeking to stretch their budgets to purchase still-exceptionally good equipment.
There are environmental benefits of refurbishing medical imaging equipment as well. By extending the useful life of medical imaging equipment, refurbishment is a form of reuse and waste prevention, contributing to a circular economy. Refurbishment also saves the energy and the materials required to produce new equipment.
For more than 20 years, GE Healthcare's GoldSeal program has played a vital role in reducing medical imaging equipment waste by promoting and enabling the reuse of equipment and parts from de-installed imaging systems. After undergoing an extensive inspection and testing process, GoldSeal equipment is refurbished to meet the original system specifications. Buyers of GoldSeal MR, CT, or PET/CT products can save on the acquisition costs associated with buying new equipment.
Machines deemed not suitable for GoldSeal refurbishment are dismantled at end of life, and after successfully passing acceptance testing criteria, specific parts are harvested for reuse. Where harvesting is not appropriate, GE Healthcare recycles about 94% to 96% of most systems.
Shock to the System: Managing supply and demand during COVID
When the pandemic hit, it played havoc with supply chains, parts production, assembly, and shipping around the world. It also disrupted the availability of trade-ins for GoldSeal.
Scanning and imaging machines have proven so valuable in COVID-19 care that clinics and hospitals aren't letting them go. Not only is new and refurbished equipment in high demand, there is a shortage of used equipment making its way to GoldSeal inventory. 
"Supply is very tight," said Steve Gemmell, Global Asset Recovery Leader at GE Healthcare. "We are doing everything we can to speed the recovery of assets to support customer demand."
Around the world, as the pandemic took hold, clinics and hospitals wanted to keep their existing equipment longer, even if they were waiting for new models, said Siva Balakrishnan, General Manager of GE Healthcare GoldSeal. In some cases, customers were getting their new equipment and requesting to keep their old equipment at the same time because they needed both systems available to handle pandemic cases.
"To sufficiently handle pandemic cases, customers were stretching the lifetime of their assets," he said. "They were keeping their inventory. That's where it became more challenging … because of the lack of availability of trades that used to be significantly higher pre-pandemic."
In a typical year, GoldSeal used to refurbish and move approximately 8,000 pieces of imaging machines and ultrasounds, Balakrishnan said. That dropped about 10 percent in 2020, he said, although he sees it picking up by 7 percent or 8 percent this year.
Problem Solving Partners: Getting Creative to Meet Equipment Demand
As healthcare providers scrambled to manage supply shortages and demand surges last year, their most valued service partners and suppliers worked alongside them to help problem solve.
"The demand for CT and mobile x-ray went up really significantly, especially during the early days of COVID," Gemmell said.
In 2020, 10 used AMX4 mobile x-ray units that GE Healthcare had acquired as trade-ins were diverted from harvest processing and instead serviced and upgraded, then lent to customers temporarily as they awaited delivery of newly purchased units. [i]
For certain customers who previously purchased a new device under an agreement that included the trade-in of their older unit to help supplement the purchase price, parting with the old unit wasn't feasible given the demand for additional access to equipment to sufficiently address pandemic cases. Although the trade-in was earmarked for GoldSeal inventory, GE Healthcare worked out a compliant arrangement in which these customers were able to hold onto their trade-in systems longer than typical, enabling the customer to address the unprecedented pressing need for handling COVID-19 patients.
---
[i] Agreements for loaned items were subject to applicable rules and regulations.