Prof. Eric Delabrousse and his team at Besancon University Hospital in France have been mobilized since the beginning of the COVID-19 outbreak. Their institution, as well as all hospitals in the Eastern part of France, has been severely affected by the pandemic, with approximately 3,000 diagnosed cases. In the first half of March, they made the decision in agreement with their clinicians to use CT, not as a screening tool but as a differential diagnostic procedure for patients with severe respiratory and septic symptoms, in order to rule out other infectious diseases of the respiratory tract and acute pulmonary embolism.
The team has recently published a major study in Radiology, which may dramatically transform the use of CT for COVID-19 related complications.
Chest CT currently plays an important role in the management of patients with this virus. Existing guidelines recommend performing non-contrast chest CT to assess the pattern and extension of the disease1, while eliminating alternate diagnoses or added pathologies.
This exam helps quantify the spread of the COVID-19 infection on the lungs; however, Prof. Delabrousse and his colleagues observed that the condition of the lungs revealed by chest CT was not always correlated with the severity of the symptoms observed.
There are two main reasons to explain a lack of oxygen into the lungs: respiratory conditions or vascular disorders. "It is either the engine–the lungs, or the pipes–the blood vessels," he says.
They decided to routinely perform pulmonary CT angiography for COVID-19 patients with severe clinical symptoms to evaluate other complications that may result in respiratory distress. CT angiography uses an injection of contrast material to explore the veins and vessels.
The results were significant: out of 100 patients with severe clinical features of COVID-19 infection, 23 showed acute pulmonary embolus – a severe condition caused by a blockage of an artery in the lungs by blood clots that is likely to require care in the critical care unit and mechanical ventilation.
"This is a massive number. Around one and five percent of patients in the intensive care unit would usually have acute pulmonary embolus. In the most severe cases, the incidence of pulmonary embolism exceeded 50 percent," adds Prof. Delabrousse. Patients with embolism were more frequently in intensive care units (74% vs. 29% of patients without embolism) or on ventilatory support (65% vs. 25%).
According to Prof. Delabrousse, vascular disorders have been under-diagnosed in COVID-19 patients and have likely been involved in deaths in resuscitation.
"We are clearly in a paradigm shift: a CT angiography should systematically be performed in case of suspected pulmonary complications," he says. "Firstly, because we know how to treat acute pulmonary embolism using anticoagulants. And then because, for COVID-19 patients, it means that only the ventilatory condition will remain, and intensivists know how to manage it effectively."
The study also reveals unusual embolisms caused by COVID-19. An embolism usually originates in large clots formed in the legs. Prof. Delabrousse and the team observed on CT images, a galaxy of tiny clots directly in the small vessels of the lungs. "This evokes a highly inflammatory environment," he says. This also illustrates how much there is still to learn about COVID-19 and its implications.
"By now performing CT pulmonary angiography in patients with severe forms of COVID-19, our hope is to help reduce mortality through the early diagnosis of acute pulmonary embolism and anticoagulant treatment that can be started quickly" concludes Professor Delabrousse.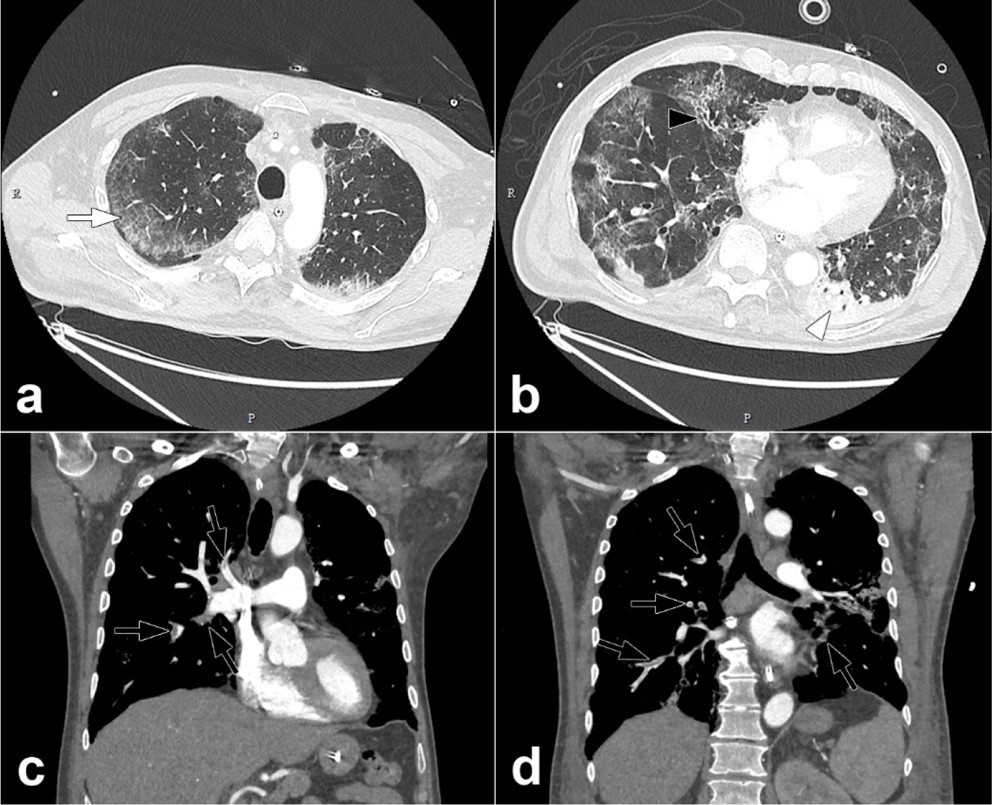 References:
1 Revel M-P, Parkar AP, Prosch H, Silva M, Sverzellati N, Gleeson F et al. COVID-19 patients and the Radiology department – advice from the European Society of Radiology (ESR) and the European Society of Thoracic Imaging (ESTI). 2020;11.