You don't need to explain the beauty of portable ultrasound to Steffen Mueller, a veteran product manager at GE Healthcare. That's because the technology probably saved his wife's life. Back in 2016, a scan of his spouse's carotid artery with one of the pocket-sized devices gave cause for concern: The image appeared to show a suspicious narrowing.
A comprehensive ultrasound examination confirmed the narrowing as a subtotal occlusion, a dangerous blockage of the blood vessels that can cause strokes. "A few months later, she had an operation," says Hanover-based Mueller, who has a degree in medicine. "Had it not been found, there was a super high likelihood of her having a stroke," he adds.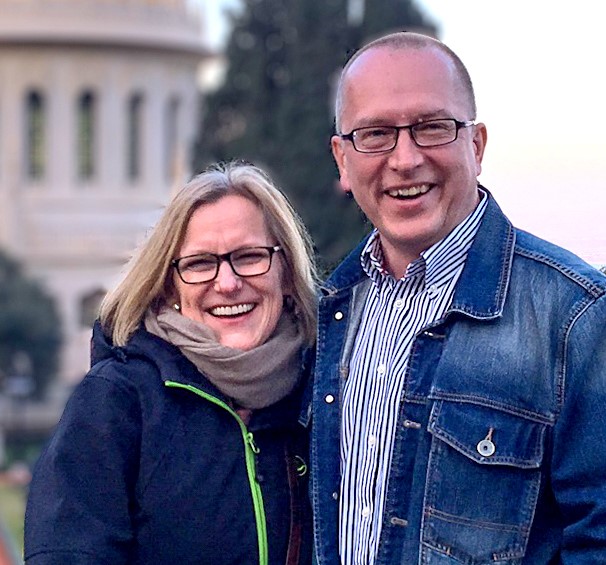 Mueller, who joined GE Healthcare in 1998, wants his wife's story to be a lesson, not a miracle. Obstetricians and cardiologists have been using ultrasound, the technology that allows doctors to see inside the body by emitting and recording the echoes of high-frequency soundwaves, for decades. But Mueller and his colleagues don't want the technology to be limited to the labor-intensive imaging of babies and hearts. They are ushering in an era where fast-focused ultrasound exams via a handheld device can just be part of a routine health check.
"It proves that handheld ultrasound can prevent major issues, because it gives doctors early looks," says Mueller. He hopes that pocket-size color ultrasound devices, which GE Healthcare launched in 2010, will one day hang around a doctor's neck right next to their stethoscope. "A stethoscope offers feedback through sounds," he explains. "But being able to also see things brings additional information to the physical examination."
That day might come soon. The devices, which consist of a ultrasound probe attached to a tablet-sized screen system, are already crucial to the work of Zambian midwives who travel by bicycle to perform fetal ultrasounds*; doctors in remote regions of France who are using lung ultrasound to help triage COVID-19-patients; and family medicine physicians in Hawaii who say using the devices strengthens their bond with patients by boosting face time with them.[1]  
Ultrasound machines made their debut in the 1950s, and for most of that time, they have been best known for helping doctors and expectant parents view babies in utero. In the late 2000s, GE Healthcare's ultrasound experts blazed a trail as they harnessed data and analytics in cardiac imaging. "We saw 4D echocardiography pop up, which allowed you to see the beating heart in 3D in real time, and combine that with functional information about how fast the muscle of the heart was contracting [the fourth dimension]," explains Mueller. "This was super-sophisticated stuff," he adds. "The naked eye could not see these things, but technology could."
GE Healthcare's cardiac ultrasound experts were pushing the boundaries of ultrasound technology, but they were keen to see all branches of medicine reap the rewards. "We wondered about the potential of a device that used much less data than 3D imaging, but in a smaller form," explains Mueller. Their vision was a shrunken-down ultrasound device that dispensed with bulky hardware — such as a separate scanner, large screen, keyboard, cables and trolley — but retained the core functionality of a standard machine. "Of course, there would always be some trade-off," concedes Mueller.
The Vscan™, the first color, pocket-size ultrasound device, had a huge impact. Mueller remembers unveiling the handheld devices at trade shows in 2010 to large crowds of physicians. The first adopters initially used the miniature devices for triage and discovered that they helped to smooth patient flow on the hospital ward. "They could very quickly rule things in or out — such as fluid on the lungs — with a quick look," explains Mueller.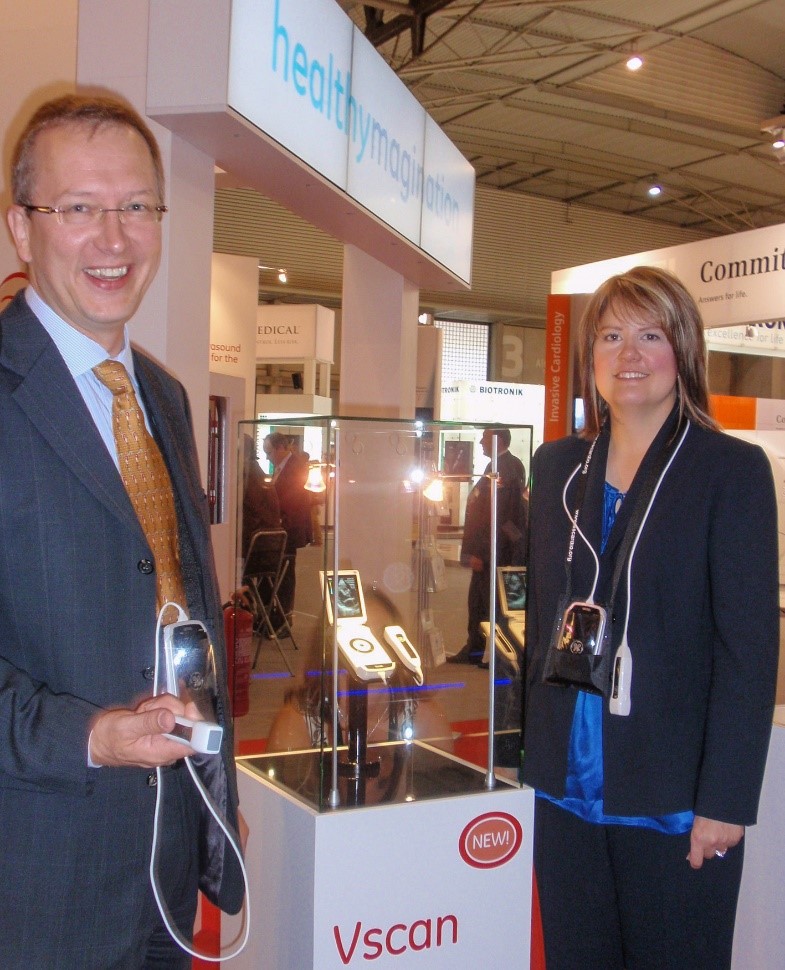 Even that quick look can be useful to overcoming the perennial challenge of differential diagnosis, when clinicians need to distinguish a disease from others that have similar clinical features. "There can often be three or four possible ones, but this device can help clinicians quickly reduce that list to determine what happens with these patients next," says Mueller. On the flip side, the device also allows patients to avoid full ultrasound examinations if their spot checks give no cause for concern. "Often, a comprehensive exam might be overkill."
In technological terms, the handheld devices have come a long way in the last decade. Just four years after their launch, GE Healthcare enabled dual transducers — the components that emit and collect soundwaves — in a single probe, a product called Vscan with Dual Probe. "One is optimized for shallow organs like the breast or thyroid, the other for deep scans like the abdomen or for obstetrics," explains Mueller. "Other companies have to provide two different probes."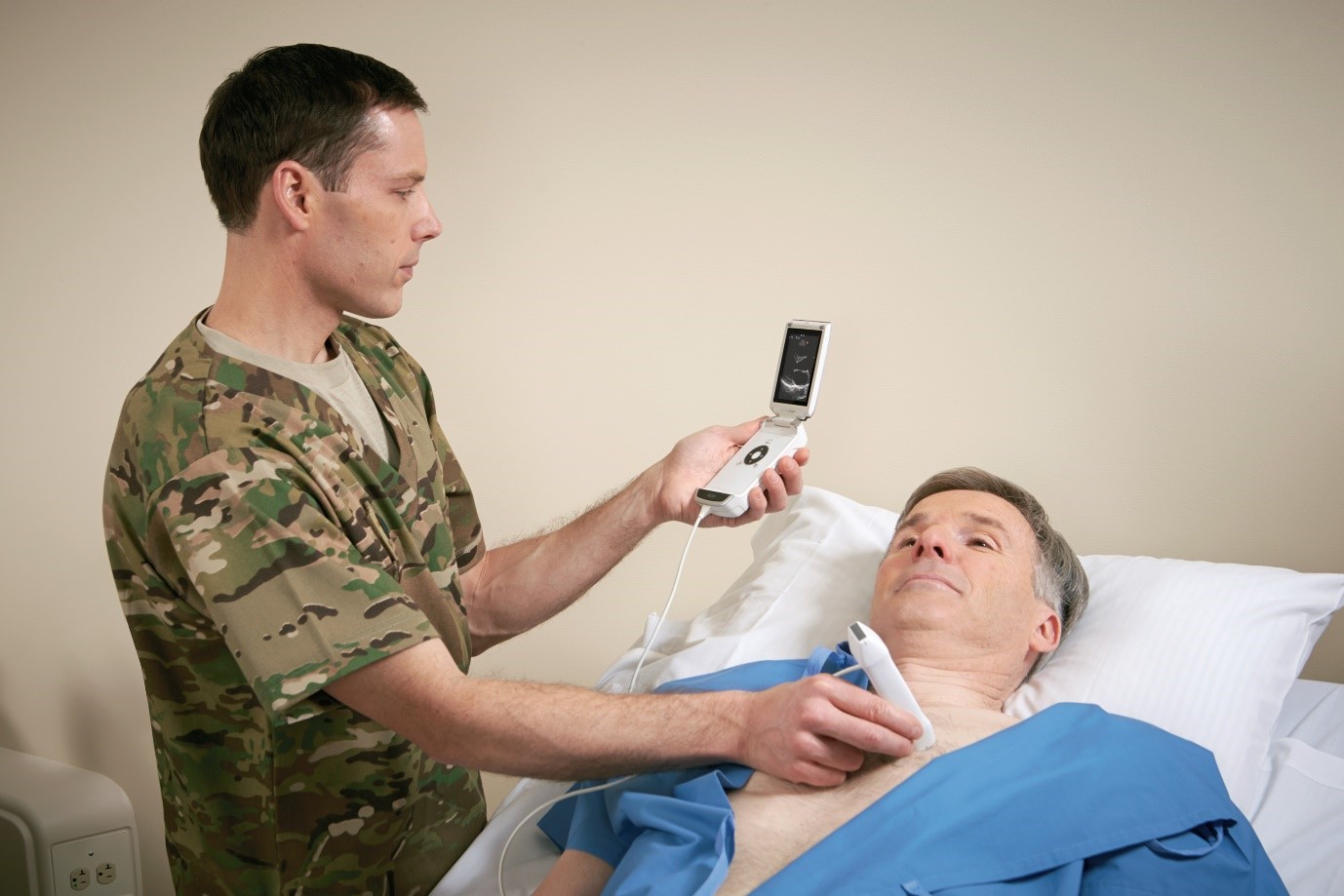 It was just another four years until engineers enhanced the Vscan devices with advanced technology applications, including automation  features for routine procedures such as measuring bladder volume and the artificial intelligence (AI) technology feature for ejection fraction, which is jargon for how much blood the heart's left ventricle pumps. "Doctors used to spend lots of time on those things," says Mueller. "But you can get those kinds of measurements in seconds, which allows for a productivity increase."
Mueller and his colleagues have also succeeded in one of their primary aims: broadening the use of the devices beyond highly specialized branches of medicine such as obstetrics and cardiology. "Nowadays we have primary care physicians who apply this quick-look tool on patients," Mueller explains. He notes that emergency and critical care clinicians are increasingly using the devices on their ward rounds, and that handheld ultrasound has proven an invaluable ally in the era of COVID-19 for gauging the extent of pneumonia.[2] "We have seen a major increase in their use because of their efficiency, portability and cleanability."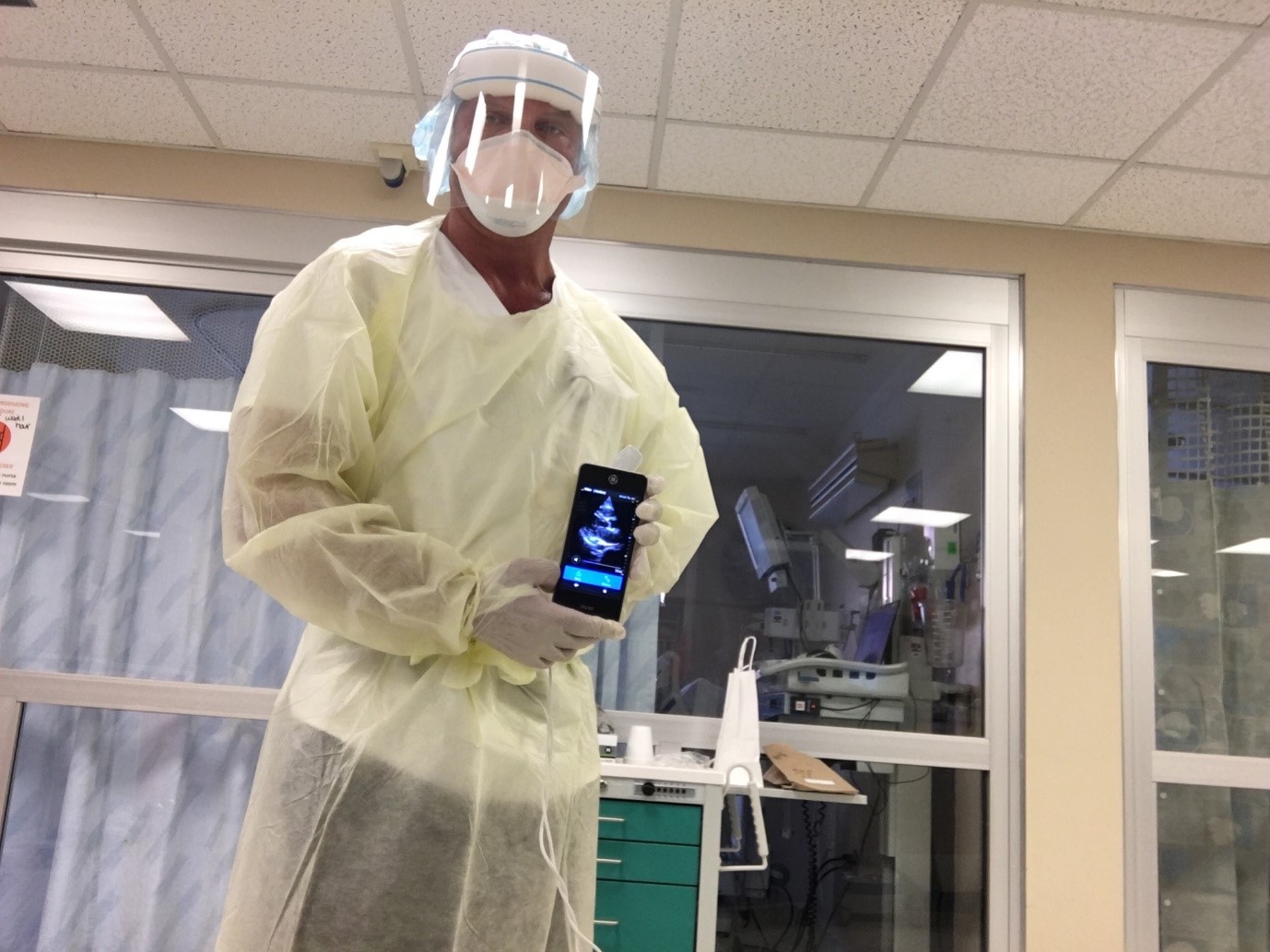 Mueller is looking forward to an era when the devices give away almost nothing in picture quality to their trolley-bound counterparts in hospitals. Looking ahead, Mueller says that devices are set to shrink further, even as their image quality increases. "This will keep broadening the user groups to less specialized and experienced clinicians, allowing them to get enhanced images that they can quickly interpret."
Mueller predicts that it may not be long before ultrasound is part of the physical exam. "We're a healthcare business, so we're all about making tools that allows for the early detection and management of disease," says the product manager. "When those tools become readily available, we will see the 'appropriateness criteria' shift." That shift will be good news for everyone's health. 
*Products mentioned in the material may be subject to government regulation and may not be available in all countries. Not commercially available in the United States. Shipment and the effective sale can only occur after approval from the regulator. Please check with your local GE Healthcare representative for details.
References
[1] Healthcare Anywhere: Handheld Ultrasound Improves Access Around the Globe. GE Healthcare Insights. https://www.gehealthcare.com/article/healthcare-anywhere-handheld-ultrasound-improves-access-around-the-globe
[2]  A Ray Of Light: AI-Enhanced Ultrasound Is Helping On The Front Line Against COVID-19. GE Reports. https://www.ge.com/news/reports/the-good-fight-how-ai-enhanced-ultrasound-is-on-the-front-line-against-coronavirus