A recent study found that AI is a feasible tool for detecting the orientation of chest X-rays, potentially reducing the time spent rotating images from nearly 20 hours per year to only 7 minutes[1]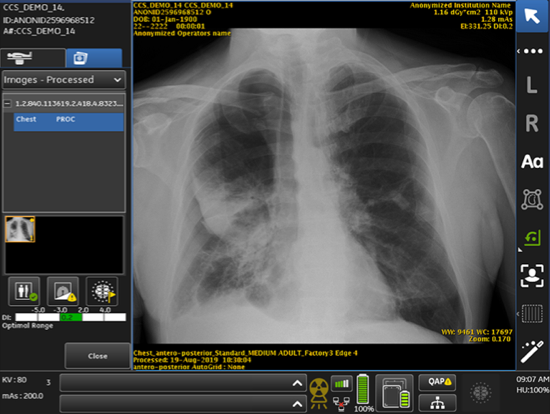 *Click. Click. Click.*
It's the sound resonating from X-ray exam rooms between patients as technologists manually rotate chest X-rays before sharing the images with radiologists for review.
Chest exams on portable X-ray systems are increasingly used and remain one of the most frequently performed procedures, accounting for 40% of global diagnostic imaging volume[2]. Often ordered for patients with chest pain, a chest injury or shortness of breath, chest X-rays can help doctors determine whether a patient has heart problems, a collapsed lung, pneumonia, broken ribs, emphysema, or another condition.
However, before the images are sent to radiologists for review, technologists must often manually rotate the individual X-ray images to position the head on top, requiring four user interface clicks to rotate an image 180˚ or three clicks to rotate it 90˚ or 270˚.
"To fully image an individual's lungs, technologists often must adjust the position of the X-ray detectors, which poses a unique challenge in maintaining the detector's orientation with respect to the patient," explains Khaled Younis, Ph.D., Staff Data Scientist, X-ray, GE Healthcare. "This leaves highly-trained X-ray technologists performing the mundane task of manually correcting rotated images to position them appropriately before sending the images to PACS for radiologists' review."
An analysis of 7,374 images acquired from four portable X-ray device users found that on average, more than 83%[3] of all chest X-rays require manual intervention to rotate images.
Based on these results, it is estimated that technologists at a medium to large size hospital, spend nearly 20 hours, or three working days a year, doing more than 70,000 manual clicks[4] to rotate chest images on portable X-ray machines.
"Understanding that this was a challenge, we started exploring how we could use the latest technology – artificial intelligence (AI) – to automatically manage the tedious and time-consuming task of rotating images," says Dr. Younis. "Our Intelligent Auto Rotate algorithm is the solution. Not only does it allow technologists and radiologists to focus on more important tasks that make use of their expertise, but it also corrects the DICOM tags, ensuring consistent reliable use of hanging protocols in PACS."
A part of GE Healthcare's Critical Care Suite, Intelligent Auto Rotate saves technologists 3-4 user interface clicks on more than 80% of portable chest X-ray exams. With the AI algorithm being 99.4% accurate, it is estimated that the 20 hours of technologists' time conducting manual rotation would be reduced to only 7 minutes a year1,2.
"Technologists are very excited about this technology, even asking us to expand its use to other anatomies," adds Dr. Younis following a presentation on the study's findings at the Conference on Machine Intelligence in Medical Imaging. "We prioritized chest X-rays because they are the most common, but we are exploring similar AI for other parts of the body."
"Critical Care Suite and the Intelligent Auto Rotate algorithm are just the beginning," adds Katelyn Nye, General Manager, Global Mobile Radiography & Artificial Intelligence, GE Healthcare. "At GE Healthcare, we are exploring the use of AI, analytics and healthcare data in every aspect of patient care to unearth timely insights that improve patient outcomes, reduce waste and inefficiencies, and eliminate costly errors that currently exist in the system."
[1] Younis, K., al. (2019). Leveraging Deep Learning Artificial Intelligence in Detecting the Orientation of Chest X-ray Images. SIIM Conference on Machine Intelligence in Medical Imaging (C-MIMI), Oral Presentation.
[2] Communicating radiation risks in pediatric imaging: information to support healthcare discussions about benefit and risk. World Health Organization, 2016.
[3] Younis, K., al. (2019).
[4] GE Healthcare Data on File