Meet the scientists developing new technology to safely deliver a biological gas to fight healthcare-acquired infections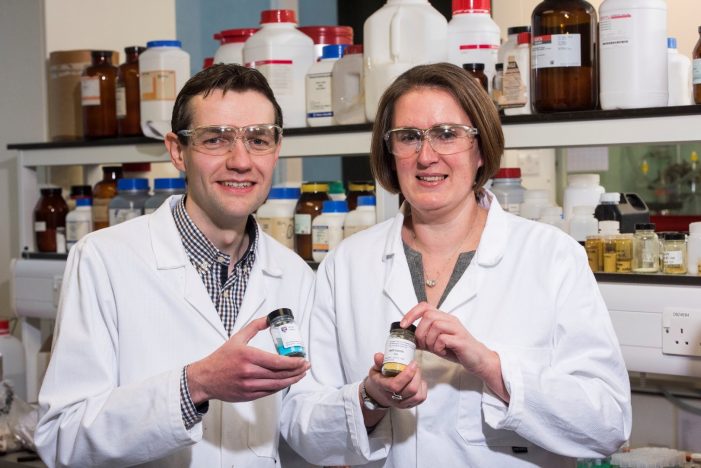 L-R: Dr. Stewart Warrender and Dr Morven Duncan.
Healthcare-acquired infections (HAIs) are an immense challenge for the healthcare industry, as they are acquired not only as a direct result of healthcare interventions such as surgery, but also as a secondary development in less invasive procedures.
Hundreds of millions of patients globally are affected by these secondary infections each year, leading to significant mortality and financial burden on our healthcare systems. In England alone, there are up to 300, 000 patients infected annually, with 17.2% suffering from urinary tract infections and 15.7% from surgical site infections.
This is where the technology that Dr Morven Duncan and Dr Stewart Warrender are developing will make an impact. Both are chemists in the dynamic spin off company, from the University of St Andrews School of Chemistry, MOFgen. The company is dedicated to investigating the use of porous materials called metal organic frameworks (MOFs) to deliver active agents which will help in the fight against HAIs.
MOFs were originally studied for their potential to reduce the effects of global warming. In experiments to extract greenhouse gases from combustion engines, MOFs were used to contain harmful gases such as nitrous oxides. Though containment was successful, it was soon discovered that when the MOFs came in contact with water, the gases would be released. Professor Russell Morris, Chief Scientific Officer, MOFgen saw this as an opportunity for the healthcare industry, and began working with his biomedical colleagues to exploit this discovery. Today, MOFgen's core technology is based on these original research findings.
"The materials that we are using are quite new, they have been developed over the last 20 years. MOFs have microscopic pores, tiny holes that can be designed to accommodate active agents and one particular active agent that we are currently exploring is the gas, nitric oxide", Stewart explains. "Nitric oxide is a cellular signalling molecule, naturally produced within our bodies - where it fulfils a variety of physiological and pathological roles from preventing blood clots, to dilating blood vessels, to promoting wound healing and killing invading micro-organisms such as bacteria. The multitasking nature of this gas, can serve as a solution to HAIs."
Though knowledge of the multitasking properties of nitric oxide is not new to healthcare professionals, figuring out how to administer it safely, at the exact location, in the correct dosage over a specific period is- as nitric oxide is toxic in high doses.
Morven and Stewart have developed a suite of MOF containing formulations for coating on medical devices such as catheters – which are prone to causing HAIs. These coatings have the potential to hold and deliver active agents such as nitric oxide. The release of the agent is initiated by the coated device's contact with the body's moisture. Additionally, the release profile of the agent can be controlled by tuning the chemical framework of the MOFs.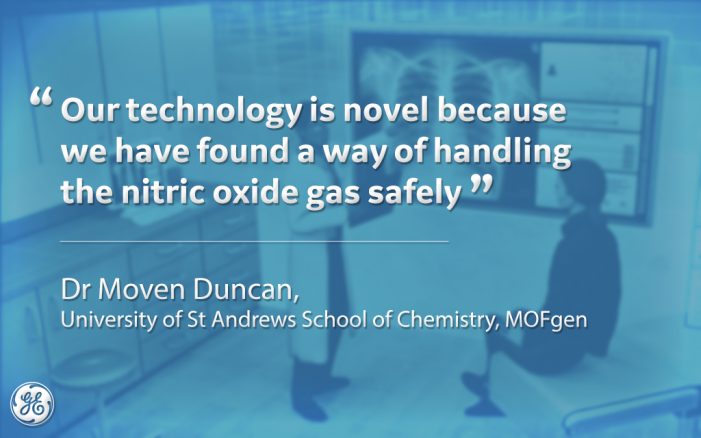 "Our technology is novel because we have found a way of handling the gas safely – it is encapsulated and stored within the pores of the MOFs. The mechanism of releasing the nitric oxide gas is easy as we only need water, and depending on the MOF's structure, we can controllably release variable level of the gas – depending on the role, it has to play" Morven explains. "The nitric oxide gas released, has the potential to increase the safe life use of indwelling catheters within the body, reducing patients' risk of infection and preventing thrombosis. This is huge! Reducing distress endured by patients and freeing up nurses' time."
Last year, Morven and Stewart won the Emerging Technologies Competition, which is an annual innovation initiative organized by the Royal Society of Chemistry set up to identify the most promising chemistry based technologies, and to help accelerate their commercialization within the industry. It also offers winners, a public cash prize of £10,000 and the opportunity to attend business training courses from Cambridge University's Judge Business School and leading accountancy firm KPMG.
"Winning the competition felt like the healthcare industry had acknowledged the significance of our technology, giving it the validation it needed to secure investment. Stewart and I have been working on this project for five years and we had gone through so many ups and downs.", Morven says. "The recognition given by the healthcare industrial leaders judging this competition helped us immensely with investor confidence and with establishing MOFgen."
GE Healthcare is one of the industry sponsors of the Emerging Technologies Competition and is involved in the selection of winners. "We are proud to sponsor this event, encouraging young scientists to bring forward their innovations to propel the healthcare industry forward. This empowers them and ensures that we are equipped to positively impact patient care in the future," Sajinder K Luthra, Head of Development & Translational Sciences, GE Healthcare explains.
The competition will announce shortlist applicants on the 21st April, and winners in June.