View from a chief medical officer in Europe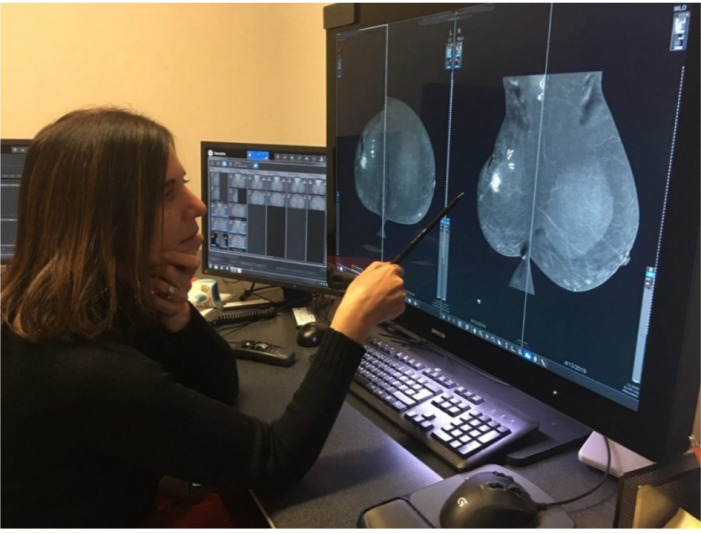 The value of breast cancer screening and early cancer detection has been proven by a wide range of clinical evidence with the aim to improve outcomes. Mammography continues to be highly accessible in most of Europe and the primary method of detection with a wealth of evidence on accuracy and cost-effectiveness in screening and has shown a great mortality rate reduction when integrated into population-based screening programs. However, breast imaging, is not a single modality approach. Additional tools such as MRI and ultrasound can be excellent clinical choices particularly for women with dense breast tissue, and women at high risk. There is an urgent need for clinical studies to demonstrate optimal screening and diagnostic pathways based on a patient's individualized risk profile.
For the 40% of women with dense breast tissue, mammography may not be sufficient, as both cancer and dense breast tissue appear white on a mammogram. This is critical, given that women with dense breasts may be four to six times more likely to get breast cancer [1]; 71% of breast cancers occur in dense breasts [2] and up to 50% of breast cancers will be missed in extremely dense breasts [3]. Evidence exists for the benefit of implementing additional screening tools in conjunction with mammography, such as Automated Breast Ultrasound (ABUS). The European Asymptomatic Screening study [4] demonstrated a 57% relative increase in invasive cancer detection rate in women with dense breasts by keeping a stable recall rate of 2.3%, when ABUS is used as an adjunct to 2D mammography. Invenia™ ABUS, the only FDA-approved Ultrasound screening technology, was successfully implemented into a high-volume screening workflow for this trial in St. Görans Hospital in Sweden.
In the past decade, other screening and diagnostic tools have emerged in adjunct to 2D mammography. One such screening tool, known as 3D mammography, offers multiple images of the breast, providing additional diagnostic information. There are key aspects of this new imaging mode that impact the patient, including dose exposure. The Senographe Pristina™ technology has been designed to deliver 3D mammography images at the same dose level as a standard 2D mammography examination (GE HC data on file). Studies in Europe show that 3D mammography can detect 90% [5] more cancers than 2D mammography alone, with a similar recall rate. This higher detection rate may have a beneficial impact on cancer diagnosis.
Another diagnostic tool, Contrast Enhanced Spectral Mammography (CESM), uses a dual energy technique enabling visualization of contrast uptake within the breast tissue; enabling imaging of the angiogenesis phenomena that can be associated with development of a tumor in the breast. It can be used as an adjunct to an inconclusive mammogram and may help to determine if a finding seen on the inconclusive diagnostic corresponds to an area of the breast with contrast uptake.
Early detection of cancer is crucial for better clinical prognoses and a lower mortality rate. In addition, earlier cancer detection and more efficient diagnosis are likely to reduce downstream treatment costs.
To give just one example, in Belgium, the average cost of treating a patient with stage I breast cancer is almost half of the cost of treating a patient with stage IV disease: €19,827 versus €35,201 [6].
The multimodality approach offers opportunities; for example, a risk adaptive screening approach could be a potential future solution and is currently under investigation in several clinical trials (MyPEBS, BRAID trial), but more needs to be done. To facilitate the generation of evidence to support adoption of multimodality imaging, a standardized repository to capture screening programs, clinical outcomes and key success factors could be created to foster best practices across the member states.
Investment is also required in research to develop AI capabilities to help improve early detection of breast cancer and enhance radiologists' workflow.
References:
1. Boyd NF et al. NEJM 2007; 356: 227-236
2. Arora N, King TA, Jacks LM., Ann Surg Onc, 2010; 17: 211-218
3. Kolb et al, Radiology 2002; 225(1): 165-175
4. Wilczek, Leiand, et.al. Adding 3D Automated Breast Ultrasound to mammography screening in women with heterogeneously and extremely dense breasts. Eur J of Rad 2016; 85: 1554–1563
5. Pattacini P, Nitrosi A, Rossi PG, et al: Digital Mammography versus Digital Mammography Plus Tomosynthesis for Breast Cancer Screening: The Reggio Emilia Tomosynthesis - Randomized Trial. Radiology 2018; 288: 2, 375-385
6. Gentile E and Wierinck L.: On breast cancer our work is far from over. EUObserver: 27 February 2018. https://euobserver.com/opinion/141126
Mathias Goyen is Chief Medical Officer at GE Healthcare, Europe. This post originally appeared here. Follow Mathias @GoyenM