Katie and Ryan Stevens are college sweethearts and got married in August 2012 on a gorgeous day in Milwaukee, Wisconsin.
Five years later, they were thrilled to found out that Katie was pregnant with their first child. The baby was due in April, and they could already picture walks and fun activities to do as a family in the beautiful spring weather.
Katie was having a text-book perfect pregnancy. She and Ryan looked forward to every doctor's visit, where they could see their baby on the ultrasound. However, at the 27-week mark, things took a turn for the worse.
At a regularly scheduled doctor visit, she learned that there was protein in her urine, but nothing terribly alarming. Two weeks later, the amount of protein reached a new level; however, the blood test results suggested that everything was normal.
Katie returned to work, busy with meetings and emails. Later that afternoon, she got a terrible headache followed by chest pain, heartburn, and then started throwing up.
She and her husband rushed to the hospital. Within minutes, she was hooked up to various machines and constantly monitored. As the day went on, Katie noticed that the mood in the room started to shift, and more nurses and doctors were coming into the room.
She soon learned that her blood pressure was sky-high, and if she didn't get on magnesium quickly, she was at risk of having a seizure, or even losing the baby. Katie eventually learned that she had HELLP syndrome – a rare but serious pregnancy complication characterized by hemolysis, elevated liver enzymes, and a low platelet count.
Hours later, Katie was taken into surgery for a C-section, and their son – Cameron – arrived at 29 weeks, 5 days, weighing less than three pounds. Katie and Ryan saw him just long enough to take a picture, but he was then rushed to the Neonatal Intensive Care Unit (NICU).
The NICU would become their home for the next 87 days. "The saying is true – the NICU is a rollercoaster. It was the highest of highs, and the lowest of lows," Katie recalled. "One thing I knew right away was that Cameron was a fighter. The journey wasn't easy, but it did get better with the joys of holding Cameron and watching him grow."
Katie and Ryan formed enduring bonds with their NICU nurses, sharing, "We were constantly in awe of the medical team in the NICU. They're patient, caring, and not only helped our son – but helped me and my husband."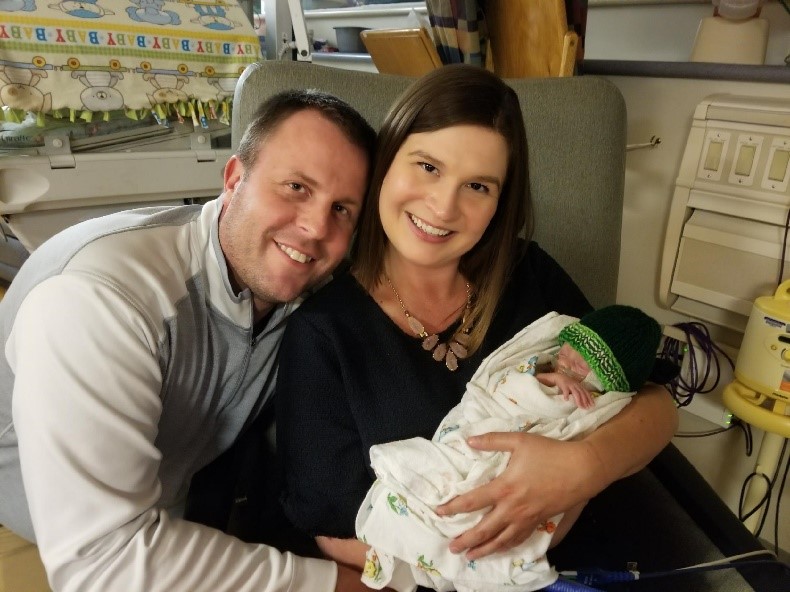 Just days before Cameron was able to come home, Katie watched as another family joined them in the NICU with a baby who was born around the same gestational age as Cameron. The parents were distraught, and Katie was immediately taken back to Cameron's arrival to the NICU almost three months ago. Katie's advice to any parents in the NICU is to take it hour by hour… one day at a time.
Today, Cameron is a healthy 21-month-old boy and is in the 95th percentile for height. He loves to laugh, run around, and is crazy about Elmo.