After trying to get pregnant for nearly a year, Carolina Galindo was thrilled to learn that she was, indeed, expecting. Still, nothing could have prepared her for what she saw on the ultrasound: twins.
"It was a big surprise," says Galindo, who is a clinical engineer specialist with GE Healthcare in Brasília, Brazil. "I keep thinking about how am I going to be able to take care of two babies at the same time? But as my husband says, we wanted it so much that we were blessed with two."
This isn't Galindo's first pregnancy. She was a 24-year-old college student pursuing a degree in biomedical engineering when her son Pedro was born. "Two weeks later I was already back in college," she says. "I didn't have time to stay home with my baby."

Today, 14 years later, it's different. She's looking forward to an extended maternity leave, spending six months at home when the twins — Mariana and Cadu — are expected to arrive this August.
Since telling her manager about the pregnancy, she's worked with her team to devise a plan so that she can focus on her family during maternity leave before resuming her career. "I'm thrilled to have two more babies. But I love my job, too," she says. "GE Healthcare is making me very comfortable."
Becoming an engineer
When Galindo was in school, she thought she wanted to be a doctor. But at the same time, she loved engineering. When she learned that biomedical engineering was a career option, she knew it was the best of both worlds. "I saw the match of two things that I love: healthcare and engineering," she says.
In her role at GE Healthcare, she travels to different hospitals to install, maintain and repair medical equipment such as MRIs, CTs, mammography machines, ultrasounds and nuclear medicine imaging machines. She loves working one-on-one with customers, and she also enjoys working with the equipment. "I love the technology," she says.
Galindo has a close relationship with her manager. "He was very receptive," she recalls of the time she told him she and her husband, João, were expecting. "I work with 25 engineers, and I'm the only female; they were very supportive."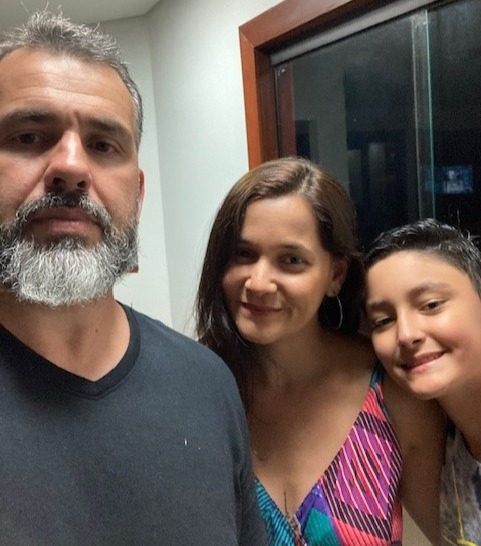 After she'd informed the company of her pregnancy, Galindo was welcomed into the GE Mommy Program, a Brazilian initiative that provides soon-to-be moms with on-the-job support and guidance during and after pregnancy.
Through the program, Galindo is able to see, at a glance, how to schedule and extend her maternity leave; how to include her babies in her health benefits plan; and what the return-to-work process will look like. In addition, throughout her pregnancy a nurse checks in with her regularly to see how she's feeling and answer any questions she may have, and a medical team evaluates the type of work she's performing and makes any modifications needed for safety. For example, adjustments have been made so Galindo isn't around equipment that emits radiation, and there are limitations on what she can lift.
While GE Mommy is a regional program, GE Healthcare offers guidance and resources to leaders to support mothers-to-be in field service roles around the world.
Bianca Bellose, a human resources partner with GE Healthcare based in São Paulo, says this program is one way the company is working hard to hire and retain more women.
Women are vastly under-represented in the engineering field. According to the World Economic Forum's Global Gender Gap Report 2021,[1] women make up only 20 percent of engineers globally. Bellose says GE Healthcare wants its team, both men and women, to be able to live fulfilling lives, both on the job and away from it. "We are trying to always reinforce that we want you to have your dreams and to live them," she says. "We are here to support you." 
Galindo is the perfect example. She's been working with the company for five years and has a bright future here. That's important to her, of course, as well as to the company, which values the varied ideas, voices and innovations that come with a diverse workforce.
"We know how difficult it is for a company to attract women to field-based roles, especially engineering," Bellose says. "We are working really hard to have men and women representing us in all areas. And especially women like Carolina, because she has really great skills."
The next generation
When Galindo thinks about her twins, and the six months she'll get to spend with them during her maternity leave, she's thrilled. With Pedro, she never had the resources to design a nursery or the time to dote on him like she wanted to, because she was young and working so hard to support him. This time it will be different. "Everything in the past that I didn't do, I'm doing now," she says.
And she can do it all with the comfort of knowing that she and her colleagues have a plan to manage her work while she's away, and that she will still have a job she loves when she's ready to return.
In fact, she thinks she'll be an even better professional because of it. She'll have two more children depending on her, after all, and she wants to make them proud. One day, she hopes, one of the twins — or both — will follow in Mom's footsteps and become an engineer.
REFERENCES