New technology 12-years in the making is showing promising results in early study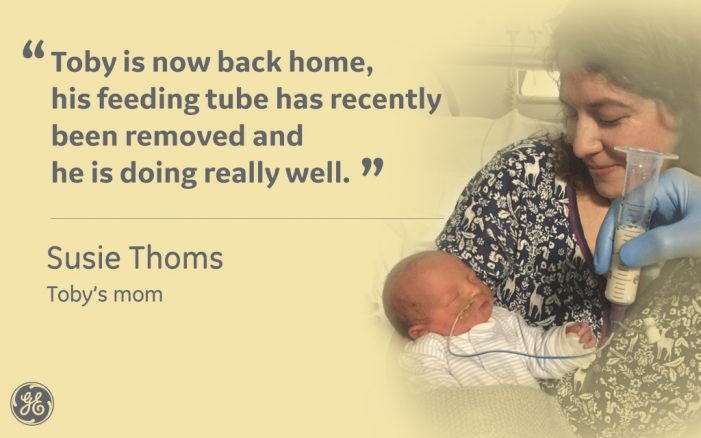 When Susie Thoms' son Toby was born six weeks premature by caesarean section, he spent a week in neonatal intensive care. Getting him the vital brain MRI scans he required to monitor his health usually would have meant risky and difficult transfers to another part of the hospital where the large, hi-tech scanners are located.
But Toby was at Royal Hallamshire Hospital in Sheffield, UK, where a unique prototype technology is being tested: a miniature MRI scanner, designed for fragile new born babies*. The scanner is much smaller than a standard MRI scanner which means that it can be placed within or close to the neonatal unit so that fragile newborns won't have to travel far.
"Not having to leave the department was a massive advantage, because having to transfer elsewhere at what is already a difficult time, would have been a lot of extra stress for Toby, myself and the teams involved," said Thoms, Toby's mom.
Together with GE Healthcare, Paul Griffiths, Professor of Radiology at the University of Sheffield and Martyn Paley, Professor of MR Physics, designed the scanner over the course of 12 years. The neonatal MRI is the only one of its kind and part of a two-year collaboration with Sheffield Teaching Hospitals NHS Foundation Trust, the University of Sheffield and the Wellcome Trust, to examine the feasibility and benefits of scanning babies in the neonatal unit. If the research is successful and the quality of the images and data and clinical benefits are proven, it is hoped that the scanner will be granted relevant approvals which would enable it to be used on a routine clinical basis in years to come.
"Babies, particularly with brain problems, are unstable – they can stop breathing or their blood pressure can change in an unpredictable way. If that happens it is useful to have neo-natal staff who are used to that situation in such close proximity, which will improve safety," said Griffiths. "The motivation to keep going with this project is a belief that at the end we will have something that is better for babies with these types of brain problems."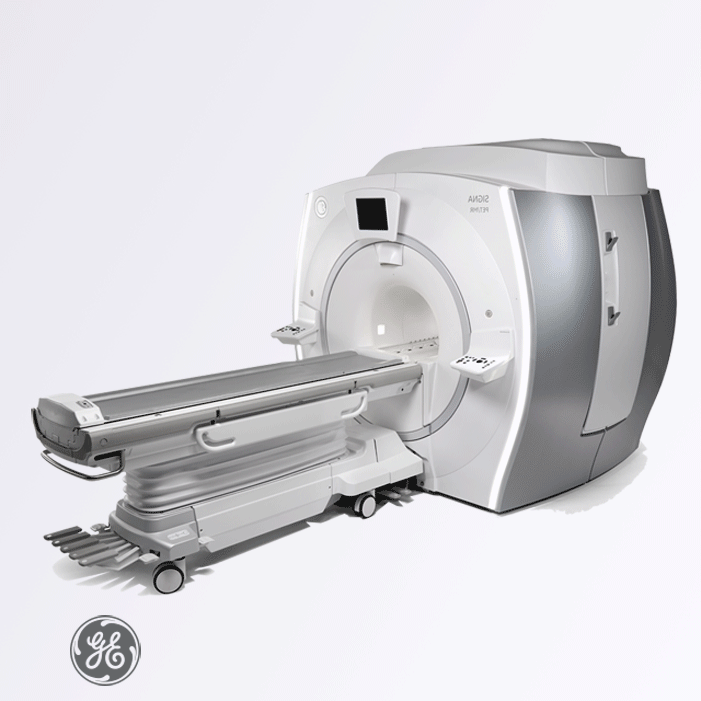 By placing miniature scanners within or close to the neonatal unit, examinations can be performed more quickly and the risks and difficulties associated with moving vulnerable newborns can be reduced. It also enables doctors to gain additional clinical information than they could with a bedside ultrasound scan. Ultrasound is, today, most often used for scanning the brains of newborn babies and while it is less expensive and more portable, some parts of the brain can't be viewed with it. With MRI, doctors can get more detailed images which can help them provide a more accurate diagnosis for babies with brain problems, said Griffiths.
"Toby coped with the scan really well and the care he received was absolutely brilliant on the Neonatal Intensive Care Unit and Special Care Baby Unit," said Thoms. "I didn't have any hesitation about taking part as I think doing this research, and possibly benefitting other parents and babies in the future, is very important."
"Toby is now back home, his feeding tube has recently been removed and he is doing really well," she added.
*Technology in development that represents ongoing research and development efforts. These technologies are not products and may never become products. Not for sale. Not cleared or approved by the U.S. FDA or any other global regulator for commercial availability.