American Journal of Neuroradiology Publishes MAGiC Results

It takes about half an hour to have your brain scanned inside a magnetic resonance machine (MRI). Many people relax and tune out as they slide into the bore. But for some people, claustrophobia can set in.
But long brain scans may soon be a thing of the past. GE Healthcare, with the help of a Swedish software company called SyntheticMR, developed a new way to make brain scans faster. The technology is called MAGiC, for MAGnetic resonance image Compilation. In a recent clinical trial, patients were scanned with conventional imaging and then with the MAGiC sequence. MAGiC took just a fraction of the normal time, about six minutes, to complete the scan with comparable image quality. The results of that blinded, multi-center, multi-reader clinical study comparing were recently published in the American Journal of Neuroradiology.
"The benefit of MAGiC might be [best seen] in pediatrics and the elderly, where you have a very narrow window of cooperation and you need just one quick shot to get all the information you need," says Dr. Lawrence Tanenbaum, VP and Medical Director of RadNet Eastern Division. Dr. Tanenbaum was an author on the recently published study. "This shifts MR imaging from an arduous patient experience with scan after scan to a model of a quick exam where you can capture of all the necessary information and then have a comprehensive interrogation off the table.
The beauty of MAGiC is that Tanenbaum didn't need a new machine. The technology is a piece of software compatible with existing GE MRI machines. (Existing machines can be upgraded and new machines will come with MAGiC as an optional feature, GE says.)
The study comprising a set of 1,526 images were read by seven neuroradiologists comparing MAGiC and conventional MR brain images from 109 subjects. The results revealed that the diagnostic quality of the images generated synthetically were comparable to conventional imaging.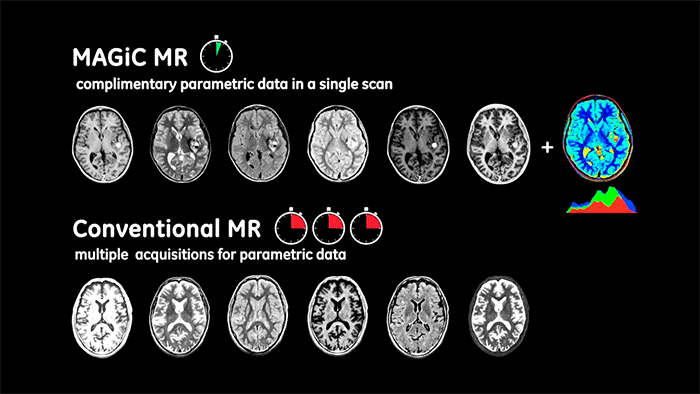 Like a photographer taking different exposures of the same object, the radiologist uses different contrasts for different views of the brain and adds them together. If the correct contrast is not taken the first time, the patient may need a rescan. MAGiC, however, can do it simultaneously and faster. This reduces the need for rescans and additional patient visits, saving both patients and clinicians time and money. MAGiC may also be a beneficial quantitative tool for clinicians that want to monitor disease progress to support treatment decisions.
We were thrilled to see the results of the MAGiC study published," said Jason Polzin, PhD, General Manager of the Applications Segment for GE Healthcare MRI. "It validates in a reviewed, highly regarded scientific publication that MAGiC produces comparable diagnostic images to conventional imaging in just a fraction of the time. We hope that the study will encourage customers to adopt this new technique that can help reduce scan time making MR more comfortable for patients while also boosting productivity."
Approximately 30 percent of MRIs are neuro exams, which is why MAGiC was developed specifically for brain use. "We are constantly looking for ways to shorten scan times while maintaining the image quality our customers need," said Polzin. "We believe that MAGiC is one promising way to help achieve this goal."