In the midst of mass urbanization, the Assam state government successfully delivers the first free, statewide CT diagnostic initiative in India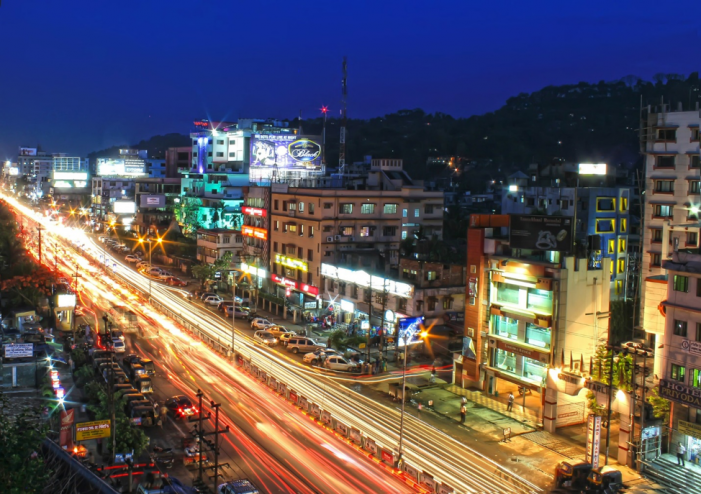 Source: Pixabay
Assam is an ethnically diverse northeastern state in India with rapidly developing urban regions. The territory is rich with resources, spanning flood plains, tea gardens, rolling hills, and dense forests. However, the difficult terrain coupled with the rising population in the state has put pressure on existing healthcare institutions and professionals to deliver better healthcare.
Between 2001 and 2011, Assam's population rose from 26.6 million to more than 31 million[1] people. Such rapid urbanization (14 percent)[2] increased the prevalence of chronic diseases, such as hypertension and arthritis, and is partly responsible for an incremental rise in road accidents, which now account for 50.4 percent[3] of the deaths in Assam – the highest in the country.
As the population grows, the Assam state government recognizes the need to improve access to healthcare and diagnostic imaging resources.
"Back then (prior to the PPP), we had far too few scanners and those that we had were concentrated in larger cities like Guwahati. This left many of the smaller towns and remote areas in Dhemaji, Haflong, and Hailakandi with no access to technology, and therefore no opportunity for a confident diagnosis," explained Dr. Achintya Roy, PPP Project Head, Spandan Diagnostic. "Even among our existing pool of CT scanners, we frequently struggled with system failures and radiologist shortages, making it difficult for us to deliver high-quality diagnostic care throughout the state."
Approximately 85.9 percent of Assam's population lives in rural areas. In 2016, many of the state's rural hospitals lacked CT scanners, forcing patients to travel 70 to 100 kilometers through difficult terrain to get a CT scan at one of the government's medical colleges. However, due to high demand, many of these facilities had long waiting periods and proved inefficient for emergency case patients that required fast attention.
Source: Pixabay
When the publicly funded medical colleges could not accommodate patients, they were referred to private clinics and hospitals. These facilities predominately featured outdated technology – often delaying diagnosis and treatment recommendations – and proved too expensive for much of the state's population.
Assam's poverty rate is almost 22.6 percent and a recent survey revealed only 10.4 percent of the households in the state have one or more members covered under any health insurance – the third lowest health insurance rate in the country.
India's First Free, Statewide CT Diagnostic Initiative
In response to these conditions, the state launched several public health initiatives to cover more than 439 critical procedures across several specialties, including cardiology, neurology, neonatology and burns.[4] It also started a campaign to improve diagnostic services in Assam.
On May 11, 2017, the Assam state government signed a public-private partnership (PPP) with Spandan Diagnostic to install CT scanners across every district in Assam. This marked the first free, statewide CT diagnostic initiative in India.
"The reconstructed images have superb quality. We get to identify tiny structures including lesions," said Subrata Bardhan, Senior Radiographer, District Hospital, Assam. "The in-built protocols in Revolution ACTs are perhaps the most important functionality for us. We can turn around procedures very fast, especially trauma and ortho cases. This helps us immensely with the heavy patient load we typically have all the time."
GE Healthcare's Revolution ACTs 16 slice[5] scanners – the first made-in-India CT devices – were chosen as the preferred equipment for the new diagnostic services due, in part, to its low power consumption.
"The problem of power supply is acute in Assam," explained Dr. Achintya Roy. "Let's say there is no electricity in a town since 6:00 a.m. and a patient comes in for a scan – to run the CT system for that one patient using a diesel generator may not be feasible. However, the scanner (Revolution ACTs) has low power consumption."
Twenty-five Revolution ACT scanners were installed at 25 hospitals throughout the state to increase access to diagnostic imaging and improve clinicians' confidence when diagnosing and treating patients.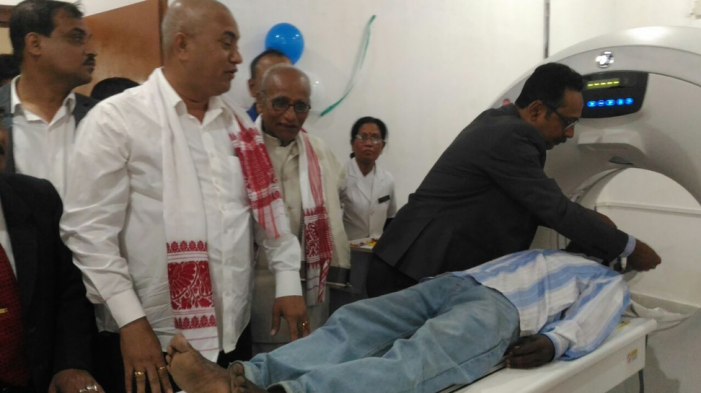 Source: GE Healthcare
A dedicated team of on-site CT technicians and nurses as well as a 24x7 team of radiologists ensure fast access to diagnostic imaging services for their patients in compliance with the Government of Assam mandated rules for reporting CT scans as part of the PPP.
"You can imagine the number of lives we are touching daily," said Dr. Achintya Roy. "In Tinsukia, we have conducted up to 81 CT scans in a single day on the Revolution ACTs."
As of October 2018, approximately 167,444 CT scans were completed across 25 hospitals throughout the state.
In addition to improving clinical outcomes through early diagnosis, the PPP has also helped create job opportunities for the local population in Assam, employing more than 200 technicians and paramedical staff across various district hospitals. This ensures that the livelihood of at least 1,000 people, and their families, is being supported by the initiative.
"It is proud moment for us that Revolution ACTs – the first 'Made in India' product has been instrumental in transforming the way people of Assam are getting access to advanced, high-quality, medical technology to meet their health needs," said Nalinikanth Gollagunta, President and CEO, GE Healthcare, South Asia. "GE Healthcare, through its PPP partners, has been actively working with many state governments in India to drive access to quality healthcare."
[1] Assam Population Census Data 2011 – Accessed on 12th October 2018 – https://www.census2011.co.in/census/state/assam.html
[2] Government of Assam Urban Development – General Urbanization – Accessed on 14th October 2018 - https://tcp.assam.gov.in/information-services/general-urbanization
[3] "GE Healthcare in pact with government of Assam for CT diagnostic service on all district hospitals" – Accessed on 14th October 2018 - http://www.pharmabiz.com/NewsDetails.aspx?aid=101947&sid=2
[4] "Universal Healthcare in Assam: Despite Challenges, there's Reason for Optimism" – Accessed on 15th October 2018 - https://swarajyamag.com/politics/universal-healthcare-in-assam-despite-challenges-theres-reason-for-optimism
[5] 16-slice is achieved w overlapped reconstruction software