A cloud-connected digital tool helps doctors diagnose heart attack patients remotely and in a matter of seconds
A patient at a rural clinic in India undergoes GE Healthcare's MAC 600 ECG exam while connected to the Tricog solution
Today, a cardiac patient in rural India will be diagnosed remotely by a doctor standing on a stage in San Diego.
Dr. Ramana Rao will perform an ECG at his rural clinic in India and transmit the information to cardiologist Dr. Charit Bhograj in San Diego. Dr. Charit will interpret the patient's ECG results live, face to face via Skype.
The demo is part of the "Connecting heart exams to the cloud" presentation during the second annual Fortune Brainstorm Health, a conference for leaders at the forefront of the healthcare revolution. The presentation shows how electrocardiograms connect to the cloud to potentially save millions of lives in India. You can livestream the entire event, including Dr. Charit's demo, here.
The remote connection is made possible by a collaboration with GE Healthcare's Diagnostic Cardiology team and new technology from Tricog Health, Dr. Charit's Bangalore, India - based company that helps improve heart attack survival rates by decreasing the average time between cardiac symptoms and treatment.
The twist? Dr. Charit is Dr. Rao's son. The two doctors partnered to develop Tricog with a focus on how it can help rural patients like Dr. Rao's throughout India.
Faster treatment via the cloud
In 2014, 5 million people in India suffered heart attacks, and 3 million of those people didn't live.
The likelihood of surviving a heart attack is more than 80% if treatment is received within the first two hours. But in India, the average time to treat ment is more than six hours.
While heart attacks can be detected by a quick and inexpensive test called an ECG, most primary care clinics in India aren't equipped with ECG machines and many primary care doctors don't have sufficient training in ECG interpretation. With GE Healthcare, Tricog has strategically placed cloud-connected ECG systems in local clinics throughout India to help doctors detect heart complications within minutes of a patient's arrival.
That ECG information is sent to a Tricog Health clinician who interprets the data. If the patient needs immediate care that the clinic can't provide, the diagnosis will be transmitted to a nearby cardiology hospital where doctors and nurses are given the information about the patient instantly, before they even arrive.
Since its inception in January 2015, Tricog has served more than 188,000 patients and diagnosed more than 11,000 heart attacks. It has a presence in 510 urban and remote clinics across 40 cities and towns in India, and it partners with 18 heart centers with cardiac cath labs.
One of those clinics is Dr. Rao's village clinic 47 miles outside Bangalore. Dr. Rao founded the clinic 44 years ago to provide basic care to up to 700 patients every week. Monday through Friday, Dr. Rao sees patients in his Bangalore city clinic, then spends every Sunday treating poor Indian patients at the village clinic.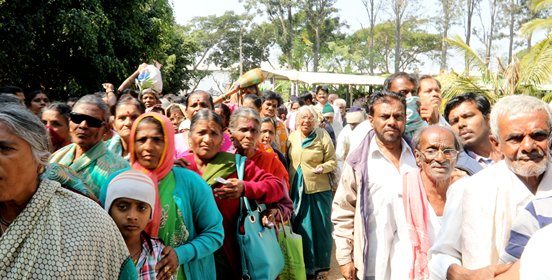 Every Sunday, approximately 700 patients line up for treatment free of charge at Dr Rao's rural clinic outside Bangalore, India
He's been able to use the Tricog solution in both clinics. In the city, he sees about 80 patients a day –25-30 who need ECG and cardiac care. In the village clinic, he sees 700 patients a day –60-70 who need cardiac care. "Before Tricog, all I could do was pray hard," he says. "It's been a boon to me and my practice–it's made my job easy. It's absolutely flawless because you're getting advice from the best people in the field instantly."
He estimates that he's helped more than 2 million patients in the village clinic since he opened it in 1973. "Every person we touched who had a chest complaint, we saved a life," he says. "It has made a world of difference to these patients and to me. It is like cloning a cardiologist way out in a rural place."
A family legacy of service
Dr. Rao was inspired by his parents to serve his community. "Since I was a child, my parents always wanted me to serve the poor. My parents planted the seed of service and that seed has grown into a huge banyan tree that is the rural clinic."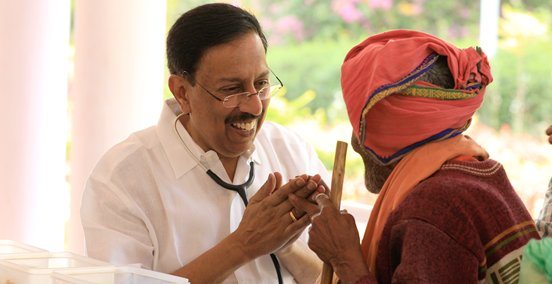 Dr Rao has been running the rural clinic for 44 years and has treated over 2 million patients free of charge.
Dr. Charit was literally born in the clinic and grew up helping his father's patients. He calls his father a "social-minded caregiver" and says Dr. Rao was inspirational to him as a person and a physician.
"My father and my family have always insisted that being pa rt of a community is not enough–you must give back to society," he says. "I've always seen two sides of my father: One as a very successful, prominent physician who would treat the rich, and one who would take time out to treat the poor. And that has had a very lasting impression of what it is to be a doctor and help people."
Dr. Charit still works at the clinic one Sunday a month with his two young sons, ages 7 and 9. His wife runs a dermatology clinic in the village and his 9-year-old son wants to be a doctor like his grandfather. The boy helps village clinic patients, including a recent Sunday where he held the hand of a 99-year-old man who had trouble walking in and out of the clinic alone.
From India – and beyond
Dr. Rao says the partnership with GE Healthcare is critical to expanding Tricog to help more people. "We are not business people. We like to serve and profit in the form of goodwill. That is where GE comes in –to make sure we reach a huge section we can't even dream of, which GE can do effortlessly and naturally."
He and Dr. Charit both hope this is just the beginning for Tricog. "Similar situations exist virtually everywhere in the world. And when such instant help is available from a qualified person, I think we should grab it not with one hand but with both hands," Dr. Rao says. "It [the Tricog solution] can be easily replicated in any rural setup, and it will go a long way to help millions of patients –not in hundreds, not in thousands. Millions."
The event in San Diego is just one way the father -son doctor duo are hoping to bring awareness of Tricog and what it can do outside of India.
"This is the miracle of modern medicine," Dr. Rao says. "You're implementing this in rural India where no help is available. It's simply unheard of. It's unbelievable. And when it [the live demo] happens, my heart will be full of joy and gratefulness."