Lori Gunther is familiar with the issues nurses in the prenatal, perinatal and neonatal intensive care units face in the workplace. Staffing shortages, burnout and lack of resources are as common as fetal monitoring, ultrasounds and echocardiograms.
"We need to be listening and learning from our nurse leaders about their needs, their challenges and the potential solutions to evolve the care that's being provided to moms and babies," says Gunther, CEO of Synova Associates, a nurse leadership institute. GE Healthcare Maternal-Infant Care partners with Synova to support nursing leadership.
Sadly, these concerns aren't unique for maternity nurses; nurses in all units are struggling right now. A 2021 report[1] from the American Association for Nursing Leaders found that training, retention and staff shortages, adopting new technologies and implementing changing policies were top challenges.
The COVID-19 pandemic exacerbated the issue, leading nurse leaders to express concerns about the emotional health and well-being of their staff and to prioritize recognizing nursing staff for their contributions to healthcare.
Access to training, education and peer support could help nurses cope with the stress in their jobs. Research also shows that training could improve resilience and lower levels of stress and depression among nurses.[2]
Investing in nursing is the theme for this year's International Nurses Day.[3] In 2022, the global celebration, held on May 12, emphasizes "the need to protect, support and invest in the nursing profession to strengthen health systems around the world."
Care for the caregivers
The latest data[4] from the American Nurses Foundation shows that nurses reported feeling stressed, exhausted, overworked, undervalued and unsupported during the pandemic. The crisis in healthcare required long hours and extended quarantines, leaving nurses with few opportunities to recharge.
Synova launched the "Nurse Leaders as One" debriefing calls during the pandemic. The biweekly call gave nurses from around the country the opportunity to talk through challenges, exchange advice with their peers and receive coaching on how to lead during tough times to keep their teams strong and their nursing staffs engaged. Gunther believes the calls have been "transformative" for the nurse leaders who participated.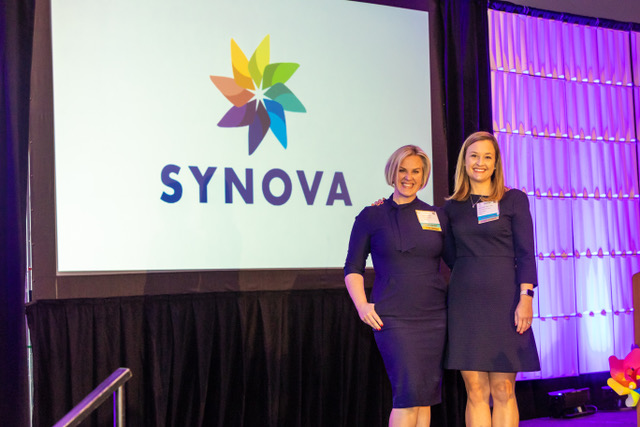 Lori Gunther, CEO of Synova Associates, and Melissa Gehl, the company's chief operating officer.
"We need to have a revolution of recovery," says Gunther. "We're using the word 'revolution' really intentionally because it's not just going to happen; we have to be working with senior leadership [and] the big associations … to understand not just the problems, but the potential solutions."
Hosting in-person events that bring nurse leaders together has been an essential element of addressing issues facing the nursing profession, according to Melissa Gehl, chief operating officer at Synova.
Synova has several upcoming conferences and programs, including the Perinatal Leadership Forum in November and the Reality-Based Nurse Leadership Program launching in July. 
"A big part of what we try to provide to the nurse leadership community is a sense of network and collaboration," Gehl says. "It helps when nurses are challenged … They can learn from others what … they can do within their own units to find creative and innovative solutions."
Collaboration is key
While collaboration among nurse leaders is important, the entire healthcare industry needs to come together to better support nurses. Gunther points to several key steps that could alleviate burnout, improve staffing and create opportunities for nurses to thrive:
Prioritize paid time off: COVID required nurse leaders to work around the clock, abandoning vacations. Now, many have maxed out their PTO and could start losing it. Executive leadership must come together to develop coverage plans so nurse leaders feel empowered to take time to recharge.
Provide training: Nurse leaders need new, adaptive ways to cope in a post-COVID world, including strategies for creating cohesive team environments within (and across) units.
Promote mental health services: The resources offered through the employee assistance program need to be more accessible within hospitals so nurses can take advantage of much-needed mental health services.
Prevent staff issues: Educating nurse leaders about recruitment and interview strategies to help them identify the best candidates for their units and culture can attract staff and reduce turnover.
Partner with industry: Industry partners like GE Healthcare have innovative solutions to help nurses excel in their roles and make staff feel engaged and satisfied with their jobs. Connecting industry partners with nurse leaders can help address challenges and develop collaborative solutions.
Creating a comprehensive plan to support nurses also benefits staff, patients and families, and is essential for shifting out of the current nursing crisis and offering nurses healthier, happier careers.
"I don't think nurses are OK, and I think we need to pay attention to their voices, because if we don't solve this, the problems that we're having right now are going to impact every single one of us, because we all need healthcare to recover," Gunther says. "I want nurses to be heard, validated and provided with the tools they need to recover [so they can] go back to finding their passion and the joy in the work that they're doing."
For more information about Synova or the opportunities available to nurse leaders, visit www.synovaassociates.com.
REFERENCES
[1] https://www.aonl.org/system/files/media/file/2021/09/AONL%20COVID-19%20Longitudinal%203%20Written%20Report.pdf
[2] https://pubmed.ncbi.nlm.nih.gov/32627860/
[3] https://www.icn.ch/news/investing-nursing-and-respecting-nurses-rights-key-themes-international-nurses-day-2022
[4] https://www.nursingworld.org/practice-policy/work-environment/health-safety/disaster-preparedness/coronavirus/what-you-need-to-know/covid-19-impact-assessment-survey---the-second-year/