The number of hospitals running NASA-style Command Centers has increased from three to nine in one year -- hospital executives say this is just the beginning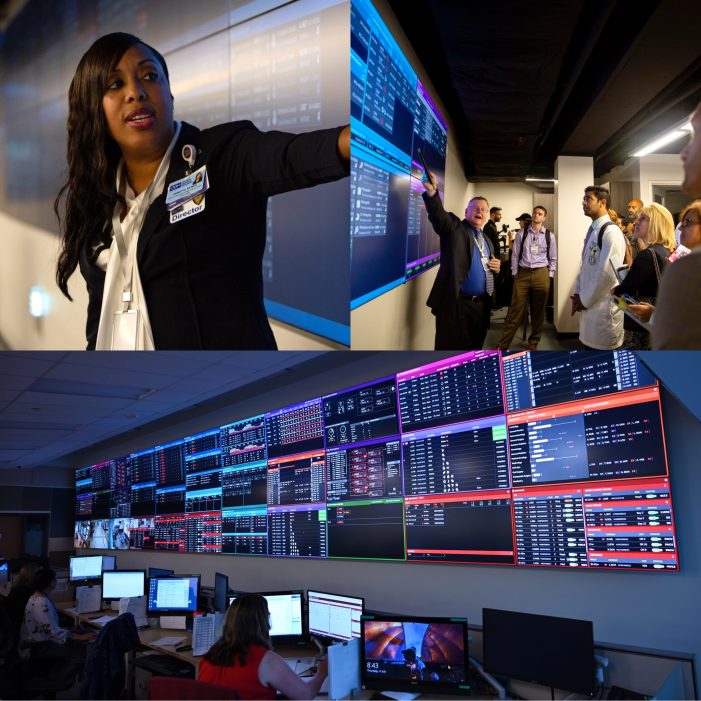 Top photos are courtesy of Tampa General Hospital in Tampa, Florida, and feature Andy Day, GE Healthcare's Chief Tile Designer of Clinical Command Centers. Bottom photo is courtesy of Humber River Hospital, Toronto, Canada, a leading partner in command center innovation.
When the world rallied around the celebration of the Apollo 11 anniversary this past July, another moonshot was unfolding to somewhat less fanfare not far from where NASA launched Apollo at the Kennedy Space Center – a medical moonshot.
Two Florida hospitals, Tampa General Hospital and AdventHealth Orlando, launched mission control-like centers to serve as the nerve-center of their hospitals. Surrounded by big screens, monitors and flashing lights – all meant to help staff across the hospital coordinate care, drive efficiency and improve the way patients move around the hospital – those who were there could be forgiven for thinking they had stepped into a NASA control center.
But you don't have to be neighbors of NASA to partake in this trend that is rapidly taking hold of hospitals across the US, Canada and the U.K.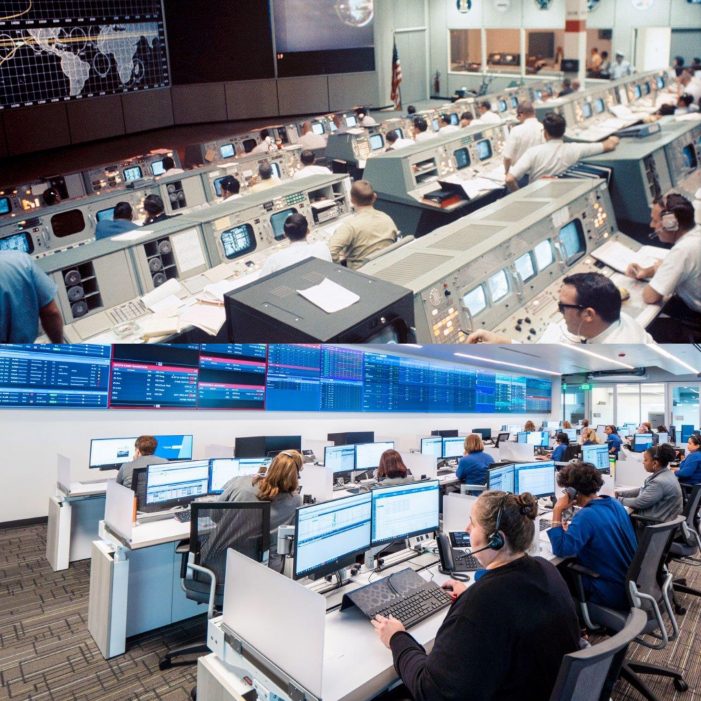 Fifty years ago, the world watched as NASA engineers at Mission Control launched the Apollo 11 spacecraft. A half-a-century later, hospitals globally are embarking on a medical moonshot by launching NASA-style AI-powered hospital command centers. One hour away from where the Apollo 11 spacecraft launched from the Kennedy Space Center, AdventHealth in Orlando, Florida operates its "Mission Control" — the largest command center of its kind that makes clinical operations across the health care system as streamlined and efficient as possible. Mission Control will function like its NASA namesake, orchestrating patient care at all nine campuses.
This August, two Florida hospital systems, and CHI Franciscan in Washington state, launched GE Healthcare's NASA-style hospital command centers that use artificial intelligence (AI) and predictive analytics to improve patient coordination and care, at a lower cost.
"As the demand for health care services continues to grow, we are constantly looking for innovative solutions that complement our priorities to increase access and ensure the delivery of safe, quality care," said Ketul J. Patel, CEO of CHI Franciscan. "Our Mission Control Center provides a new perspective into our operations assisting caregivers and staff in managing the care we deliver, ultimately creating a better experience for our patients and families."
Like NASA space centers, hospital command centers are designed using engineering methods and co-located experts who are empowered to make critical decisions with the help of advanced analytics that provide real-time information. These "mission controllers" act fast, apply their judgement, and help care teams in a way otherwise impossible in the traditional hospital setting.
"The improved coordination in clinical care achieved by the command center may not be directly perceived by the patient," said Sanjay Pattani, MD, Associate Chief Medical Officer, AdventHealth Orlando. "But patients will feel its impact by having a safer, highly reliable environment where transitions of care are seamless and the patient experience is made easier. "Simply put, the command center is sophistication that delivers simplicity," Pattani added.
The command center model requires hospitals to operate and behave in completely new ways which require an investment of time, training and cost to develop new infrastructure. At Tampa General Hospital, where its center has been operating for seven months, the average patient's length of stay in the hospital has already reduced by about half a day.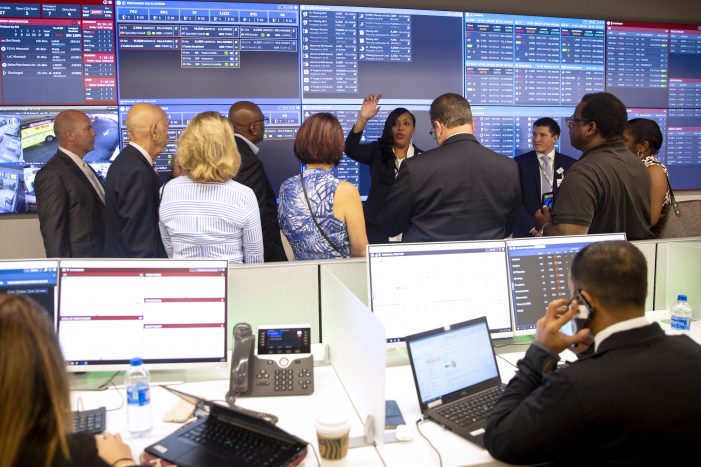 On August 20, 2019, visitors tour Tampa General Hospital's new CareComm Command Center as GE Healthcare's Ryan Mancl, Tile designer for TGH, looks on. In collaboration with GE Healthcare, TGH's CareComm uses predictive analytics and artificial intelligence to display data in a mission control-like command center. The center has 38 flat screen monitors that inform decision making using real-time data of patient journeys within the hospital.
"This technology enables us to quickly anticipate the needs of our clinical teams, allowing us to provide the proper tools and resources when they are needed most," said John Couris, CEO, Tampa General Hospital. "Our goal is to continue finding ways to deliver better patient care by improving how we support the clinicians - in a way that is sustainable and reproduceable – so that we can really change how health care is delivered from the inside out. This technology is one step in that direction."
As pressure to reduce costs and improve quality in hospitals worldwide continues to mount, and providers look to industry leaders for better ways to manage the deluge of data, a plethora of digital solutions promise to help providers navigate and succeed in this complex environment. The command center approach has proven successful at combating these issues.
According to global research firm KLAS, hospital command centers drive significant, positive outcomes―including improved efficiency, increased revenue, and enhanced patient satisfaction.¹ Moving toward this method requires a willingness to disrupt the traditional hospital model and changes the way the system operates, forever. It also requires a trusted partner who can deliver real AI.
Considering 41 percent of healthcare executives surveyed by Accenture rank AI among several emerging technologies and expect it will have the greatest impact on their organizations over the next three years,² providing evidence that points to how AI drives particular outcomes in efficiency, productivity and clinical outcomes is key to building a network of believers.
One of the best ways to measure the success of GE Healthcare's command center is to look to the place where it all began three years ago.
In 2016, The Johns Hopkins Hospital in Baltimore, Maryland, launched GE Healthcare's first NASA-style hospital command center. Since then, the world-renowned hospital has improved access for very sick patients by 78 percent, reduced ED patient waiting by 35 percent, and reduced patient waiting following surgery by 70 percent – all during an 18-month period when inpatient occupancy grew eight percent. The following year, Humber River Hospital in Toronto, Canada and OHSU Health in Portland, Oregon, anchored by Oregon Health & Science University, the state's only academic health center, opened their command centers and have subsequently experienced substantial results.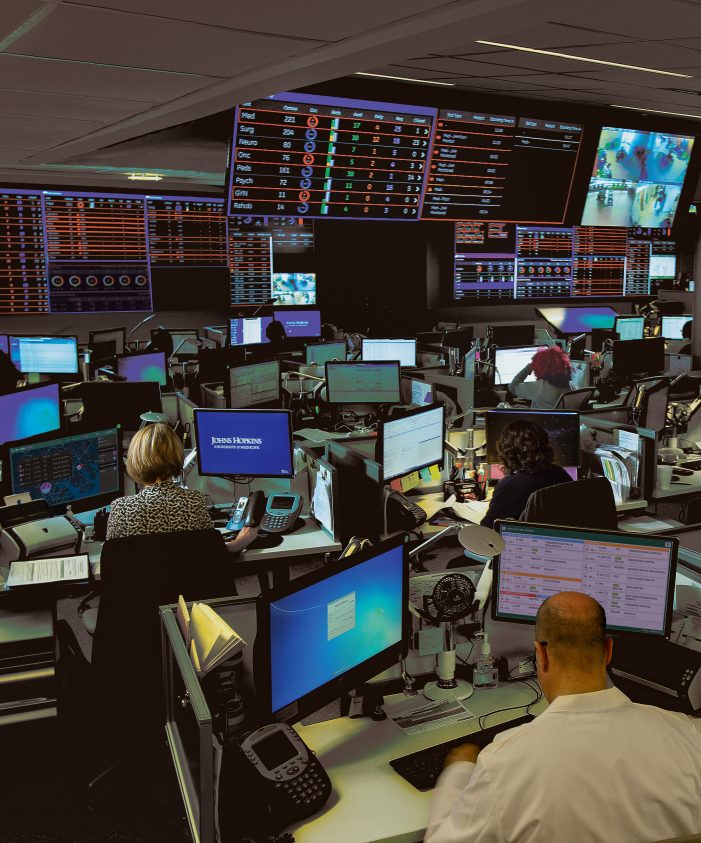 The Johns Hopkins Hospital in Baltimore, Maryland was the first NASA-style command center to open in February 2016. The hospital was the first to in the ecosystem to launch this different approach than what's been done with hospital transfer and care logistics centers.
Humber River Hospital's Quality Command Center has unlocked inpatient capacity equivalent to 35 additional beds, thereby eliminating hallway medicine and the need for additional infrastructure and staffing. Today, the hospital is the leading innovation partner within GE Healthcare's ecosystem of NASA-style command centers and is launching first-of-their-kind analytics later this month designed to detect risks of harm, help ensure time-sensitive activities happen on time, and alert to early signs of clinical deterioration. "We need to get hospitals to a point where they don't make errors," says Peter Bak, Chief Information Officer. "The Command Centre allows us to identify risk situations, ensure intervention and reduce the potential for bad outcomes."
OHSU Health is the first health system in the country to use the command center to coordinate care between an academic health center and partner community hospitals. OHSU Health, which cares for Oregon's sickest patients, has improved patient access by 6.4%, with an acceptance rate of 99.8% for pediatrics and 98.2% for adults in FY19, all during a two-year period when inpatient adult acute care occupancy grew from 90% to 94%.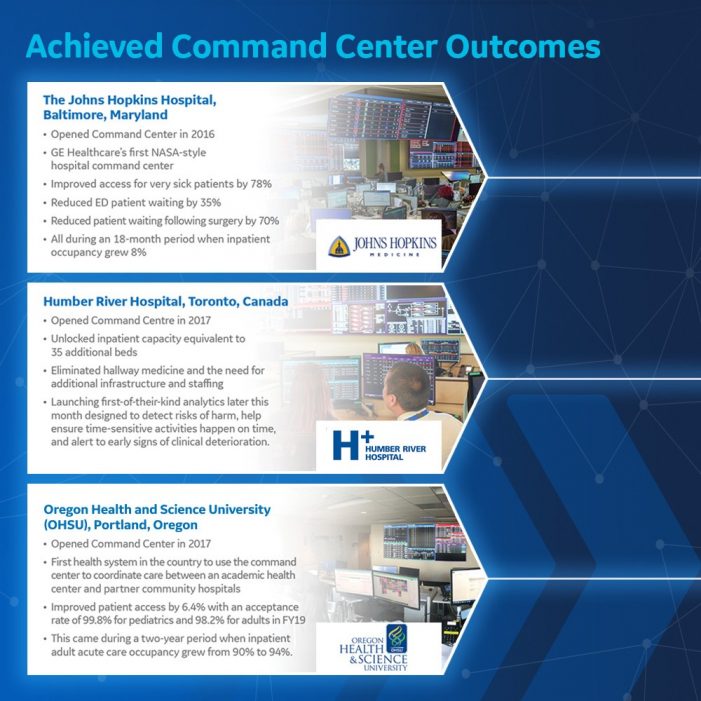 This year, GE Healthcare will grow its ecosystem of operational NASA-style command centers from three to nine. By 2020, hospital systems in Philadelphia, North Carolina, and the first in the U.K at Bradford Teaching Hospitals NHS Foundation Trust, will also be up and running.
"To say hospital command centers are a wave of the future, you might very well be living in the past," said Jeff Terry, Clinical Command Centers, CEO, GE Healthcare. "The number of hospitals in which these centers are operating is rapidly growing. "In a few years, a command center will be as essential to care delivery as an EMR."
¹ KLAS: Operational Command Centers 2018, An Underutilized Approach to Improving Efficiency and Outcomes
² Accenture: Digital Health Tech Vision 2019