This ICU clinician is discovering how analytics can improve protocols and patient care in critical care settings


Patients in the Intensive Care Unit (ICU) are some of the sickest in the hospital. Many can't breathe on their own and require mechanical ventilation to stay alive. In fact, more than half of ICU patients are ventilated the first 24 hours after ICU admission.
Although lifesaving, mechanical ventilation sometimes leads to life-threatening complications, including air leaks and pneumonia. Research shows that on average one in five patients admitted to the ICU dies.
Jean-Daniel Chiche, Professor of Critical Care Medicine at Paris Descartes University and physician in the Medical Intensive Care Unit of Cochin University Hospital in Paris, believes he has found the answer to this challenge: using data from the biomedical systems in the ICU to drive adoption of protocols and to change behaviors – ultimately saving patients' lives. Prof. Chiche presented his conclusions during a presentation at the HIMSS and Health 2.0 European Conference June 11-13 in Finland.
"The fusion of clinical parameters, physiological parameters and lab data fosters discovery and helps us move to precision medicine, where we can target specific patients with very specific treatment options," he says.
The large amounts of data from monitors and exams in the ICU makes it ripe for analytics initiatives that allow clinicians to use data to support clinical decisions. Professor Chiche says the past version of getting data from ICU systems in report format is long gone, being replaced by getting data pushed to clinicians through dynamic and visual dashboards. He relies on GE Healthcare's Centricity Critical Care, an information system for ICUs that helps clinicians deliver better health outcomes and manage costs through convergence and collaboration.
In his ICU, they treat 1,800 patients every year and they collect 7,000 to 8,000 data points every day from every patient. Eight nurses work twelve-hour shifts caring for up to 24 patients at a time. The Centricity solution is connected to all the biomedical devices on the unit and helps all of the unit's clinicians make sense of these thousands – even millions – of data points into better care protocols for everything from mechanical ventilation to how they sedate patients and then stop sedation.
"This is a tool that we use to develop and adapt our caring protocols with a multidisciplinary working group that modifies the way we are collecting and displaying data. With Centricity, it becomes easier to establish and improve our care protocols based on data."
He says this is improving ventilation outcomes by significantly reducing side effects such as self-extubation, where an improperly sedated patient accidentally removes their ventilator, and bowel thrombosis, a life-threatening condition that happens when a blood clot forms in the intestines. "We've been able to document changes in the expected rate mortality ratio and change admission policy for these patients," he says.
His department is also investigating how data can help identify often fatal acute kidney injuries. "We're looking at data collected over time so that we can try to predict the risk of severe acute kidney injury 24 to 48 hours before it actually happens. That actually changes our decision-making process when we are considering a procedure or exam that might be associated with an increased risk of acute kidney injury."
Data is a key to better patient care in the ICU because it allows caregivers to receive feedback based on established key performance indicators (KPIs). "These KPIs are fed back to caregivers so that they can look at how well they performed," he says. "We are using these KPIs to drive change, and the people that will drive these changes are the caregivers who are now empowered by data."
One area this will help is delivering safer mechanical ventilation. "Feeding back caregivers with these KPIs has led to changes in the way we actually deliver mechanical ventilation to patients, much safer way now."
Research has shown that there was a significant gap between clinicians' perception of proper ventilation versus actual ventilation. "When they asked people whether they would provide safe and protective mechanical ventilation, they would answer 'yes' in 92% of the cases. But actually, when they performed an audit that number went from 92 to 7%*. That's a significant gap."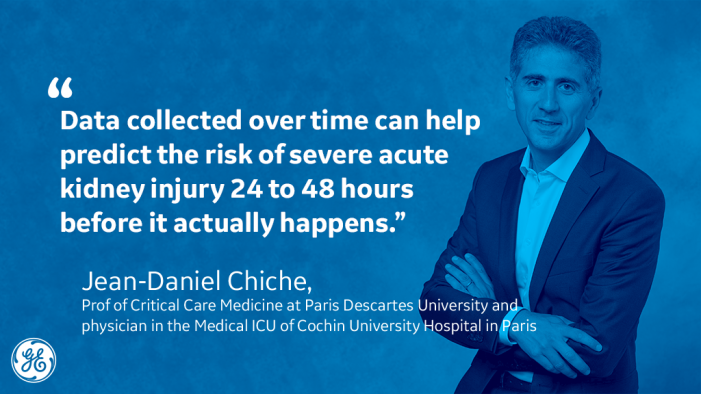 That's why he's a part of 101, an organization that strives to save lives in the ICU through better ventilation methods. It also aggregates data from ICUs around the world into a shared database to help deliver global insights.
"That will not only give us data that's going to help people drive better care in their units, we believe that improvement can happen in all ICU in the world. Not so that they can not only consider all the things they perform but it actually can measure how they perform. It can actually make a change in all units we've seen that feeding back data to caregivers will necessitate significant improvement in their ability to deliver safer care."
* Weiss, Curtis & Baker, David & Tulas, Katrina & Weiner, Shayna & Bechel, Meagan & Rademaker, Alfred & Fought, Angela & Wunderink, Richard & Persell, Stephen. (2017). A Critical Care Clinician Survey Comparing Attitudes and Perceived Barriers to Low Tidal Volume Ventilation with Actual Practice. Annals of the American Thoracic Society. 14.