The role of military women has significantly expanded throughout history, most notably with their inclusion in combat assignments. An important consideration of expanded duties is the introduction of additional health risks. Working in these dangerous environments often includes exposure to toxins, which may elevate the risk for developing cancers.
According to a study focused on cancer occurrence at Walter Reed Army Medical Center,1 military personnel were found to be nearly 40 percent more likely to develop breast cancer than non-military people. Environmental factors may provide a huge clue as to why this number is high, but there is more to the story in order to understand breast cancer risk.
Adding to Personal Risk Factors
In a panel discussion convened by GE Healthcare, distinguished medical professionals and leaders in patient and Veteran advocacy came together to discuss best practices in breast health and the unique circumstances facing servicewomen and women Veterans.
A woman's overall risk for developing breast cancer is a complex mix of factors (lifestyle, family history, genetics, etc.) that are unique for each individual. Panelist Joy Ilem, National Legislative Director of DAV (Disabled American Veterans) and a key thought leader in Veteran's advocacy, described several types of toxic exposures that servicewomen may experience. These include burn pits that produce airborne toxins from burned plastics, chemical solvents, petroleum, and medical and human waste products; water contamination, depleted uranium, pesticides, and more. She acknowledged that VA is conducting research to learn more about the long-term health consequences of exposure to these hazardous toxins and encourages Veterans to sign up for established health registries to help capture relevant data and information about their military service and potential impact on their long-term health.
Another important risk factor for some women is high breast density, which has been found to be a common risk factor for developing cancer.2 Nearly half of all women have dense breasts. When breasts are dense, they have a relatively high amount of glandular and fibrous connective tissue and relatively low amounts of fat.3 According to panelist Rachel Brem MD, Founder and Medical Director of the Brem Foundation and Professor of Radiology and Director of the Breast Cancer Program at George Washington University, one-third of breast cancers cannot be seen on a mammogram due to the masking effect of tumors by dense tissue. Women with dense breasts often need secondary screening, such as ultrasound, to obtain a better view of the breast tissue and identify potentially hidden, invasive cancers.4 When a woman's breast cancer risk is elevated, it is important to take overall risk into consideration and to offer appropriate imaging to help detect any cancer at its earliest stage.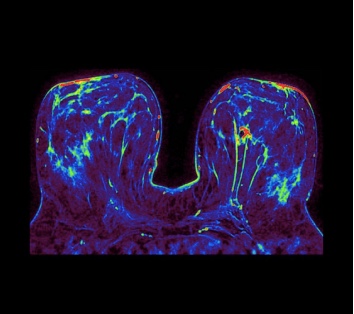 A Gathering for Legislative Support
Congresswoman Debbie Wasserman Schultz (FL-23), the event's sponsor, shared her journey with breast cancer and her passion for raising awareness of the disease and improving access to mammography. In her role as the Chair of the Military Construction, Veterans Affairs, and Related Agencies Appropriations Subcommittee, Congresswoman Wasserman Schultz has deliberately designated appropriations for gender specific care to better address the needs of women Veterans. In the House Veterans Affairs Committee, the Women Veterans Task Force, led by Congresswoman Julia Brownley (CA-26), is developing policy focused on supporting and providing equity to women Veterans in areas such as culture and healthcare.
Congressman Phil Roe (TN-1), Ranking Member of the House Veterans Affairs Committee, highlighted the progress that VA has made in providing services to women Veterans and acknowledged that there is more work to be done across VA facilities.
Panel moderator Pam Hall, GE Healthcare's Breast Imaging Manager, highlighted the opportunity for a broad range of organizations to come together to discuss the breast health needs of women who serve, the obstacles they face in access to screening, and key areas where significant impacts are making a difference.
"Bringing together these panelists is an important step in shedding light on the specific health risks of this population of women who serve," Hall said. "Our servicewomen and women Veterans need consistent access to breast care and education to impact their long-term health outcomes."
"Bringing together these panelists is an important step in shedding light on the specific health risks of this population of women who serve. Our servicewomen and women Veterans need consistent access to breast care and education to impact their long-term health outcomes." -Pam Hall, Vice President, Women's Health Imaging, GE Healthcare
Correlation Between Access to Screening and Cancer Detection
For all breast types and risk levels, the best defense against breast cancer is early detection. Historically, VA has performed well in this area, increasing access to onsite mammograms by 62 percent since 20105 and screening 86 percent of its patients aged 50-74 in 2015, compared to the private sector at 73 percent.6 Efforts are ongoing to ensure that women Veterans can access mammography services at VA facilities or through community providers. The Department of Defense (DoD) has also worked to improve detection and treatment by using genetic testing to develop more personalized treatment approaches and provide servicewomen and TRICARE beneficiaries with access to the most effective screening methods. As of January 1, 2020, TRICARE will provisionally cover 3D mammography, also referred to as Digital Breast Tomosynthesis, as a screening option for annual breast cancer screening. 3D mammography has been shown to increase cancer detection over 2D mammography and is quickly being adopted as the standard of care in the United States.7
GE Healthcare works with its customers to help maintain upgrade plans for each device or fleet of devices that not only allow providers to continue to offer high quality care to patients, but also to provide optimal protection from security threats.
The panelists discussed mobile mammography as another way to improve access. Panelist Dr. Brem shared that the Brem Foundation mobile mammography program assists underserved women financially or through the convenience of mobile screening. Panelist Dr. Kathy Schilling, Medical Director at the Christine E. Lynn Women's Health and Wellness Institute in Boca Raton, Florida, also leads a mobile mammography program. Since 2010, Dr. Schilling's program has performed more than 13,000 mammograms and diagnosed 42 women with cancer.8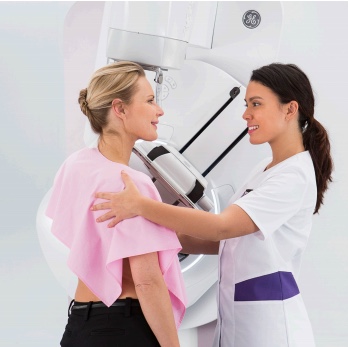 Impact of Screening Guidelines on Young Women, Servicewomen, and Women Veterans
The American Society of Breast Surgeons, the American Cancer Society, and the United States Preventative Services Task Force all differ in their screening recommendations. These differences can be confusing, especially without education and awareness of personal risk factors. As the Senior Director of Community Outreach at the Young Survival Coalition (YSC), panelist Mary Ajango strengthens the community of young women affected by breast cancer before age 40 and amplifies their voices and stories. According to Ms. Ajango, young women with breast cancer are often affected by more aggressive cancers, impacting their fertility options, as well as their quality of life for much longer than those women diagnosed later in life.
Every woman should speak with their physician to determine the best age for screening based on their individual risk factors.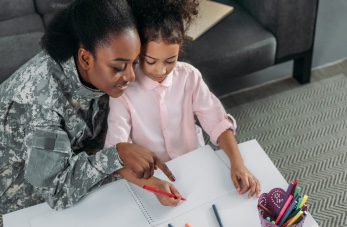 Improving Patient Experience to Drive Clinical Outcomes
Only two-thirds of eligible women seek screening mammography,9 so it is especially important to keep the experience patient-centric. Several VA facilities have designated Women's Health Centers where women Veterans receive their care in a more private setting. At the Lynn Women's Health and Wellness Institute, Dr. Kathy Schilling has created an environment designed to be welcoming and help reduce patient fear and anxiety. By incorporating calming images and scents, Dr. Schilling hopes to make screening a more comfortable experience. Recent advancements in mammography technology have also shifted to give the patient an active role in her mammography experience. GE Healthcare's latest mammography system allows patients to control their own compression under the guidance of a technologist. This may help reduce scan time and improve exam comfort.
It is important to remember that not all women Veterans use the VA. When they seek mammography services in the community, providers may not know about their military experience and any emotional or physical stress and trauma they may have experienced. Ms. Ilem emphasized that efforts must be taken to ensure servicewomen and women Veterans feel comfortable when getting their mammogram. This will help to ensure they do not put off the exam and lose the potential advantage of early detection.
The panelists' expertise in breast health and Veteran advocacy offered different insights and solutions to the discussion. Thought leaders across multiple industries have an opportunity to bring awareness to breast cancer and the unique risks and considerations of servicewomen and women Veterans. GE Healthcare looks forward to continuing the conversation on personalized breast health for servicewomen and women Veterans and ensuring the spotlight does not fade on these women.
---
REFERENCES
1. https://www.ncbi.nlm.nih.gov/pmc/articles/PMC2780333/pdf/nihms158630.
2. https://jamanetwork.com/journals/jamaoncology/fullarticle/2599991
3. https://www.cancer.gov/types/breast/breast-changes/dense-breasts
4. Breast Cancer Screening in Women at Higher-Than-Average Risk: Recommendations From the ACR Monticciolo, Debra L. et al. Journal of the American College of Radiology, Volume 15, Issue 3, 408 – 414
5. https://www.womenshealth.va.gov/WOMENSHEALTH/OutreachMaterials/ ReproductiveHealth/UnderstandingYourMammogram.asp
6. https://www.womenshealth.va.gov/WOMENSHEALTH/OutreachMaterials/ ReproductiveHealth/UnderstandingYo urMammogram.asp
7. https://www.breastcancer.org/research-news/3d-mammos-better-than-2d-for-65-and-up
8. https://www.brrh.com/Services/Lynn-Womens-Institute/MobileMammography-Van.aspx
9. https://www.cdc.gov/nchs/fastats/mammography.htm