Even before the pandemic, clinicians realized the heavy cost of delays in breast cancer diagnosis and treatment was impacting patient health outcomes with potentially severe consequences. In an effort to reduce delays and provide women with a comprehensive approach to breast health, organizations like GE Healthcare are providing counsel and new care pathway approaches and algorithms to breast clinics to implement a highly coordinated and methodical patient journey, from appointment to diagnosis and treatment plan.
St. Luke's University Health Network (St. Luke's) in Pennsylvania partnered with GE Healthcare and Premier's PINC AI technology platform to implement this new model for the One-Stop Clinic for Breast Care, that had been successfully implemented at Gustave Roussy in France and in four centers in Colombia from EPS, Sura, in the US.
"We know that today, [on average in the US], it takes women 21 days to get a result back from a biopsy," explains Celeste Slade, Director, Clinical Consultants at GE Healthcare. "That is followed by weeks waiting to get a treatment plan. We can do better. And we know the science tells us that we can. For every 60 days that we delay treatment plans, cancer can advance for our patients, which limits our ability to give better clinical outcomes for those women."
The One-Stop Clinic for Breast Care at St. Luke's is differentiating how care providers can improve women's health. Most importantly, it's positively impacting clinical outcomes, but it's also changing operational efficiencies and the overall patient experience. It's a way to completely change outcomes that can influence results directly and swiftly.
Reducing time from abnormal screening to diagnosis and treatment
The One-Stop Clinic breast care model, which originated at the Gustave Roussy Cancer Center in France, has truly differentiated its offering by improving clinical outcomes and speeding up breast cancer diagnosis and treatment planning. Designed to put the patient at the center, this multi-modality approach provides patients with a coordinated journey from the initial appointment through diagnosis and treatment plan in one location and with one team – all in a significantly shorter time frame.  Radically different from traditional breast care, the One-Stop Clinic begins with complete participation and support from the most senior hospital leadership levels to the person managing the patient appointments. The One-Stop Clinic prioritizes shorter time to diagnosis and treatment within a well-coordinated, and guided patient journey.  
"From a continuity of care perspective," explains Dr. Russo, "I love the idea of being able to give the patient that satisfaction of same day answers. Really, that's why we went into radiology is to be at the crux of the diagnostic process. And One-Stop Clinic really helps bring that to women's imaging. Putting the patient first has really been our guiding principle in all this. And I think if you get all the other disciplines such as pathology, oncology and surgery on board, we empower these other disciplines. It becomes a much easier and more vibrant process."
The objective is to reduce the time between when a patient receives an abnormal screening mammogram and a confirmed cancer diagnosis and treatment plan. Studies show the length of time between mammogram and the first surgical consultation can average 26 days.[1] Historically, if a woman is recommended for a biopsy, she would need a surgical consultation and then she would be referred back to the radiology department. This streamlined patient journey is a cultural shift in healthcare that places more urgency on that patient's timely diagnosis and care. The goal at St. Luke's is to do this in 36 hours or fewer.
"It's a major change," explains Dr. Russo. "It's explaining to the surgeon that this may not be the best process. Maybe you can approve us to do the biopsy right away. And then when the patient needs surgery, you do what you do. It's an easy concept to say and to understand, but the same conversation was had with pathology for rapid turnaround and then for oncology as well. And it's really working. We've been able to take patients from diagnostic imaging to pathology in 48 hours or fewer, 100 percent of the time. Our goal was 36 hours. And we're hitting that benchmark 33 percent of the time, so we still have work to do."
≤ 48 hours
Time from diagnostic imaging to pathology
The One-Stop Clinic for Breast Care optimizes care delivery with a powerful suite of innovative technologies, allowing patients to go from screening to biopsy on the same device, in the same room. It helps save patients from having to return for yet another appointment.
"We're also adding contrast-enhanced spectral mammography to our arsenal," adds Michele Brands, Network Director of Women's Imaging at St. Luke's, "which we expect will help us to really move that BI_RADS 3 population off the follow-up list and get them back to regular screening mammograms."
Improving patient experience can improve breast cancer outcomes using the One-Stop Clinic model
Providing continuity in patient care is a priority for success of the One-Stop Clinic at St. Luke's. The patient-centric care model is closely linked to the introduction of a One-Stop Clinic's nurse navigator role. The nurse navigator is the nucleus of all activity for the patient in this situation.  Right beside the patient on their journey from start to finish, the nurse navigator accompanies them throughout the day and monitors not only their physical status, but also their emotional well-being.
"Imagine getting the call that you need additional imaging. The unknowing, the angst, all that anxiety comes with it," says Diane Lack, Patient Care Manager at St. Luke's. "So we start with a nurse navigator connecting with that patient and discussing not only what is going on, what is being seen by the radiologist, but what the projected plan is going to be."
The nurse navigators make sure the patient is as educated as they can be so that their expectations are managed. When the patient arrives, they come into a home-base center, where they and their support system can remain during the process. It's not only an individualized area, but somewhere close that the patient can return to. The nurse navigator is with the patient when they meet up with their diagnostic team: the same sonographer, mammography technologist and radiologists that will be with them through the entire process.
"The nurse navigator makes sure that they first, understand the information they they're receiving and that they understand what those next steps are," explains Lack. "Once those next steps are outlined, they're connected with a surgical oncologist and maintain communication with that nurse navigator until they have that first visit. The nurse navigator remains that resource and that educational point that the patient can always reach out to."
Changing mindsets about women's health and improving outcomes with the One-Stop Clinic
The team at St. Luke's One-Stop Clinic for Breast Care has proven it is possible to differentiate the patient experience and ultimate outcomes.  They offer breast care that delivers diagnostic consultation, diagnosis and treatment plans in a shortened, streamlined approach. Successfully changing cultures from appointment-driven to patient-centric, with collaboration across specialties has been key to improving health outcomes with earlier diagnosis and treatment for breast cancer patients. Lowering patient anxiety and offering patients the reassurance of continuity of care with a nurse navigator at their side has further propelled this care approach to the next level.
"I just think we have a responsibility to improve, and this clinic allows you to improve outcomes, turnaround times, access, costs, and how you deliver care," explains Brands. "It's important for all of us to take honest appraisals of exactly the work we're doing relative to quality and patient experience and to routinely take those inventories and really be honest and have an honest discussion with ourselves and our teams so that the patient wins in the end. It's all about the patient outcomes."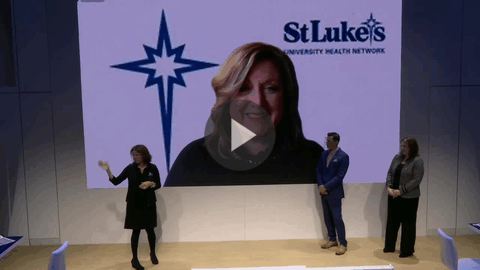 A day in the life of a One-Stop breast cancer clinic
RELATED CONTENT
Learn more about One-Stop-Clinic
Learn more about GE Healthcare Mammography solutions
Panel discussion: Integrating cancer care and intelligent imaging

Reviewing cancer treatment as it is today and how advances can enable better integrated cancer care and help to overcome the challenges of fragmented care delivery with more consistent treatment and clinical practice.
DISCLAIMER
Not all products or features are available in all geographies. Check with your local GE Healthcare representative for availability in your country.
REFERENCES
---
[1] Kovar A, Bronsert M, Jaiswal K, Murphy C, Wolverton D, Ahrendt G, Tevis S. The Waiting Game: How Long Are Breast Cancer Patients Waiting for Definitive Diagnosis? Ann Surg Oncol. 2020 Oct;27(10):3641-3649. doi: 10.1245/s10434-020-08484-9. Epub 2020 Apr 20. PMID: 32314153.