By Kieran Murphy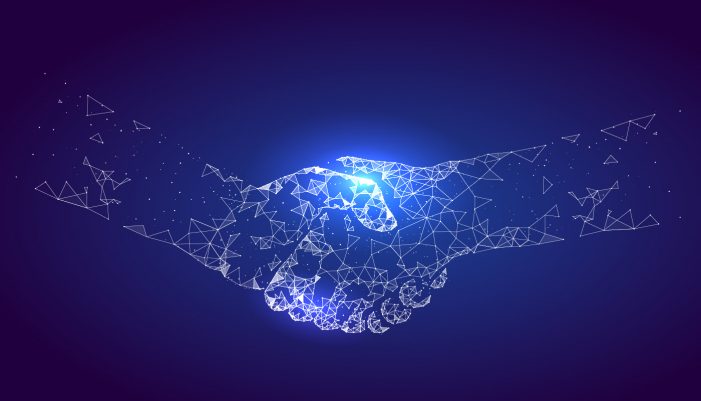 In today's startup era, disruption is often synonymous with the big breakthrough – a single technology or service that uproots an entire sector and transforms how we work or live.
But healthcare is different from other sectors. We need to think about its disruption differently. Will a new piece of technology alone solve our toughest challenges? Will it, for example, stem the rise in global healthcare spending, projected to increase at an annual rate of 4.1% in 2017-2021? Will it run hospital operations more smoothly and give clinicians more time with patients?
Don't get me wrong; intelligent technology is the future and GE Healthcare is producing many groundbreaking innovations – machines that see the brain like never before, clinical tools that help clinicians get answers to patients faster, an AI platform that connects data from millions of imaging devices.
It's just that there's an important counterpart to this: bringing together institutions and organizations that might traditionally have operated apart. Setting aside formal boundaries to form stronger teams. Harnessing a collective intelligence to address longstanding challenges from multiple angles. That's how we'll get the most disruptive solutions.
If you want to know what I mean, take a look at how we're doing this at GE Healthcare – from developing an algorithm that detects pneumothorax on a chest X-ray with UCSF to offering integrated dashboards for tumor boards and oncology care teams with Roche. We each bring our unique knowledge and skills to the table, making the sum greater than the parts.
At GE Healthcare, we believe in the big idea. We believe in the breakthrough. We also think a lot of it will come from working together. We're at the center of a healthcare ecosystem heading towards precision health.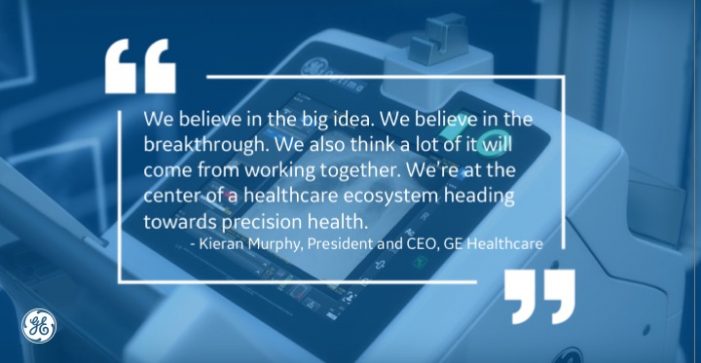 I asked experts from our partners and others in the industry who are adopting this mentality to share their perspectives. Here's 5 questions with:
- Tim M. Jaeger, Global Head of Diagnostics Information Solutions, Roche
- Rachael Callcut, Associate Professor of Surgery at the University of California, San Francisco (UCSF) Medical Center and Director of Data Science for the Center for Digital Health Innovation
- Professor Lorenzo E. Derchi, Chairman of the European Society of Radiology (ESR) Board of Directors
- David Ryan, General Manager, Health & Life Sciences Business, Intel Corporation
What do you think: can building new partnerships break new boundaries in healthcare?
Why do you think institutions in healthcare are forging new and less traditional partnerships?
Tim M. Jaeger (Roche): No single organization can solve some of healthcare's biggest challenges alone. In the case of GE Healthcare and Roche, we want to combine our deep expertise in complementary fields in diagnostics – GE Healthcare in medical imaging and monitoring, and Roche Diagnostics in comprehensive lab testing. We share the common goal of making healthcare more personalized and precise, and we feel that by working together we have the potential to bring integrated diagnostics to clinicians enabling more confident, timely clinical decisions, which could make a real difference to patients.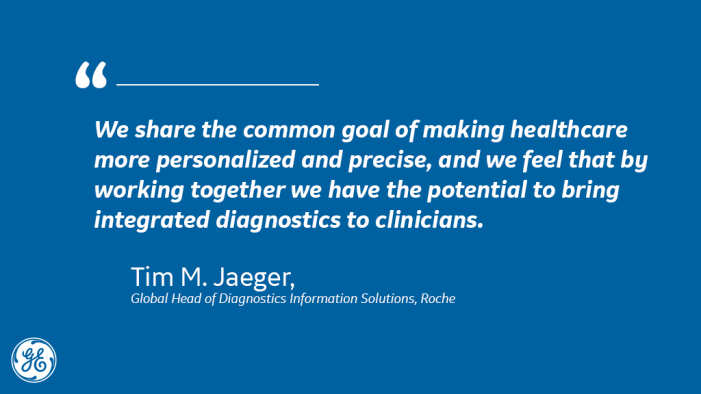 Professor Derchi (ESR): One of the biggest challenges, not only in radiology, but in healthcare in general, is the rapid advancement of technology. We will best be able to meet this challenge if all of us who touch this technology in different ways come together. For example, Artificial Intelligence (AI) is entering our sector and it is difficult to foresee how much and in which way it will impact healthcare. In Europe, where I focus, due to the diversity of healthcare delivery across the continent, we have the advantage of being able to see how these technological advancements will work within a wide variety of different healthcare systems – and even more so when we collaborate across the industry. This allows us to test and perfect the ways in which we are using new technology, making it work for each country but also learning a lot along the way. In order to face the challenges associated with new technology, it is vital that we work together to fully benefit from the opportunities it can provide. The future cannot be predicted, but can be prepared, and we have to prepare ourselves for this new challenge.
How does your institution seek out partnerships?
Dr. Rachael Callcutt (UCSF): Center for Digital Health Innovation (CDHI) at UCSF is focused on developing partnerships that address the most pressing issues in healthcare. By focusing on areas that patients, providers, or systems are invested in addressing, the stage is set for more rapid adoption and dissemination of solutions. These topics span from diseases that affect a large proportion of people, to aspects of care craving a more efficient workflow, to uncovering insight into potential new therapeutic treatments. Importantly, we are interested in partnerships in which the improvements that are made can both scale locally at UCSF, but also impact healthcare worldwide. We also are keenly focused on doing this work based on a solid scientific foundation with all the important protections for our patients and providers.
David Ryan (Intel): For us, a big part of our partnerships is using our collective knowledge and resources to understand what the industry needs real-time. With GE Healthcare, we provide scalable leading-edge hardware, accelerators, software building blocks, and development tools, enabling the business to build leading edge solutions that fuel the transformation to value-based care. But more than that, Intel works closely with GE Healthcare to better understand the needs of the market and ensure that new technologies will best meet those needs.
What are a few lessons learned coming out of creating these partnerships?
Dr. Rachael Callcutt (UCSF): The most important aspect of a successful partnership is a spirit of true collaboration. We are working to move the field forward in a transformative way in the artificial intelligence space and this is challenging work. There has to be alignment in vision, commitment to exploration, and mutual excitement about the work. Most importantly, the partners have to be willing to push the science forward. If we are afraid to fail on a project and thus, don't take it on, the opportunity to change the future will pass us by.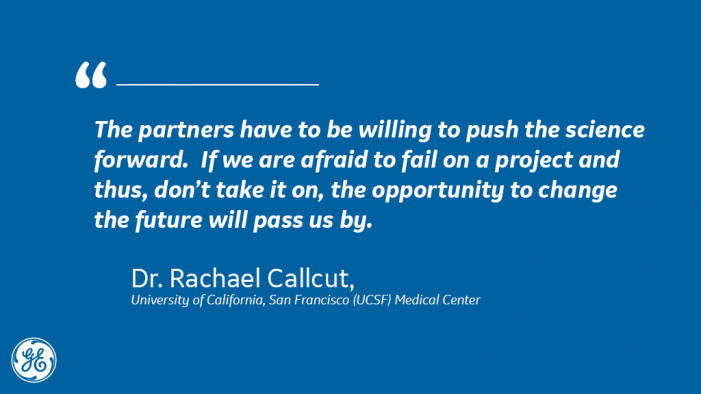 Tim M. Jaeger (Roche): As for the Roche-GE Healthcare partnership, healthcare professionals are intrigued about our shared vision and there is a great deal of interest in what we can achieve together. They are also particularly interested in early results – such as our first collaboration product, NAVIFY Tumor Board, which now incorporates GE Healthcare's medical image viewing capability. For oncology care teams made up of different specialists, this means they can have all relevant patient files, including images, in the same interface, so they have a more comprehensive view of each patient in one place. We are also doing some interesting work in the field of acute care, particularly in the early detection of patient deterioration, which can lead to serious complications like sepsis and avoidable costs to healthcare systems around the world.
What do you think drives so many of our teams to seek new ways to change the industry for the better?
Professor Derchi (ESR): There are a few things that, although close to retirement, continue to "inspire" me. The first is thinking that, behind the images I am reading or the examination I am performing, there is a person in need. The second is the satisfaction obtained solving "difficult" cases and working in a group of people dedicated to providing the best possible care to our patients. The third is the joy of teaching to medical students and radiology residents, trying to pass on them the "passion" for our work. Staying with the young keeps my spirit young.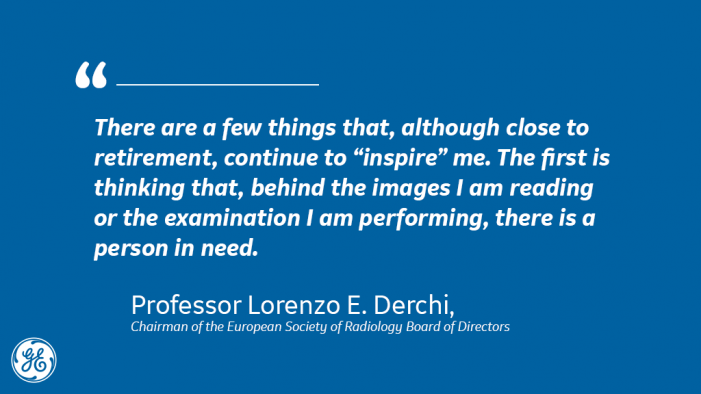 Describe the future of healthcare in 3 words:
Professor Derchi (ESR): Exciting, challenging, difficult
Dr. Rachael Callcutt (UCSF): Exciting, evolving, and energizing
Kieran Murphy is President and CEO of GE Healthcare. This article originally appeared on LinkedIn. Follow Kieran @KieranMurphyCEO