Its first-ever MRI technology is helping the Norton Sound Health Corporation (NSHC) care for patients in Nome, Alaska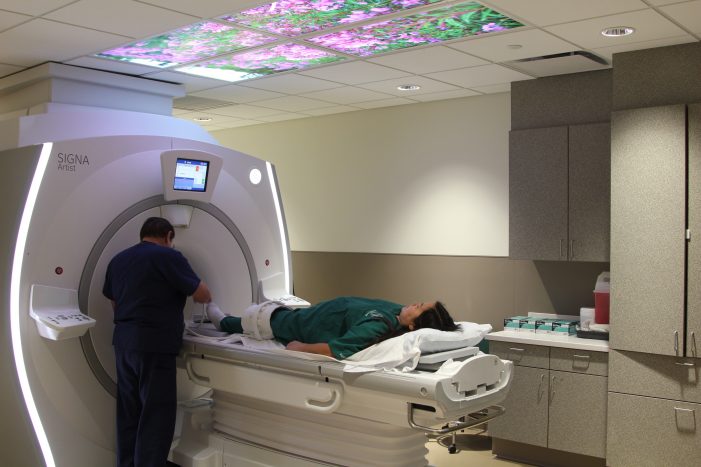 NSHC Vice President of Hospital Services Kelly Bogart acts as a test patient for the hospital's new MRI machine. Not a week later, she became a real patient after tearing the meniscus of her right knee while playing basketball. She was able to receive a MRI screening within days of her injury, instead of the three months of waiting she experienced when she injured her left knee years ago.
The small city of Nome lies in the far western part of Alaska, on the edge of the icy Bering Sea just 164 miles away from Siberia. It's the endpoint for the world-famous Iditarod sled dog race, a subarctic climate where temperatures barely creep into the double digits in winter and often plunge far below zero. Gold mining is still a source of income in the area, and subsistence hunting is a way of life for the mostly Alaska Native population that lives in the area. Nome is remote, and the only way to get there is by air, sea, or dog sled.
Norton Sound Health Corporation (NSHC) is a tribally owned and operated healthcare organization that serves approximately 10,000 people across 16 communities in this region. In March 2019, NSHC started scanning patients with its first-ever MRI system, SIGNA Artist from GE Healthcare, at the Norton Sound Regional Hospital in Nome.
In the past, patients from this remote region who needed MRIs had to travel by commercial airline to the Alaska Native Medical Center (ANMC) in Anchorage, about 550 miles away. Tickets are expensive and flights can be canceled for weather at any time of year. If an emergency transport by EMS is needed, it can cost up to $35,000 per trip. As a statewide hub for Alaska Native health care, ANMC often has a months-long waitlist for MRI exams.
With its new MRI system, NSHC can provide specialized medical care closer to home and much faster for its patients, helping expedite treatment plans. The system is configured with digital connectivity, allowing radiologists in Anchorage to remotely read images almost immediately and return reports in less than four hours.
"Now we can allow members of our community to stay closer to home, and we can see them in a shorter time period because of our smaller patient load. If we receive an MRI order for a patient, and we can approve their insurance quickly, we can scan them the same day," says Cathy DeAngelis, manager of radiology at NSHC.
For one patient, that meant having an MRI within days of an injury, which led to corrective surgery much more quickly than it would have taken her just to schedule an MRI exam in Anchorage. The Norton Sound Health Corporation also sees a significant amount of colon, lung and breast cancers, and DeAngelis expects the new MRI system to help diagnose and monitor treatment of those diseases. "The goal of our Board is to try to catch cancers early. We want to diagnose patients earlier and then follow them through their treatment here in Nome, as opposed to having them fly out to Anchorage."
To get the MRI system to the hospital in Nome, the system had to be shipped in sub-components small enough to fit into the C-130 Hercules aircraft, flown into Nome, then reassembled by GE Healthcare engineers on-site. Workers had to cut a hole in the wall of the ambulance bay of the hospital's emergency room to be able to carefully maneuver the over 10,000-pound magnet inside the building.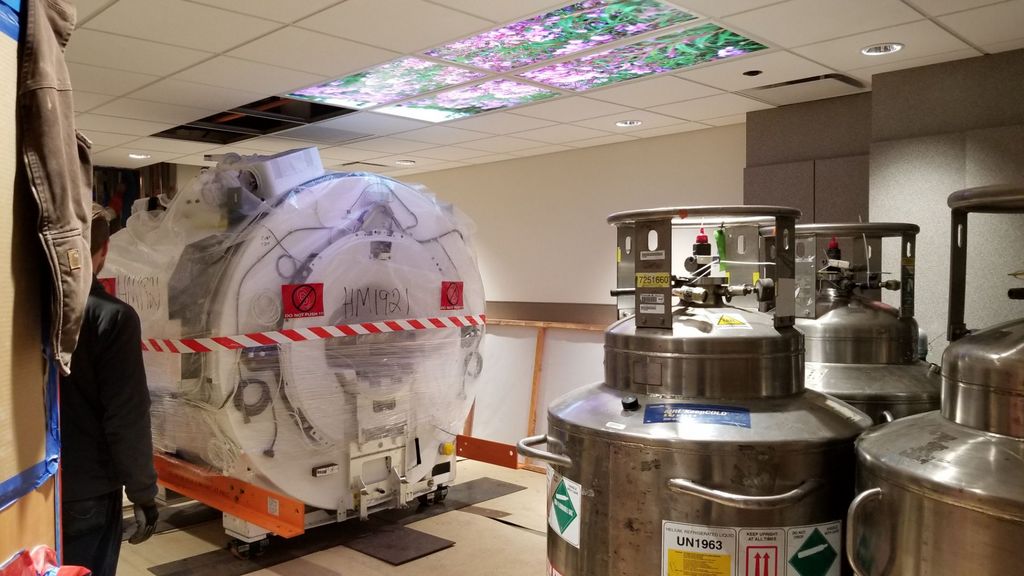 Another challenge was timing. The MRI magnet was shipped from thousands of miles away on the East Coast of the U.S. In order to operate the MRI, it needs to be filled with liquid helium to cool the magnet to near absolute zero (which is -452 degrees Fahrenheit) prior to shipping; therefore, it had to be installed and connected to power within 10 days before the liquid helium started to boil-off. When the plane carrying the magnet landed, a truck waiting on the tarmac immediately delivered it to the hospital to avoid any delays. All subcomponents, tools, extra parts and labor had to be timed to delivery and arrive in Nome within a very small window of time.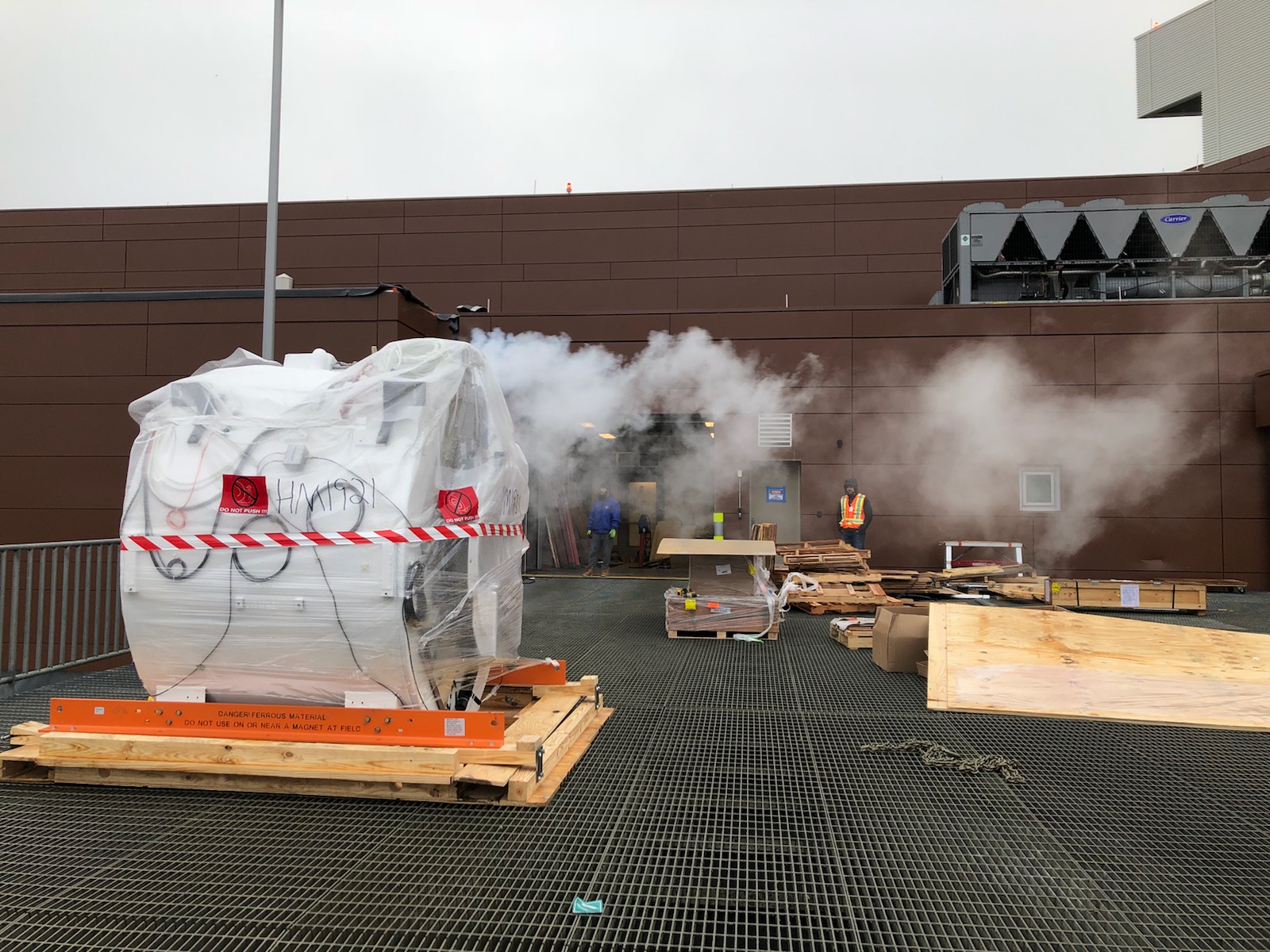 Remote installations like this aren't new to NSHC. In 2018, the organization installed two portable digital X-ray systems on Saint Lawrence Island in the middle of the Bering Sea.
Marla Mayberry, case manager for NSHC, was one of the first patients scanned by the new MRI to help monitor her Multiple Sclerosis. Knowing she didn't have to miss three or four days of work to travel to Anchorage made the entire process easier for her, particularly in SIGNA Artist's wider bore.
"I've done a lot of MRIs, and this is the very best MRI I've ever had," she says. "It seemed like the tunnel was not as enclosed, and I didn't feel as panicky as I would in some of the other ones. It was easier for me to be relaxed knowing that I wasn't traveling away from home."
Marla's images were read by the remote radiology service in Anchorage, which also had access to past images from previous scans so the neuroradiologist could compare them. She says this improved reading time, allowing her doctor to quickly develop a new treatment plan.
"My neurologist found out that I have lesions on my brain because of that MRI. If I hadn't had that done, I wouldn't have known that. And now I know how important it is to start my treatment again. That MRI helped me know that my MS is not in good shape. And I've got the means to take care of it now."