Researchers present interim results from the Imaging Dementia-Evidence for Amyloid Scanning (IDEAS) Study at 2017 Alzheimer's Association International Conference (AAIC) in London
When German psychiatrist Alois Alzheimer discovered the disease that bears his name more than a century ago, the only way to definitively diagnose its presence was through an autopsy – after the patient had already passed and providing care was no longer necessary.


Today more than 5.5 million people in the United States are estimated to suffer from Alzheimer's disease. While there have been huge advances in medicine and science over the past 100 years, researchers are looking at ways to improve the accuracy of the disease diagnosis. "Today's most common methods for diagnosing Alzheimer's - a family and personal medical history, conduct cognitive tests and use family or friend assessments of the patient's abilities – actually still have an error rate of about 30 percent", according to Gil Rabinovici, MD, University of California, San Francisco's Memory and Aging Center.
At the 2017 Alzheimer's Association International Conference (AAIC) in London, researchers presented groundbreaking interim results from the Imaging Dementia-Evidence for Amyloid Scanning (IDEAS) Study showed that having the results of brain amyloid PET scans led to changes in medical management and health outcomes for more than 65 percent of the patients examined.
A PET (positron emission tomography) brain scan is an imaging test of the brain. It uses a radioactive substance called tracer to look for disease or injury in the brain. PET brain scans able to detect one of the disease's core features - a buildup of beta-amyloid plaque in the patient's brain. Beta-amyloid plaque gradually accumulates in the brain of people with Alzheimer's and is thought to disrupt communication between brain cells leading to their death 10 to 15 years before any cognitive impairment occurs. Beta-amyloid can't be detected in CT or MRI, but it can be spotted early in the disease, when cognitive function is less impaired and treatment can still be adjusted, by using a PET brain scan.
Note: The presence of moderate to frequent beta-amyloid plaque shown in PET brain scans cannot be used alone to diagnose AD. In fact, brain amyloid PET has been approved in the U.S. only to rule out AD, if amyloid build up is not present. Doctors may use PET brain scans along with other types of tests to give them the information they need to determine a diagnosis for the cause of the person's dementia symptoms.
"These interim results are extremely encouraging. While we need to see the full results of the study, there is potential to dramatically change how the disease is managed," said Rabinovici, the study's Principal Investigator." This could benefit the patient, their caregivers and the healthcare system overall."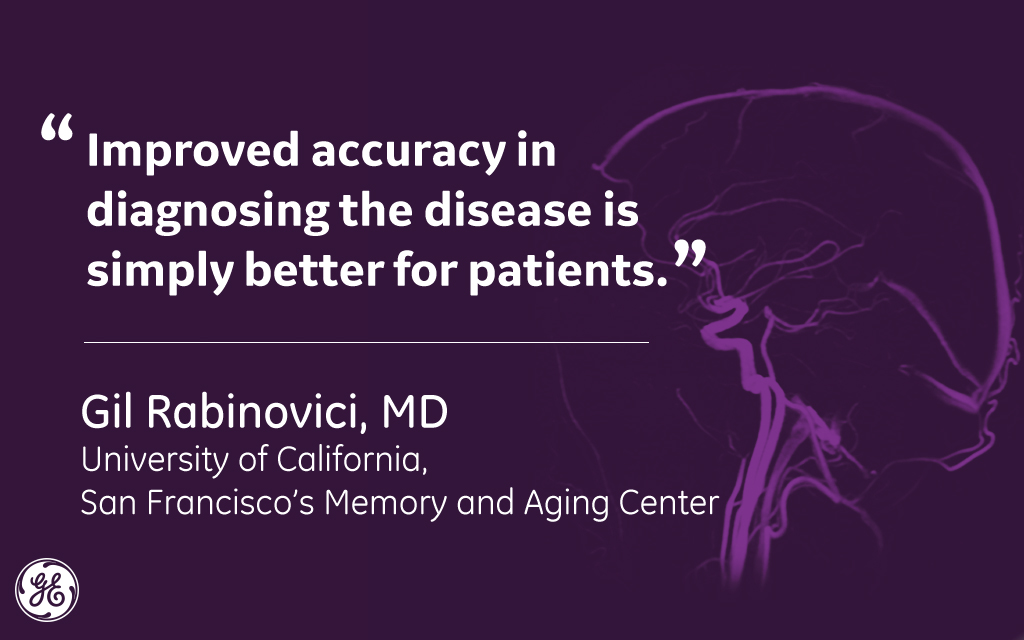 In fact, the interim results from nearly 4,000 PET scans showed that 54% of mild cognitive impairment and 70% of Alzheimer's patients had positive scans – suggesting that 30% of patients clinically diagnosed with dementia, and a larger proportion of patients with mild memory loss, may not have Alzheimer's disease.
"We look forward to reporting the results from the full study population. We are very grateful to the Centers for Medicare & Medicaid Services for their support of the IDEAS Study.", Rabinovici says.
Although there currently is no cure for Alzheimer's, an early diagnosis could have a meaningful impact. Patients may have more time to plan for their futures, start symptom-alleviating drugs earlier, change to more appropriate testing and treatments and possibly, in the future, slow the advance of the disease.
"Early detection means patients and their families can make more informed decisions about how long people can live independently, whether their medication should be self-administered and if they should continue driving," Rabinovici says. "Quite simply: Patients want to know definitively what's going on."
A 2014 survey found 74 percent of respondents wanted to know their diagnosis, even if there is no cure, and 81 percent would want to know the diagnosis if someone close to them had an incurable neurological disorder.
Rabinovici says it's all about getting the right information to improve patient care and outcomes. "Improved accuracy in diagnosing the disease is simply better for patients," he said.
Even if the PET scan is negative for beta-amyloid, there's a benefit. Finding that plaque isn't building up forces doctors to look deeper for why a patient is suffering cognitive impairment. Studies have shown that about nine percent of people with dementia-like symptoms do not have dementia, but other, potentially reversible conditions.
More about the IDEAS Study
The IDEAS Study is being funded by the Centers for Medicare and Medicaid Services, Avid Radiopharmaceuticals/Eli Lilly, GE Healthcare, Piramal Imaging, the Alzheimer's Association, and the American College of Radiology. Through June 2017, more than 12,000 patients had been recruited. The trial expects to reach its goal of 18,599 patients recruited by early 2018.
The IDEAS Study is working with government and academic researchers to launch three add-on studies to expand the impact of the core study where more than 18,000 people with cognitive decline but an unclear diagnosis will receive an amyloid PET scan. Similar to the groundbreaking Alzheimer's Disease Neuroimaging Initiative (ADNI), IDEAS and its add-on studies will create a massive database of information and samples that scientists worldwide can access and analyze.
The three add-on studies are:
Amyloid Neuroimaging and Genetics Initiative Study
The Brain Health Registry
Caregivers' Reactions and Experience: Imaging Dementia — Evidence for Amyloid Scanning Study
More information about the add-on studies is available at http://www.alz.org/research/downloads/IDEAS_StudiesFlyer.pdf