The COVID-19 pandemic has affected just about every aspect of life, including breast cancer screening, diagnosis, treatment, and follow-up care. And while COVID-19 has claimed nearly 300,000 lives in the US since the pandemic began, breast cancer has been detected in almost as many women this year, and every year for the last decade.[i] Reassuring women to notskip their annual screening and breast care during this time has been a critical focus of healthcare providers. Fortunately, a number of vaccines have been approved to fight COVID-19, but no such vaccine exists for breast cancer. The only way to fight breast cancer is to engage patients to return for screenings and follow-up care and continue to improve screening capabilities that will enable earlier detection and treatment.
Some major leaps forward in these efforts have been via introduction of digital technologies, advanced analytics and Artificial Intelligence (AI) applications. Leading manufacturers in breast imaging are partnering with experts in AI to create solutions that will improve radiologists' clinical confidence and potentially increase earlier breast cancer detection. A recent webinar brought together a panel of industry experts and clinicians to speak about the role AI is currently playing in breast imaging and breast cancer detection, and its potential to impact the future of breast care.
Collaborative Partnerships for Earlier Detection of Breast Cancer
The webinar, hosted by GE Healthcare's President and CEO of Women's Health and X-Ray, Agnes Berzsenyi and iCAD's Chairman and Chief Executive Officer, Mike Klein, covered the importance of designing an AI solution to work with advanced breast imaging, such as digital breast tomosynthesis (DBT), the impacts that are already being seen, as well as how AI can affect the future of breast imaging and women's health in the future.
The two industry leaders have come together with GE Healthcare's Senographe Pristina 3D Mammography and iCAD's ProFound AI to offer clinicians advanced 3D mammography technology that is designed to deliver superior diagnostic accuracy and an AI-based concurrent-read, cancer detection and workflow solution to rapidly analyze each tomosynthesis image to assist radiologists by improving cancer detection, decreasing reading times and reducing false positives and costly patient recalls.
"Making our mission a reality," said Berzsenyi, "will require digital technologies, advanced analytics, and also AI to overcome healthcare challenges at every possible point of delivery."
Klein agreed and added, "iCAD is extremely proud to work with GE Healthcare to improve quality of care in the evolving breast care spectrum. Maximum impact requires both partnership and collaboration."
Maximum Impact for Better Outcomes in Breast Imaging
Several clinicians on the panel presented their experiences using the combination of advanced 3-D tomosynthesis and AI and spoke about the impacts that were seen in both breast cancer detections, as well as workflow improvements.
DBT is rapidly replacing 2D mammography in breast cancer screening because of the clinical value it offers in cancer detection, providing clinicians with many more images to review per patient. However, it presents significant workload challenges for radiologists in terms of increasing reading times. Using DBT in combination with an AI solution that is trained to look for and flag irregularities within each clinical image not only helps radiologists in cancer detection, but also in decreasing the amount of reading time required for DBT interpretations.
Joshua Nepute, MD, Radiologist at Indiana University Health's (IU Health) Arnett Hospital, commented on his facility's experience using the combination of GE Healthcare's Senographe Pristina 3-D mammography and iCAD's ProFound AI solution. Arnett Hospital, as well as two critical access hospitals provide IU Health's services to the region, and also have a dedicated breast center. Typically, three radiologists were reading about 18,000 screening mammograms per year. After a simple installation and training, the radiologists were seeing the impact quickly.
"We developed a trust in the AI fairly early on," explained Dr. Nepute, "as we were seeing immediate reductions in our recall rates and a reduction in our reading time."
After using the technology for one year, Dr. Nepute reported an average one-to-two percent fewer callbacks were needed, and that cancer detection rates improved from about 3.8 per thousand to 4.4 per thousand with the assistance of the AI.
"We also have anecdotal reporting," Dr. Nepute added, "that individual radiologists were able to read at least five percent more mammograms during their rotations. We've noticed there's been an increased confidence in our interpretations, particularly in patients with dense breast tissue. Overall, it's really assisted us in our diagnoses. We've certainly experienced better patient care, given the reduction in our recalls, therefore reducing anxiety in our patients."

Envisioning an Even Brighter Future Using AI in Breast Imaging
Connie Lehman, MD, Director of Breast Imaging at Boston's Mass General Hospital spoke about how exciting it is to see the rapid trajectory of AI in breast imaging, however the basic screening paradigm remains the same. Clinicians need to scan 1000 patients to detect 4 to 5 cancers, and this is where Dr. Lehman believes AI can help fundamentally reshape elements within this domain.
"We screen a lot of women who will never have breast cancer," Dr. Lehman explained, "and we do biopsies on women who don't have breast cancer. With the help of AI tools applied to our most advanced imaging, tomosynthesis, we think we can improve specificity, decrease the cost [of screening] and improve the patient experience as well. Early and accurate diagnosis is not a trivial problem. We can do better. Why not let machines help us?"
Dr. Lehman explained that the adoption of AI tools can also help alleviate some of the burnout radiologists are experiencing due to the pressures of getting more done in less time. As future AI applications are developed, she expects they will also help radiologists perform more consistently, to reduce the human variation in mammography screening that is well documented.
"The future with the tools of AI applied to the power of the imaging sciences is unbelievably bright." she concluded. "It will be exciting to see the new and novel impact we can have on our patients."
Please join us for our upcoming Beyond Breast Imaging Webinar. Register here.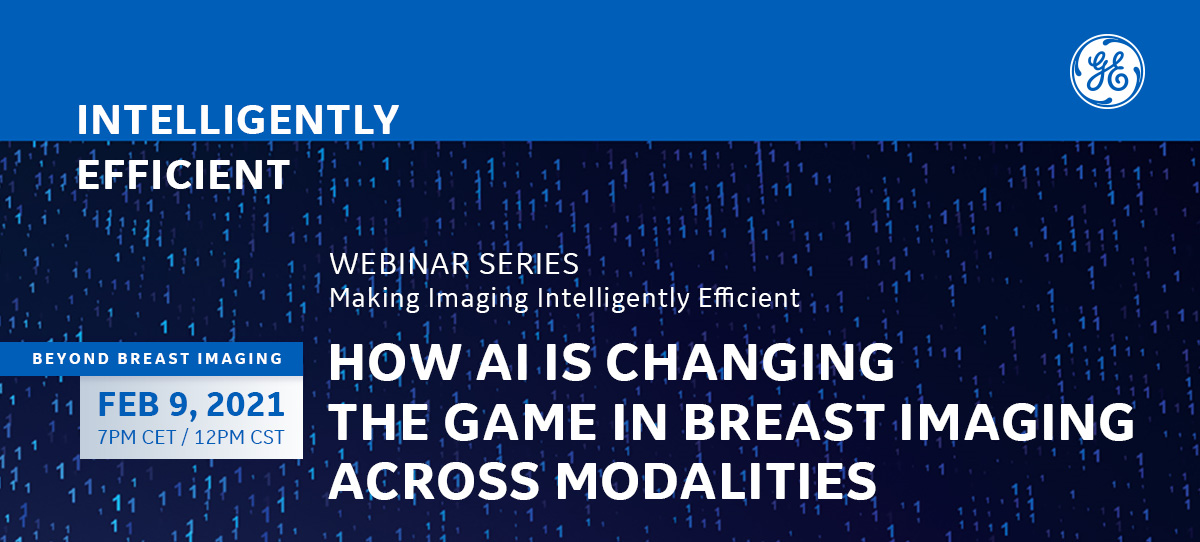 ---